Dream Housing Society Lahore Map Launched after Balloting – Latest Update
by UPN
July 30, 2018
0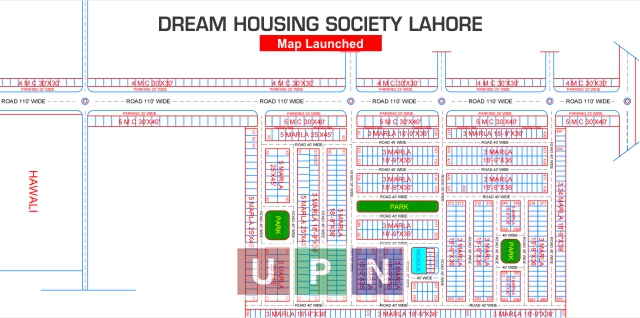 Dream Housing Society Lahore is yet to be launched officially but already done with the balloting in this early phase. As per commitment, the administration has successfully conducted ballot of 3 Marla residential plots and successful candidates have been notified. Development activities are in process at actual site in full swing and ground leveling work is being done rapidly. The next phase is the launching the initial map after the balloting so that plot allottees can know where exactly their plots are located. The good news is here as Dream Housing Society map is available now for to locate the pinpoint positioning of the plots.
Dream Housing Society Lahore Map (Block A)
After the first balloting of Dream Housing Society Lahore, the proposed (initial) map has been launched of Block A. According to this map a total number of 594 plots of 3 Marla cutting have been located inside Block A. Right alongside Main Boulevard, 93 residential plots of 5 Marla are also in included in this block as shown in the map. For facilitation of residents, 3 parks and one grand mosque is planned in the proposed map. Within this block, 40 ft. and 50 ft. wide roads will be featured in this block.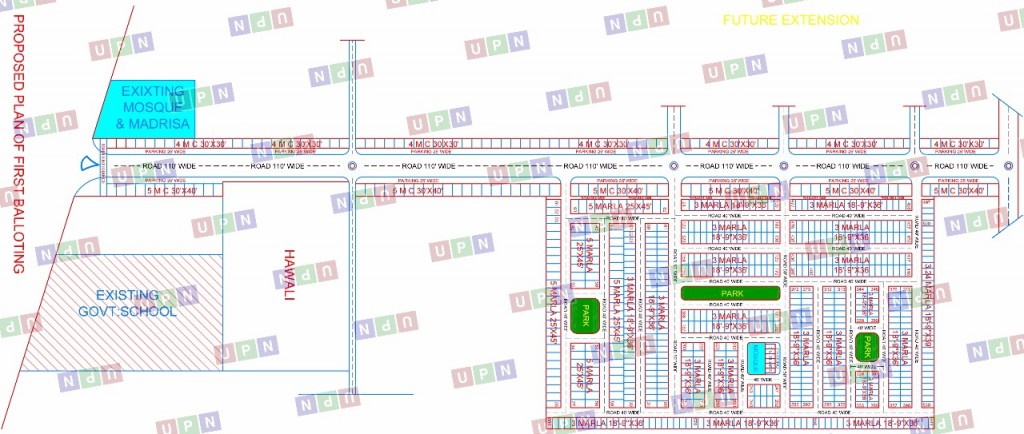 594 Plots of 3 Marla
93 Plots of 5 Marla
3 Parks
1 Mosque
The Main Boulevard which will lead you to this Block A which mainly largely contains 3 Marla plots will be 110 ft wide. Alongside this Main Boulevard, 4 Marla and 5 Marla commercial plots are located at either side but not allotted numbers as commercial plots have not been balloted yet.
Future Extension, Maps of Other Blocks and Next Balloting
The proposed map after first balloting can be altered a bit at any stage but it is a good beginning for the society and its customers. Future extension area has been highlighted in the map so we can predict an extension to accommodate other cuttings. The next balloting is expected to take place after three months and maps of other blocks to be followed.
To invest in Dream Housing Society Lahore, please contact our realtors. For more updates and further information keep visiting Universal Property Network (UPN).