8 Marla Commercial New Metro City Gujar Khan – Deal Launched
by UPN
October 7, 2022
0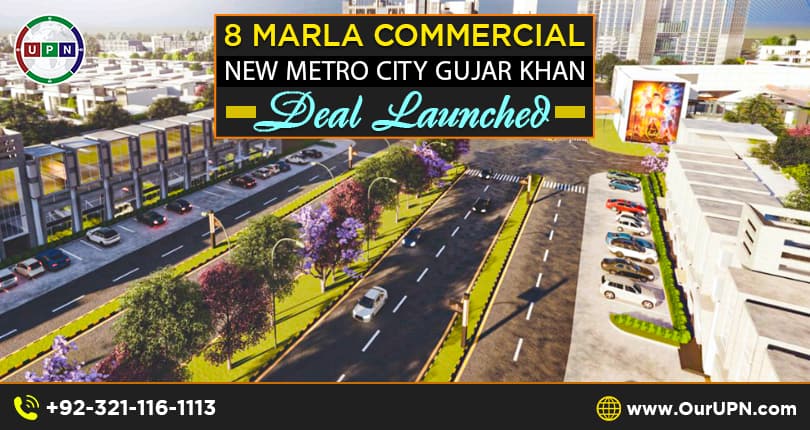 After getting huge success in the commercial plots of 2.66 Marla and 5 Marla, New Metro City brings another great investment opportunity. It is 8 Marla commercial New Metro City Gujar Khan. Yes, the wait is over and the time to invest in bigger size commercial plots is here! Now you the investors who had been long waiting for the spacious commercials can purchase 8 Marla.
These newly announced commercial plots had become the top choice of investors just after official announcement. The reason is the ideal location, affordable rates, and most importantly, the flexible payment plan.
About NMC Gujar Khan
New Metro City Gujar Khan is already a well-liked development. This society, which was just introduced a few months ago, has been in the news ever since. This location is amazing since it was expertly designed using the most recent trends and superior living techniques. The chain of New Metro Cities is spreading quickly.  BSM Developers first created New Metro City in Kharian with success, and now they have created a beautiful project in Gujar Khan, close to Islamabad.
This society provides the best residential and investment opportunities within the price range, and it is situated in a really attractive and significant area. However, the recently introduced new deal contains something unique and quite advantageous for you. Additional information is:
8 Marla Commercial New Metro City Gujar Khan
Earlier this week, New Metro City's management made an announcement about the launch of a lucrative deal for commercial plots. Investors who hear this news are extremely excited and motivated to make investments. The new deal of commercials in NMC Gujar Khan features:
8 Marla
The launching prices of these plots are surprisingly affordable. Moreover, you can book these plots with a reasonable amount.
New Metro City Gujar Khan 8 Marla Commercial Plots Payment Plan
New Metro City Gujar Khan 8 Marla commercial plots are among the top attractive investments in real estate. These plots are affordable while booking starts with 27.50 lacs only. The payment plan of the plots spans over 2.5 years.
Following are the complete prices, booking, and payment plan details:
8 Commercial Plots in New Metro City Gujar Khan
These highly beneficial commercial plots of 8 Marla are launched at the best price of 16,750,000/-. The booking of the plot starts from 2,750,000 only. The amount of confirmation payable within 60 days of booking is 690,000/- only. Moreover, there are 30 monthly installments in the payment plan where each installment costs 299,000 only. The balloon payment of the plot is 1,590,000. Also, the amount payable at the time of balloting is 2,750,000 only.
Please note: this is only the cost of land. The development charges will be disclosed later. The processing fee of these 8 Marla commercial New Metro City Gujar Khan is 10,000/-. The society is offering a 5% discount on lump sum payments. Also, you will be charged 10% extra for category plots.
Buying in New Deal Commercials New Metro City Gujar Khan
Previously the society had offered a reasonable price, small size commercial plots of 2.66 Marla and 5 Marla. Now the launch of 8 Marla commercials just after the few days of the previous deal, confirms the high interest of investors. People looking to earn maximum through safe and smart investment should consider buying in new deal 8 Marla.
These commercial plots launching prices are affordable. Moreover, the flexible payment plan of 2.5 years is making them the best.
Frequently Asked Question
Here are the answers to some most commonly asked questions!
Is New Metro City Gujar Khan Offering Commercial Plots New Deal?
Previously, this project was only offering 2.66 Marla commercial and 5 Marla commercial plots. Now the developers had launched 8 Marla commercial plots as well.
Who are the Developers of New Metro City Housing Societies?
It's a project by BSM Developers. The CEO of this company is the grandson of Malik Riaz.
Can You Purchase Commercial on Installments in New Metro City Gujar Khan?
Yes, you can confidently buy the best commercials for sale in New Metro City on installments.
Is these New Deal Commercial Plots Beneficial to Invest in?
Buying is highly profitable, don't miss out on this opportunity.
Please contact Universal Property Network or visit our Youtube channel for further assistance.