Jasmine Grand Mall New Payment Plan and Investment Opportunities
by UPN
May 31, 2022
0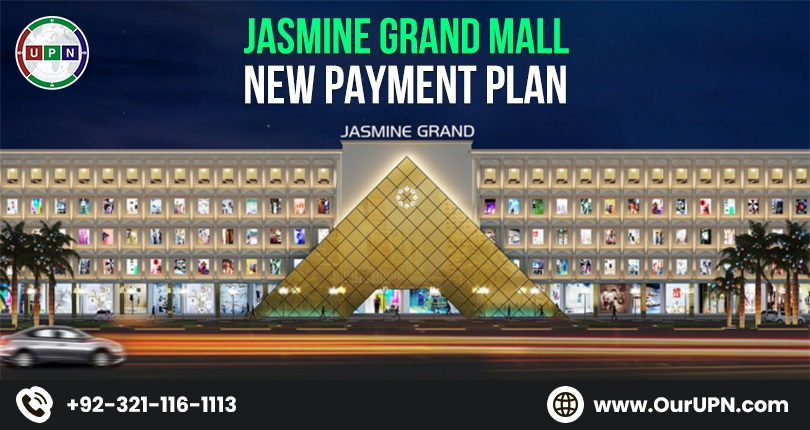 Do you want to invest in Bahria Town Lahore? Do you wish to invest your hard-earned money in LDA-approved projects at affordable rates? Then, Jasmine Grand Mall new payment plan and opportunities await you.
As the name depicts, Jasmine Grand Mall is a grand development in the heart of Lahore. Located ideally at the prime location on Main Boulevard, it's an Eiffel Tower facing the project. This state-of-the-art venture is planned exceptionally on the latest trends and modes. Spreading over more than 20 Kanal of land, this venture is outstanding for several reasons. It's a high-rise building project where each floor is featuring further impressive projects. Offering people shops at reasonable rates, this place is heart-winning. Most importantly, the recently disclosed Jasmine Grand Mall new payment plan makes this developing project more attractive.
In this latest blog, we are sharing the details of projects you will find impressive to invest in:
Investment Opportunities in Jasmine Grand Mall – Latest 2022
This beautiful development features a basement + ground + 6 floors where you will find:
Aslam Super Market in the Basement
Its shops are not for sale. However, you can invest to earn fixed rental gains.
Ground and First Floor for Brands
Most of the good options are already sold out as the development work is complete. But you can still get the best shops at attractive rates by contacting us directly.
Second Floor for Wedding Galleria
This floor features a first-of-its-kind project in Lahore. It is planned to be the biggest wedding and event shopping place in Bahria Town Lahore. Offers shops of several sizes, this project is outstanding.
Third Floor Kidz Galleria
It's another attractive development in Jasmine Grand Mall. As the name clears, it's a project where you will have access to the best stuff of kids and their accessories. Also, there will be gaming shops, stationery, sports, shoes, clothing, and much more.
Fourth and Fifth Floor IT Hub
Sharing with you the details of the most iconic project in Jasmine Grand Mall. It's a one-stop solution to all your IT needs. IT Hub features shops of several sizes available for laptop, mobile, and other electronics stores.
Sixth Floor Food Court and Kids Play Area
This floor is exceptionally designed with a food court area and kids' play area. However, it will be managed by the developers themselves.
Development Updates
The development work of Jasmine Grand Mall was started a long time ago. This project is developing at the fastest pace. The latest updates of development are:
Completion of basement and ground floor work. Some of the finishing work is moving on. On the other hand, the work on the first floor and second-floor development is started and will be completed soon.
Jasmine Grand Mall New Payment Plan
The shops for sale in Jasmine Grand Mall were launched low in the prices. Also, the easy payment plan and booking with 30% was introduced for the ease of everyone. But due to high demands and speedy development, the prices are increased. Still, the rates are reasonable and offer a chance of easy investment. The booking of shops starts from 40% down payment. The remaining amount will be payable in 24 monthly installments. Also, you will need to pay 20% of the total amount on possession. Following are the complete prices and payment plan details:
People looking for high returns on investment, who want to set their business, and desire to earn regular rental gains can confidently invest in this project. It's a project where your investment will surely grow. Your money will be secure while getting the best profits, even more than your expectations.
All the best options of Jasmine Grand Mall are still awaiting you. So, don't miss out this perfect chance of profitable investment in Bahria Town Lahore. Contact us directly on the given mediums to get the complete details, availability, and payment procedure.
Please contact Universal Property Network For More Information click here or visit our Youtube channel for further assistance.