Q Central Grand Mall & Residences – Location Map | Payment Plan
by UPN
October 24, 2022
0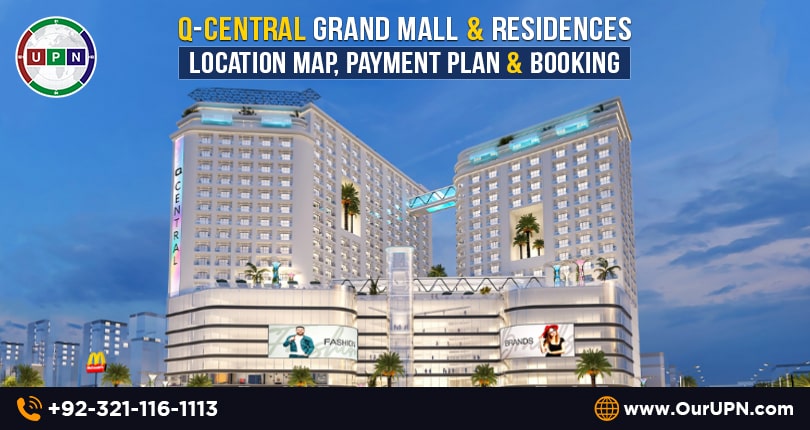 Q Central is an upcoming masterpiece, an architectural marvel by Q-Links Developers. Launching at the prime location of Bahria Orchard Phase 1, it is one of the most awaited deals of the year. Brilliantly planned and smartly advertised, this unique venture brings profitable opportunities for everyone. Reading to shine like a diamond in the jewel crown of Lahore's property market, it's a multi-purpose project. Q Central Grand Mall and Residences is a well-designed place have modern infrastructure and architecture.
Please Call 03211127774 –  For Buying in Q Central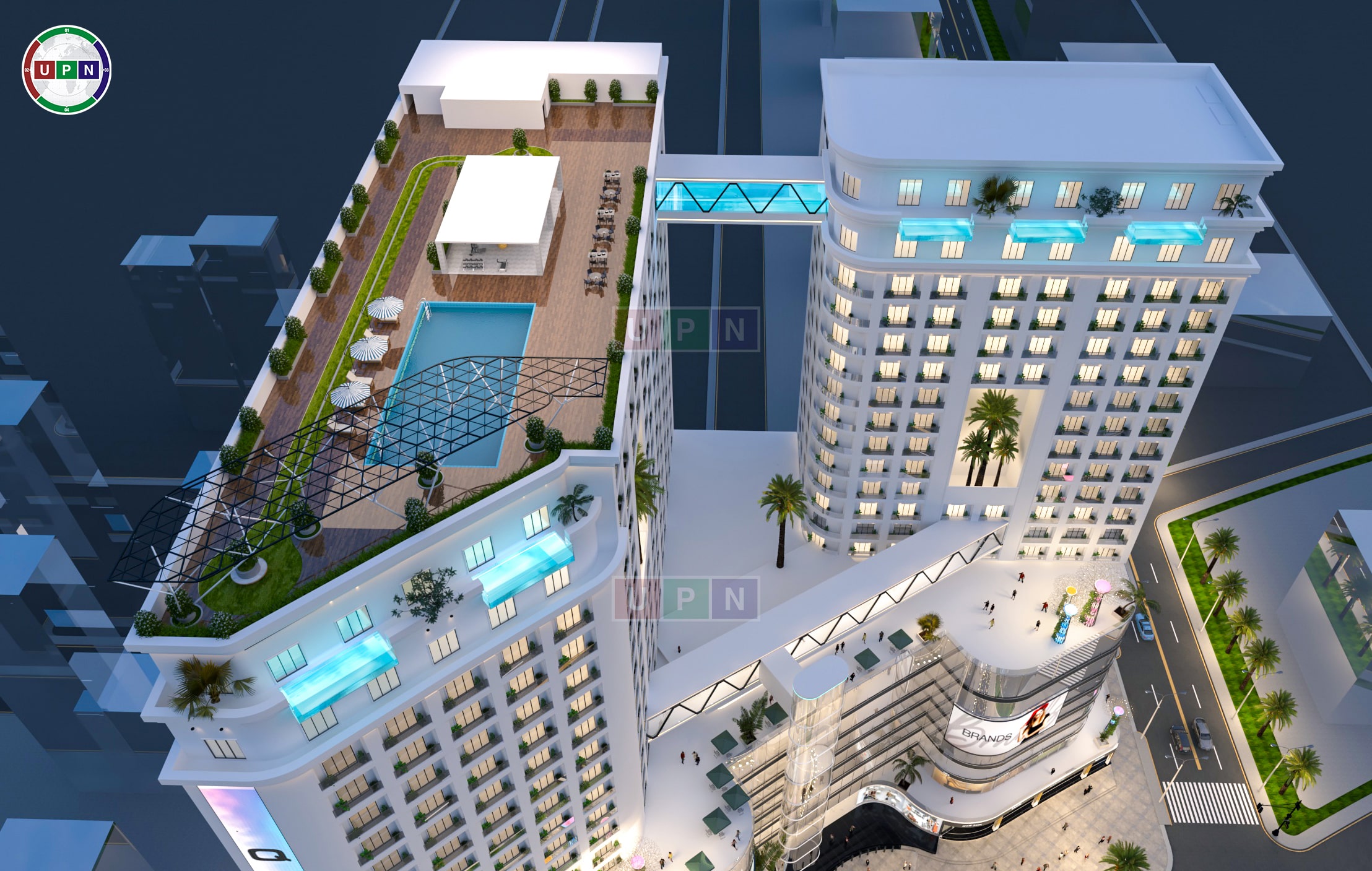 An ideal location, world-class interior, exterior, and modern-day amenities, along with a wide range of properties that come with affordability, are the key features of this project. The location of this project is prime as the area has already experienced huge footfall. Also, Bahria Orchard Phase 1 new deal is coming on 100% LDA-approved land.
Once completed, it will be the tallest building in Bahria Orchard Lahore, even on Raiwind Road Lahore. The properties for sale in this new, surprisingly attractive project are best to invest in. Also, the residential options will let you enjoy an international standard of living while surrounded by comforts and luxuries. Your investment in Q-Central Mall will be secure, and chances of growth are high. Please keep on reading for further details and information!
Q Central Location
This upcoming venture enjoys the most ideal and sought-after location in Lahore. Q Central location is the heart of Bahria Orchard Phase 1 on Main Raiwind Road. One can easily access this location from all parts of Lahore. However, the main entrances to this project are provided from Bahria Orchard Gate 1 and Gate 2. This unique project has 7 features i.e., Shop, Own, Dine Play, Live, Rent and Grow but one location.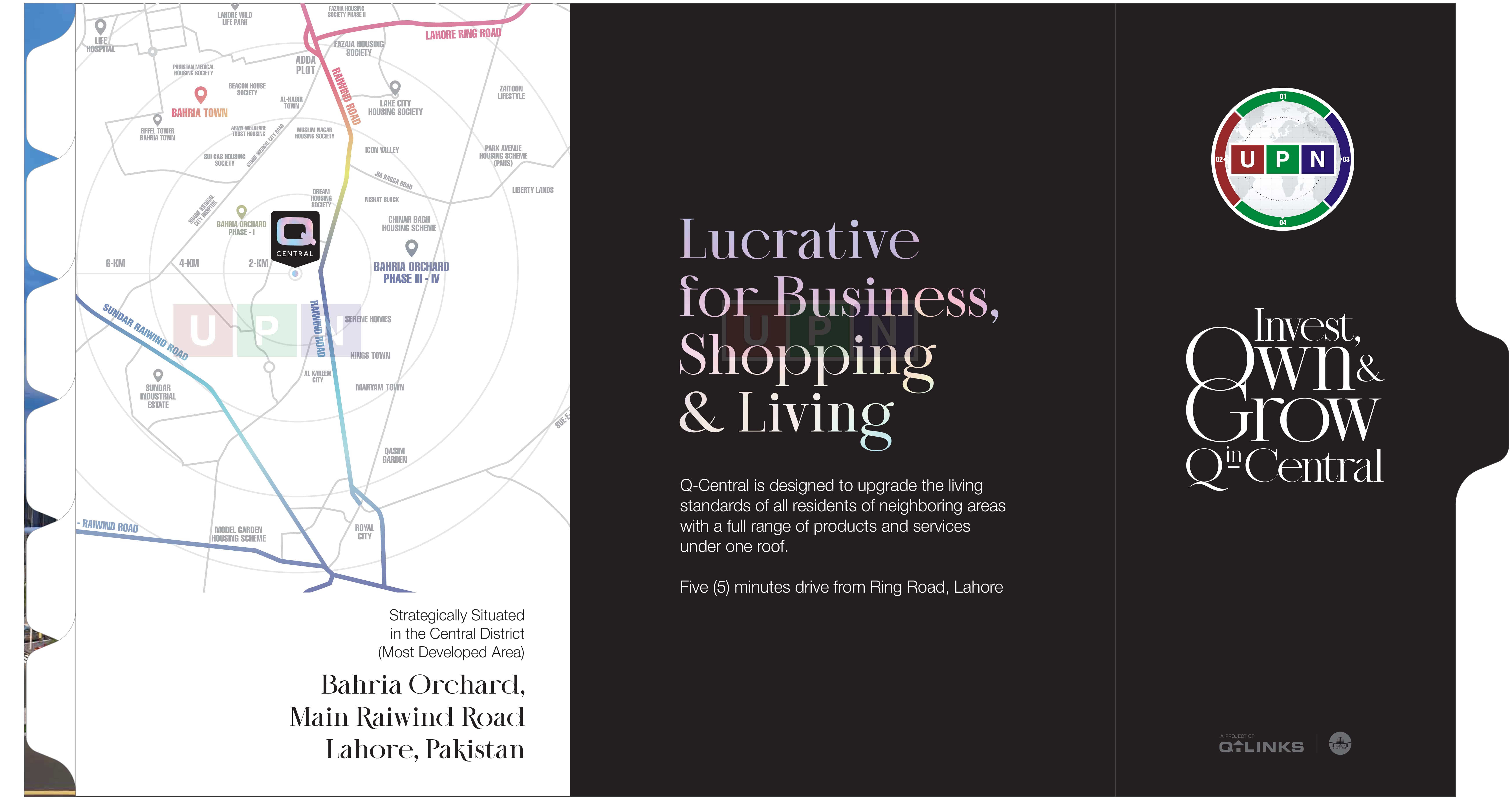 Undoubtedly, the location of this society is already outstanding. Bahria Orchard is quickly accessible from Thokar Niaz Baig Adda Plot Interchange. The distance is only 5 – 7 minutes drive. Moreover, the actual location of Q-Central is 2 minute drive from Bahria Orchard Gate no 2. The land of this project can be clearly seen on the Bahria Orchard map reserved for a food court. This iconic project is planned to be developed opposite a completely developed mosque and 100% operational hospital. Also, the Fire brigade services, PSO Fuel Station, the Bahria Library, and the PTCL Exchange office are lying nearby.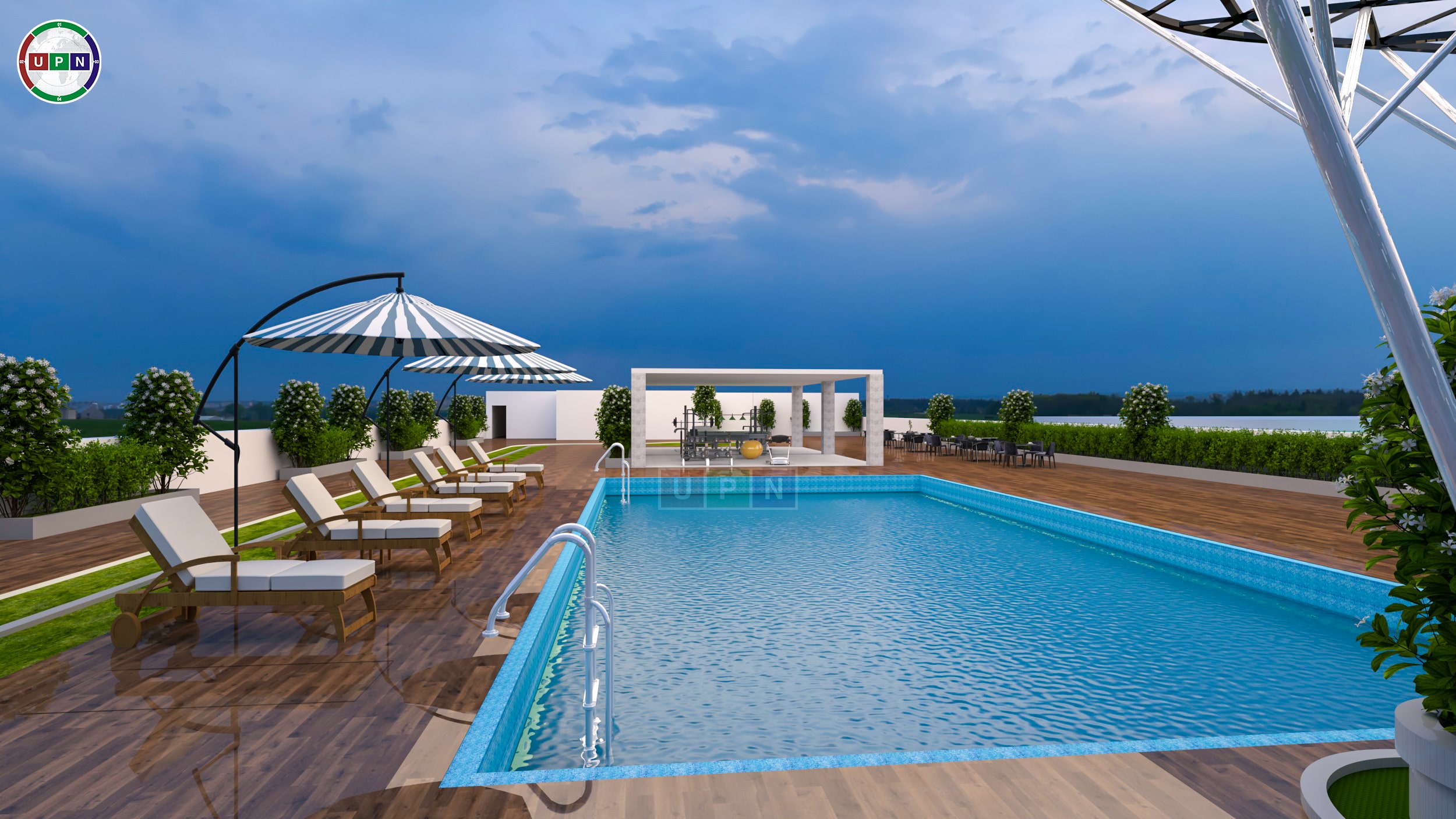 Many other attractions and important developments like Bahria School, cinema, and parks are available at a short distance. Similarly, you will find several shopping malls, business centers, and restaurants within walking distance of this place.  Q Central Grand Mall is developing on the corner plot, which further links this place to the main roads. This fantastic location of Q-Link's latest project catches remarkably the attention of modern buyers who are willing to gain the utmost returns through property investment.
The salubrious surroundings of Tallest Building Bahria Orchard Lahore add the utmost charm and worth to it.  This area is already experiencing huge footfall; thus, the huge success of Q Central Mall and Residences is anticipated.
Key Features
The key features of this latest project are:
Solar Power
Insulation
Water Saving and Recycling Facilities
Temperature Controlling System
Building Orientation for Energy Saving
Fire Fighting System
Security Cameras
Power Back-up
Safe and Secure Environment
About Q Central Grand Mall and Residences
Spreading over 13.51 Kanal of land, Q Central is a grand high-rise building project. Featuring mix-used properties, i.e., both commercial and residential, it's an iconic development. Designed with basement + ground + 26 floors while, the mall spreads from the Ground to Fifth Floor. The sixth floor is reserved for business activities. Moreover, the seventh floor will have the food court area, eighth floor is designed as Services Floor. The ninth floor will feature Q-Club.
Q CENTRAL 2nd Tallest Building in Lahore
The remaining floors will be developed with high-level residential spaces. Here you will find several sizes of residential apartments and penthouses. At the same time, this project will offer the best hotel apartments for sale.
It's a heart-winning development with graceful exteriors and interiors. Also, it has all the top-notch amenities essential to make a new project a masterpiece. The properties available in this latest venture are:
Shops of Different Sizes
Several Sizes Showrooms
Residential Apartments
Penthouses and Sub-Penthouses
Hotel Apartments
The sizes of shops start from 120 sq ft and go high up to 2410 sq ft of showrooms. Here you will find a wide range of options available on the ground floor, 1st floor, 2nd floor, 3rd floor, 4th floor, and fifth floor. The top floors will features Q Central apartments where you will find the best options i.e. 1 bed, 2 beds and 3 beds. The complete details will be available soon.
Ground Floor and First Floor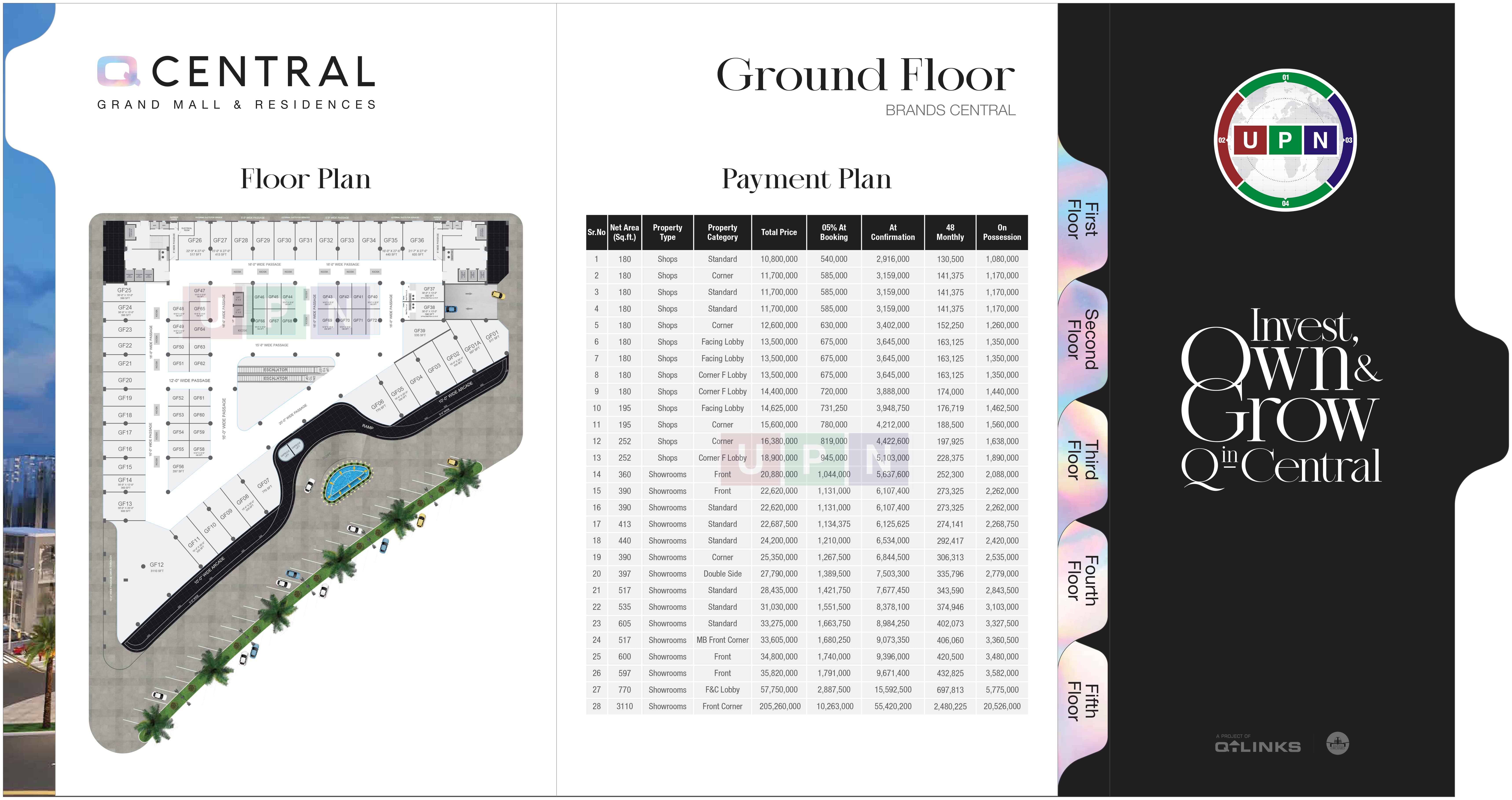 The ground and first floor are designed as "Brands Central," featuring several sizes of shops and showrooms perfect available for brand outlets. Once operational, you will find the best brands operational on these floors. Its ground floor and first floor have 73, 73 shops.

Second Floor
This floor of Q Central is planned to be developed as "Wedding Central." Here you will see a wide range of shops and showrooms available for wedding-related outlets. It will be a one-stop solution for all your wedding and events-related shopping needs. All services will be available, from wedding dresses to event planners, DJs, and catering. This floor will be developed with 94 shops.

Third Floor
The third floor will have "Kids Central." Moreover, this project offers a variety of shops and showrooms for sale. These options are available only for kids-related shopping needs. This floor will have different kid's stores such as shoe shops, clothing, accessories, schooling, and more. Moms will love to shop there. This floor will be developed with 94 shops.

Fourth Floor
Digital and Mobile Central is the project soon to be developed on fourth floor. This floor will have a complete range of technology available for sale. The entire floor is dedicated to mobile and technology gadgets. Here you will have the complete IT-related products and services available to you. In other words, it will be a one-stop spot for all your mobile, laptop, and gadget needs. This floor will be developed with 94 shops.

Fifth Floor
The fifth floor of this project is designed as the Décor and Furniture Central. Here you will find a wide range of furniture and decoration shops in the future. All the shops and showrooms are specially planned to provide a complete place for the home's décor and furnishing. You will have easy access to all the latest furniture and décor items for sure within your budget. This floor will be developed with 94 shops. All these floors are offering the best shops on installments in Lahore.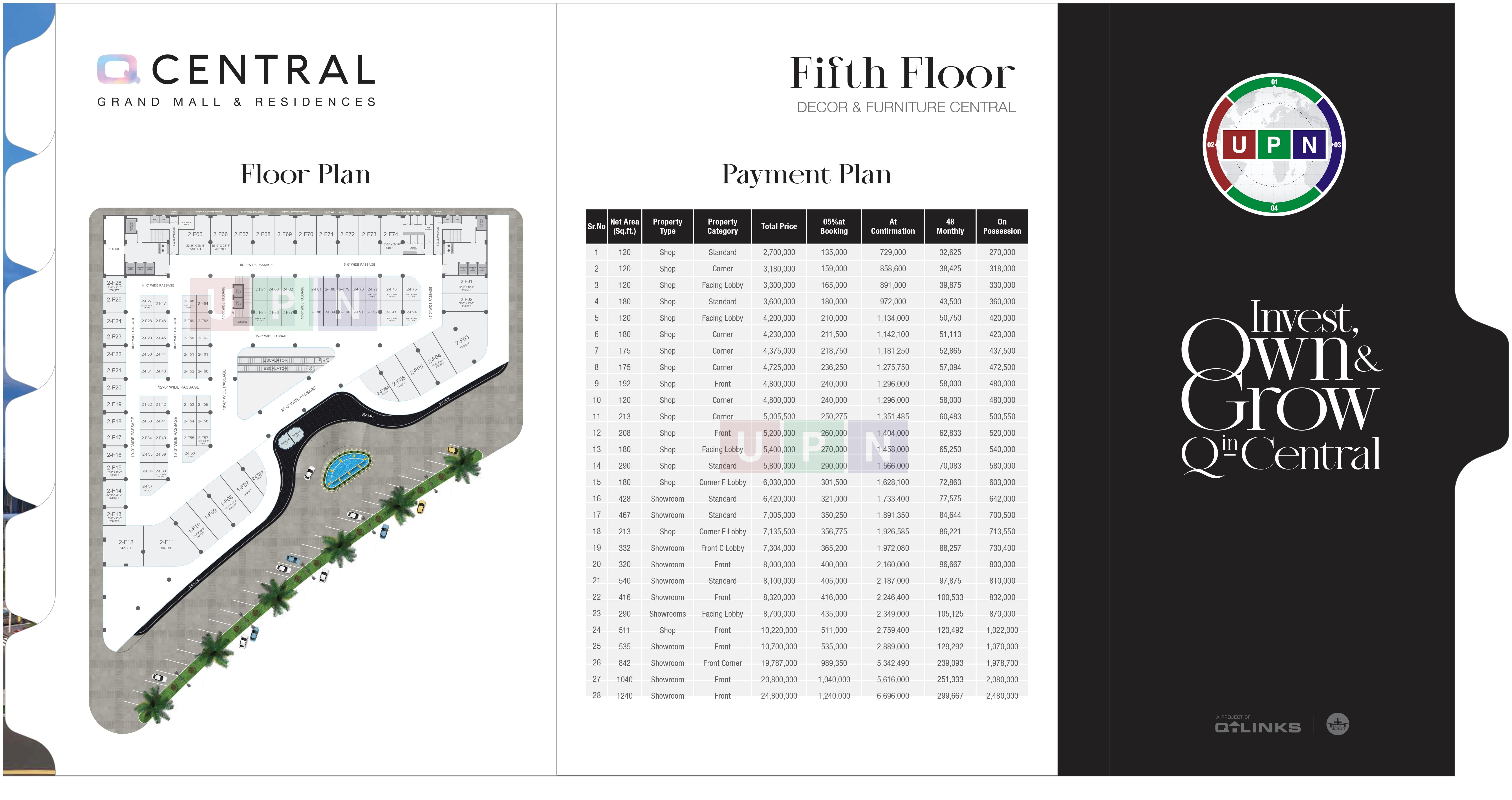 Sixth Floor
This floor is planned as the Co Working Central. Here you will find Business Collab and Q-Collab.
Seventh Floor
This beautiful floor will be developed with food court area and play area. Moreover, bowling alley and snooker.
Eighth Floor
The 8th floor of Q Central Grand Mall will have the "Services Floor" This floor will be built for sustainability.
Ninth Floor
This interesting floor will feature Q-Club such as Event Hall, Gym, Pool, SPA, Indoor and Outdoor Event Space.
Basement
The basement area of this iconic project have Aslam Supermarket, a speedily spreading chain of popular grocery store. The remaining area is dedicated for spacious parking. Actually, this project is planned with 3 – level basements i.e., B1, B2, and B3. Here you will find the parking space of three cars.
26 Floors Tallest Building Floor Plan Detailed Overview
In short, here you will find a full range of products under one roof.
Soon the details of other floors will be available. Overall the planning of this project is outstanding, turning it into a lucrative business and living destination in Bahria Orchard Lahore.
Q Central Payment Plan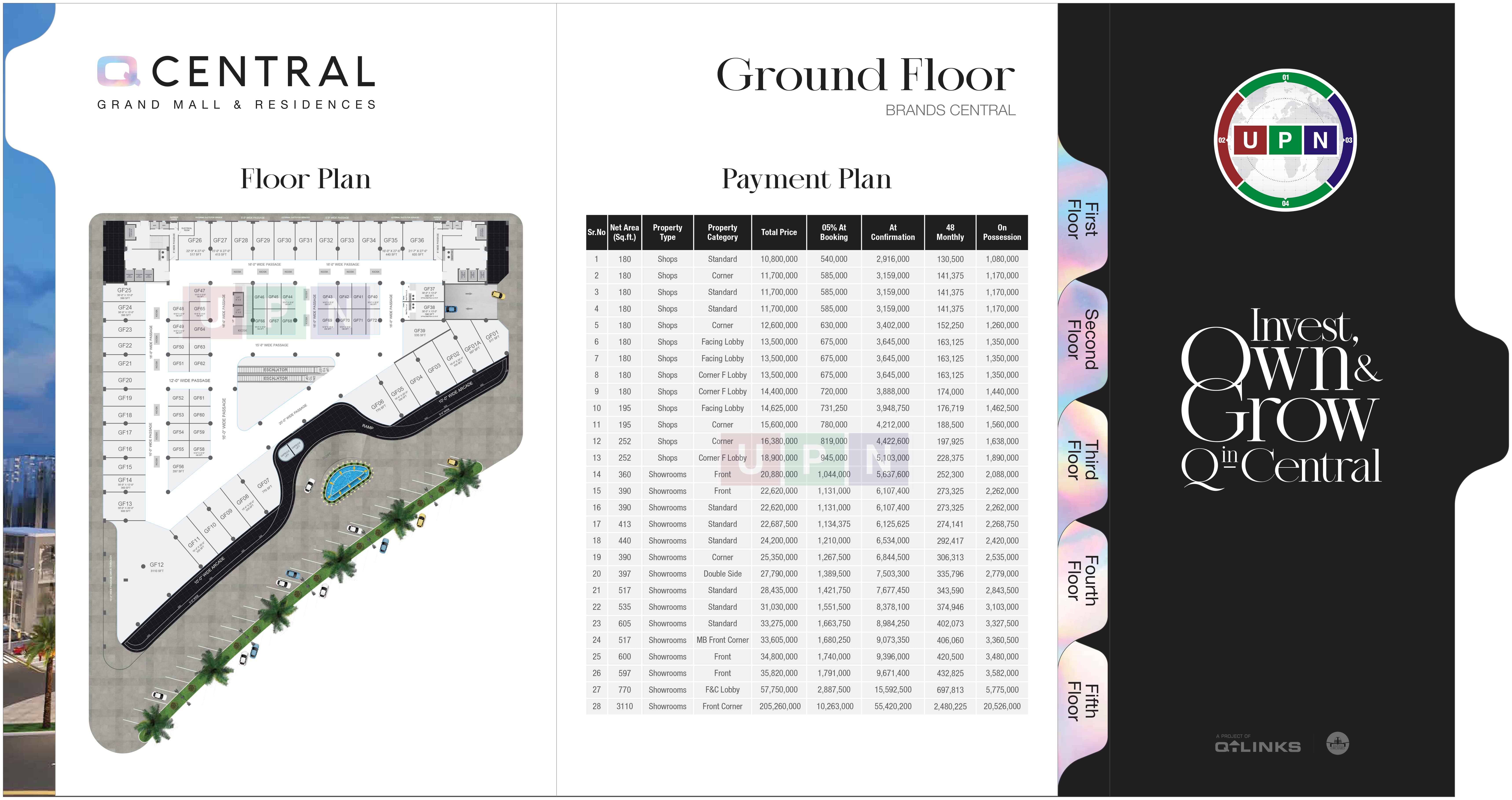 Q Links Developers are always champions in setting and providing the best property prices to their valued customers. Keeping on their tradition, they are offering the best prices in shops and showrooms for sale. Q Central payment plan is further adding charm and attraction to this project.
The prices of shops in this top-class development start from 39 lacs. However, these prices vary depending on the size and location of the shop. These are undoubtedly, the best shops on installments.
Moreover, booking shops in Q Central Grand Mall and Residences start from 05% of the down payment. Some of the amounts will be payable at confirmation. The remaining amount is divided into 48 monthly installments. Similarly, some of the total amounts will be payable at the time of possession. The payment plan for this project spans over 4 years. The possession timeline is also before the completion of this flexible plan. Above is the complete payment plan for this project:
Soon the booking of Q Central apartments will begin.
About Developers
Q Central Grand Mall and Residences is a project of Q-Links Developers that is a remarkable name in the Pakistan real estate market, especially in Lahore. These popular developers have proven experience delivering high-end projects such as Jasmine Mall Bahria Town Lahore. Also, they had a number of speedily developing projects like Jasmine Grand Mall, Orchard Mall, Tauheed Heights, and more.
However, they aim to create and offer something exceptional worth buying to their customers. That's why they are heading with the tallest building of Bahria Orchard Lahore, "Q Central."
Also, these are the developers of several popular villa projects, such as Jasmine Villas, Safari Villas, Orchard Homes, Eastern Villas, and Eastern Executive Villas. All their projects are planned and built to meet the advanced living requirements.
Q Central Mall is a new addition to the portfolio of Q-Links Developers. This project is an accurate description of class and luxury. It is the epitome of comfort, luxury, and sophistication. Most importantly, these developers have kept in view the public concerns to meet the various shopping, investment, retail, rental, and residential demands of people. The professionals and experts working under Q-Link's name have utilized advanced ideas and plans for designing this latest project. No doubt, every small thing is planned with much effort and excellence, taking it to perfection.
Reasons to Invest
Following are the reasons to consider investment in this project:
First tallest and anchor building in the area.
Designed exceptionally
Guaranteed rental income
High investment returns
Ideal location and easy approach
Ample car parking
Huge shopping mall
Escalators (7 Levels), Travelators, Capsule Lifts, Passenger Lifts, Cargo Lifts and More.
Huge footfall anticipated
1st Tallest Skyscraper Commercial Building Of Lahore
Investment in Q Central Grand Mall and Residences
This unique and high-level development will surely catch the huge attention of investors and buyers. It offers a wide range of options available at affordable rates. People searching for something highly profitable but also on installments should definitely consider this deal of Bahria Orchard Phase 1. The availability of several sizes and categories of shops and showrooms makes it the perfect choice. On the other hand, the booking with a 5% down payment is winning hearts.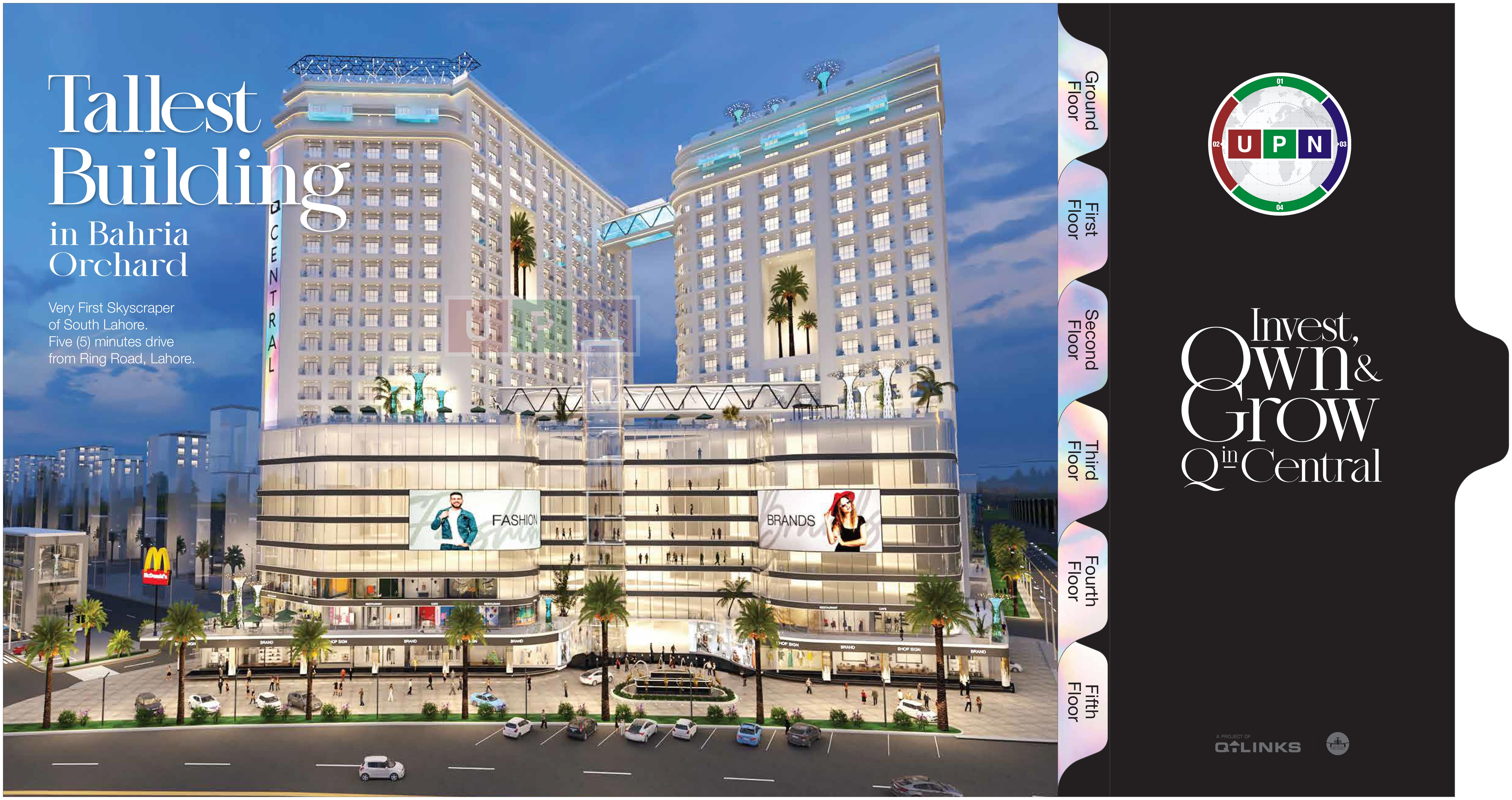 Investors looking for good returns on investments or planning to set up a successful business in Lahore should confidently invest in Q Central properties. Your investment will be secure and return you high, even more than your expectations. Buying is 100% recommended!
Frequently Asked Questions
Here is the answer to the commonly asked questions:
What is the location of Q Central?
It's a centrally located project in the heart of Bahria Orchard Phase 1. You can easily approach it from Bahria Orchard Gate 1 and Gate 2.
Who are the developers of this project?
It's an iconic development by Q-Links Developers.
What are the projects in Q Central Mall and Residences?
This high-end venture offers both residential and commercial properties. But currently, the details of commercial projects are available. Here you will find brand outlets, wedding central, kids central, digital and mobile central. Also, furniture and décor central are located on the fifth floor of this project.
Is booking easy for this project?
Booking of shops in Q Central Mall starts with a 5% down payment. The remaining amount will be payable in 48 monthly installments.
Please contact us through WhatsApp, web form, or visit our Youtube channel for further assistance.