Al-Noor Orchard C Block Possession Updates
by UPN
January 25, 2022
0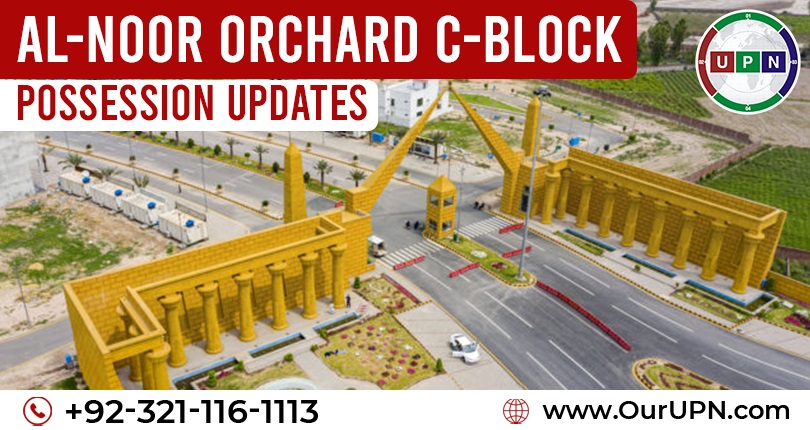 Al-Noor Orchard Lahore is one of the most popular housing societies in the city of gardens. It's a project by the well-known Al-Jalil Developers launched a few years back. Thoughtfully planned and impressive developed, Al-Noor Orchard is a modern project with the latest living facilities. It's a gated community with a neat and clean environment. Spreading over 1200 acres of land, this society comprises several blocks. All of its blocks are attractive, but the latest updates are about Al-Noor Orchard C Block possession. It will be announced soon. Further details
Possession in Al-Noor Orchard Lahore
This largest housing society features the following blocks, i.e.,
A Block
B Block
C Block
D Block
West Marina Block
West Marina Executive Block
Marina Sports City
Two of its blocks have complete possession. These are Block A and Block B. The development work of these blocks has been completed so far. From infrastructural development to all the modern-day amenities are available in them. Moreover, the ratio of construction and inhabitation is very much impressive. C Block is also developing at the fastest pace. Even this work is near completion. The work on development is going on smoothly in Block D. Soon; the development will commence in one of the most popular West Marina Block.
Al-Noor Orchard C Block Possession Date
The possession of C Block is long-awaited. But finally, this wait comes to an end. Al-Noor Orchard C Block possession will start from 28th Feb 2022. Congratulations to all the plot holders of C Block, as it's the time to enjoy your investment in Al-Noor Orchard's one of the best blocks.
This C Block is perfectly planned with the best residential plots where making construction and investment will surely return you good profits. Living in this block is like a dream of facilitated living comes true. Once the possession is available, its members can confidently start building their homes. At the same time, the prices are increasing rapidly, providing investors will a profitably return.
Latest Investment Opportunities in Al-Noor Orchard Lahore
Al-Noor Orchard is full of options and opportunities. However, the latest investment chances await you in:
West Marina Block
This beautiful block is planned with a range of residential plots, apartments and villas. West Marina Block holds significant importance as it is designed on advanced trends. Its master plan is handover to Surbana Jurong, a well-known name of Capital Smart City and Lahore Smart City. Moreover, it has several other attractions making it a perfect development of this modern age. Al-Noor Orchard West Marina plots are available for re-sale. You can only buy them by paying the profit amount as the bookings are closed. However, West Marina Villas and Cottages can be easily purchased at the best prices. Booking of these properties is open, while the down payment is also reasonable. The remaining amount will be payable in 5 years flexible payment plan.
West Marina Executive Block
After getting huge success in West Marina Block, Al-Jalil Developers has launched this block a few months back. Designed perfectly as per the standards of West Marina, this Executive Block offers premium features. Offering the best residential plots for sale in Lahore, West Marina Executive Block is an ideal choice to buy plots on installments. Once the Al-Noor Orchard C Block possession is announced, the demand for plots in this block will also increase.
Marina Sports City
It is a recent addition in the portfolio of Al-Noor Orchard Lahore. Offering low-cost plots, the Marina Sports City payment plan is heart-winning. Not only the launching prices of plots are affordable, but the monthly installments are as per the expectations of low-income and salaried people. Booking of plots starts from 1.50 lacs while the remaining will be payable in 5 years convenient payment plan. Marina Sports City is an advanced development with up-to-date sports facilities. This project is specially designed to provide people with a neat, clean and healthy environment for living.
Conclusion
The possession of Al-Noor Orchard C Block will be available by the next couple of weeks. Soon, the construction of houses will also begin. But if you are still in search of low-price properties for investment and residence, choose the most suitable one between West Marina, West Marina Executive and Marina Sports City. All these blocks are perfect for medium to long term investment gains.
For further details and investment analysis, please get in touch with Universal Property Network!
Please contact Universal Property Network For More Information click here or visit our youtube channel further assistance