Adams Housing Lahore – Location Map – Payment Plan – Booking
by UPN
August 1, 2022
0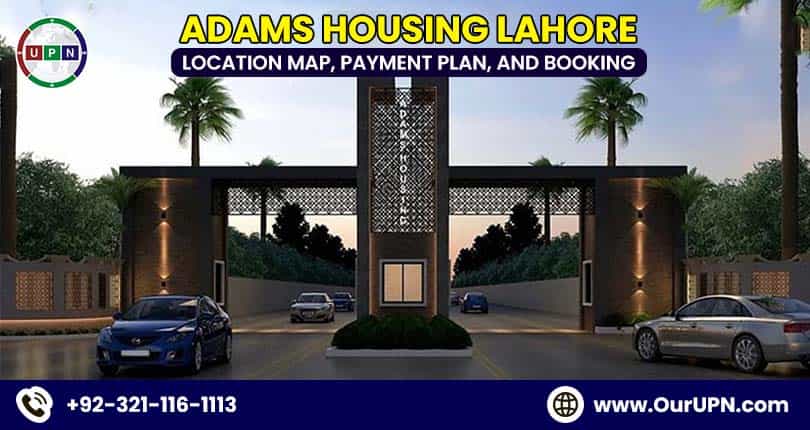 Adams Housing Lahore is a premium residential venture launching in the city. This society provides the best housing and investing options as per the latest trends. Ideally located in the heart of Lahore, this society is a gateway to a new and modern Consider this project if you're looking for affordable plots for sale in Lahore. Following the success of Adams Housing Multan, Adams Developers are all set to launch another masterpiece Adams Housing Lahore.
Their previous project in Multan has received much support and interest from their buyers and developers. And now, they are spreading their boundaries in Lahore to provide people with better and more profitable investment opportunities.
A luxurious living environment full of luxuries and comforts is what you will get in this appealing housing venture. Following are the complete details:
About Developers
Adam Developers, a well-known name in Pakistani real estate, is the company behind this residential development. Adams Housing Lahore developers have good reputation in the real estate sector. They work on various real estate projects, including office buildings, residential developments, apartment buildings, and storage houses. These developers have smartly planned their projects and opened new doors of investment and high-standard developments in the country.
This project's developers focus on expert brilliance, unwavering quality, and unusual future challenges. Due to their dependable nature and dealings in their operations, they have established a respectable and trustworthy reputation in the real estate sector. They have successfully developed and followed out different valuable projects with the same name in numerous cities such as Multan and D.G Khan.
Adams Housing Lahore NOC
Being a new housing project in Lahore, Adam Housing Lahore NOC has not yet been received. However, soon LDA and other relevant authorities will approve it. Having completed the Multan Adams Housing Scheme and other notable projects, the developers of Adams Housing Lahore are trusted, and investors find them suitable to invest in.
Once the LDA has given its clearance, this housing project will have access to all the essential facilities, such as Sui Gas, water, electricity, and more. Therefore, it will be a secure and successful investment and a living hub that guarantees great profits.
Adams Housing Plots for Sale
Adams Housing Lahore is quickly becoming famous because of the high-standard living and investment opportunities. The society is planned to cover a large area of land that will be divided into several blocks offering a wide range of residential and commercial plots. Living here will allow you to enjoy tranquil, well-equipped, and comfortable surroundings. Additionally, this location is great from an investment point of view, guaranteeing significant future profits.
The plots for sale at Adams Housing are highly affordable. Moreover, the developers will also offer a suitable payment plan to facilitate investors with the best. At the same time, you can choose from a variety of sizes to suit your specific requirements. The following sizes of plots are offered for sale in the Adams Housing Scheme Lahore:
5 Marla Residential Plots
7 Marla Residential Plots
10 Marla Residential Plots
1 Kanal Residential Plots
2 Kanal Residential Plots
Soon, the details of commercial plots, apartments and villas will be available.
Adams Housing Lahore Payment Plan
It is one of the Lahore affordable housing projects that offer the best options for investment and living. Adams Housing Lahore Payment Plan is making it the perfect location for living a luxurious lifestyle. You can purchase plots here for the lowest prices. This project is valued by today's purchasers and investors because it will generate great returns in the future.
The developers created a flexible payment plan for the Adams housing in upcoming projects so that more buyers will consider it. The basic purpose behind all these plans is to raise the standards of people's living within affordability. Booking in this society starts with a minimum down payment, while the simple monthly payment plan allows you to buy your desired plot happily.
Even those with middle-class incomes can purchase property in the upscale housing development, especial thanks to its flexible payment plan. Currently, the rates are low; however, Adams Housing Lahore plot prices and worth will keep rising with the speedy development and high demands. This project is exceptional to buy plots on installments in Lahore.  The high-level status of this project, along with its excellent location, cutting-edge infrastructure, top-class amenities, and connectivity to major routes, makes it the best choice. You will surely get a lot by investing in this project.
Soon the complete prices and payment plan details will be available.
Adams Housing Lahore Location
Adams Housing Lahore location is outstanding as this project is coming to one of the prime areas of Lahore. The location of this top-class development is G.T Road near Kala Shah Kaku, which is already a hub of modern societies. Many well-known projects, including Lahore Smart City, are lying nearby. The prominent location of this project increases its worth and makes it even more appealing to investors; a good location refers to a good investment that will give a good return.
The accesses to some of the significant areas and developments of Lahore are at this distance:
Allama Iqbal International Airport is roughly a 20-minute drive away.
Simple access to the Lahore ring road and the N5 highway
Mall Road Lahore is around a 30-minute drive away.
Proximity to prestigious universities and educational institutions, including UET, GCU, and UHS
Additionally, SA Garden and Al Kabir Orchard are nearby housing societies.
Driving time to DHA Lahore is about 20 minutes.
People looking for affordable properties at the ideal location should consider investment in Adams Housing, especially because of its valuable location in Lahore.
Amenities at Adams Housing Scheme Lahore
This society offers the best range of amenities, and residents will lead lives beyond their dreams. While residing here, you will enjoy the following features and facilities:
This society's main boulevard and roads will be 150 to 300 feet wide, while internal roads will have a width of 35 to 100 feet.
All the roads will be carpeted and have street lights.
It will be a secured housing venture as the project plan shows the installation of security gates and boundary walls. Also, you will enjoy 24/7 security as this place will have protection from guards and CCTV Cameras.
Adams Housing Lahore facilities also include a proper sewerage system, availability of electricity, sui-gas and water.
There will be a school inside this project.
There will be a grand mosque and mosque on every block.
Proper commercial market and sector shops.
Malls and restaurants.
State-of-the-art medical facilities and much more.
Investment in Adams Housing is a highly beneficial decision. Soon the pre-launch rates and booking details will be available. Please be ready for it to book the best property for sale in Lahore. You will surely enjoy your living and investment in this place.
Frequently Asked Questions
Below are the answers to some of the most commonly asked questions about this society.:
Is Adams Housing Lahore Approved by Authorities?
No, it is not yet approved as the project is new. But soon, it will have complete approval.
Who are the Owners of Adams Housing Schemes Lahore?
It is a project by Adams Developers owned by Riyaz Beryar.
When will the Possession be Given?
The possession of plots in Adams Housing Lahore will be handover within 1 year of the booking before the completion of the payment plan.
Is Buying in this New Project Worth?
Yes, investment in Adams Housing Lahore is highly profitable. You can quickly check the capital growth of investors in the projects located in Multan and D.G Khan.
So, what are you waiting for? Be ready to invest in one of the top real estate developments coming to Lahore. Contact us for further details and information of this project.
Please contact Universal Property Network For More Information or visit our Youtube channel for further assistance.