Adams Housing Lahore New Deal on Sharaqpur Road Lahore
by UPN
August 10, 2022
0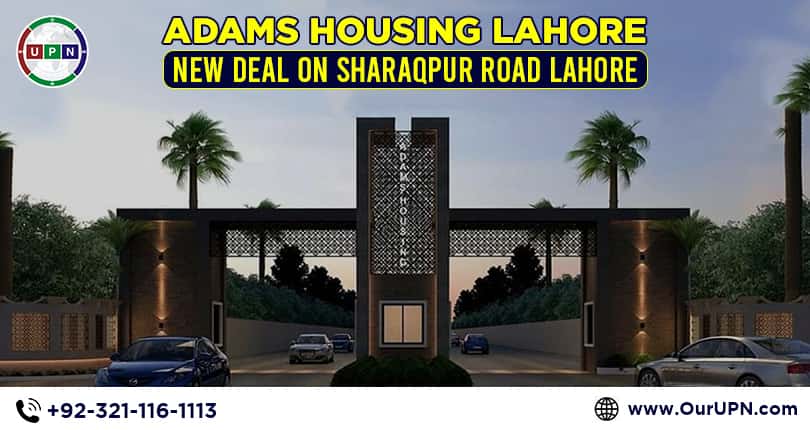 Adams Housing Lahore new deal is launching soon. It is one of the prominent projects in the real estate sector of Pakistan. Adams Developers has already delivered Adams Housing Societies in Multan and D.G Khan. The development work of these projects is going on smoothly. Even many of their blocks have possession.
Adams Housing Lahore is a perfectly planned project coming soon at the prime location of G.T Road Lahore. However, its on-ground plots deal is launching in a few days in the proximity of Al-Noor Orchard Lahore. How? The details are provided below:
Adams Housing Lahore New Deal
The exciting deal of on-ground residential and commercial plots of Adams Housing is launching on Sharaqpur Road Lahore as well. The developers have already acquired a large area of land located close to Al-Noor Orchard Lahore and Al-Jalil Garden. The new deal plot's location is Lahore Gardens, a society now acquired by Adams Housing Lahore. The actual location of this project is the Main Sharaqpur Road near Faizpur Interchange.
The details of the plots are:
3 Marla Residential Plots
5 Marla Residential Plots
10 Marla Residential Plots
These must be developed and ready to construct plots. At the same time, the developers are planning to announce a lot of plots on installments. These must be plot files that come with a flexible payment plan of 3 – 4 years. Booking of these plots will start from a 20% down payment.
The rates of plots and further details will be disclosed soon.
Location of Adams Housing Lahore
This premium housing venture is smartly planned at the prime location of G.T. One of its sectors will be located on Sharaqpur Road Lahore, providing investors with budget-friendly investment opportunities. However, the mega project will be situated near Lahore Smart City. Undoubtedly, the location of this society is outstanding, adding more value and charm. Many of the best projects, such as SA Gardens and Al-Kabir Orchard, are lying nearby at a short distance from Kala Shah Kaku Interchange.
Be ready to book your plot in Adams Housing Lahore new deal launching in the next couple of weeks.
Frequently Asked Questions
Here are the answers to some of the most commonly asked questions:
Is Adams Housing Lahore New Deal LDA/TMA Approved?
The new deal of this society is launching ideally at the location of Lahore Gardens. This society already holds a valid NOC and has complete approval from authorities. However, as the project name is changed, Adams Developers will soon get the updated NOC of this new deal.
What is the Actual Location of Adams Housing Lahore?
This society is coming at the heart-winning location of Main G.T Road Lahore near Kala Shah Kaku. However, one of its deals is launching on Main Sharaqpur Road Lahore near Al-Noor Orchard Lahore.
Are Adams Housing Lahore Offering On-Ground Plots?
Yes, the first deal of plots launching on Sharaqpur Road features 100% developed/on-ground plots. The possession of plots will be handover on booking, and most probably, these plots will be available in lump-sum amounts. On the other hand, the main project on G.T Road will have plot files, but the development work will be complete within 1 year of bookings.
Is Buying Safe in Adams Housing Society?
Yes, it's a project by well-known and trusted developers. People searching for budget-friendly and safe investment opportunities should definitely invest in the best plots for sale in Lahore's Adams Housing Society.
What are the Amenities Available in Adams Housing Lahore?
Starting from the prime location, state-of-the-art planning, excellent development, as well as top-class facilities, this society will have everything. It will be a fully-facilitated place to live and invest in Lahore.
Please contact Universal Property Network For More Information or visit our Youtube channel for further assistance.[/vc_column_text][/vc_column][/vc_row]