Affordable Commercial Plots in Bahria Town Lahore
by UPN
June 26, 2020
0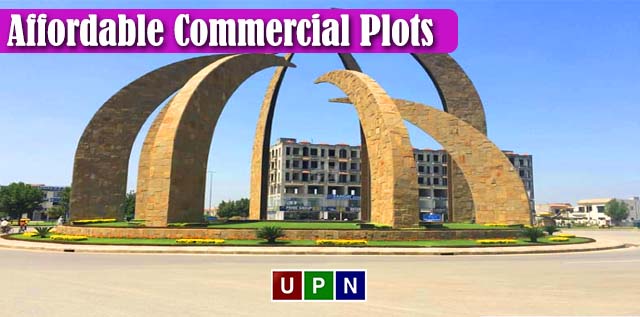 Buying a commercial property in Bahria Town Lahore at affordable prices is nothing less than a blessing. This mega housing venture is featuring the best commercial properties for sale. However, the demand for commercial plots in Bahria Town Lahore is very high. To cater to these increasing demands of commercial property, Bahria Town Lahore is once again come up with some new and exciting deals. Offering numerous properties, Bahria Town Lahore brings you another life-changing investment opportunity in sector shops and 5 Marla commercial plots.
Sector Shops for Sale in Sector E Bahria Town Lahore
Bahria Town Lahore is now offering two-sides open sector shops in its Jinnah Block Sector E. The size of these sector shops is 15×20 while the construction of ground + 1 floor is allowed on them. Limited in numbers, these are the best commercial shops for profitable investment. Both the general and category shops are available for sale. The prices of these sector shops are starting from 36 lacs and go up to 42 lacs. There is a difference in the rates of shops as per the location. Another important feature is that these Jinnah Block Sector Shops are available on Open Forms. It means that you will be the first owner of your property.
Located in the proximity of mosque, these Jinnah Block Sector Shops are also enjoying a prime location in the society.  Moreover, these recently launched shops are located in the fully-developed block. The ratio of population is continuously increasing in Jinnah Block Sector E.
5 Marla Commercial Plots in Nishtar Block
Another profitable investment opportunity offered by Bahria Town Lahore is in its Nishtar Block. By keeping in view the increasing demand for commercial plots, they had recently launched 5 Marla commercials in it. Located at the Main Boulevard of Nishtar Block Sector E, these are total 29 commercial plots of 5 Marla. The dimension of the plots is 30 x 40. Also, these plots are launched on Open Forms.
The starting prices of 5 Marla commercials in the Nishtar Block Sector are 1.60 crores to 1.90 crores. Booking of these plots is starting with a down payment of 60 lacs to 75 lacs. The remaining amount will be payable in the easy installments plan of 1 year.
Commercial Properties and Bahria Town Lahore
No doubt, Bahria Town Lahore is always a hot-choice to buy different residential properties. But at the same time, this society is also ideal for purchasing commercial properties for sale. Not only are the prices of these newly-launched sector shops and commercial plots reasonable but also available on Open Forms. You can invest in Sector shops to start your own business and rent out it later. Moreover, 5 Marla commercial plots of Nishtar Block is offering you a smart and profitable investment opportunity for potential investors.
For more details, contact Universal Property Network!
Check out our site for more detail. Latest News