5 Marla Plots for Sale in Lahore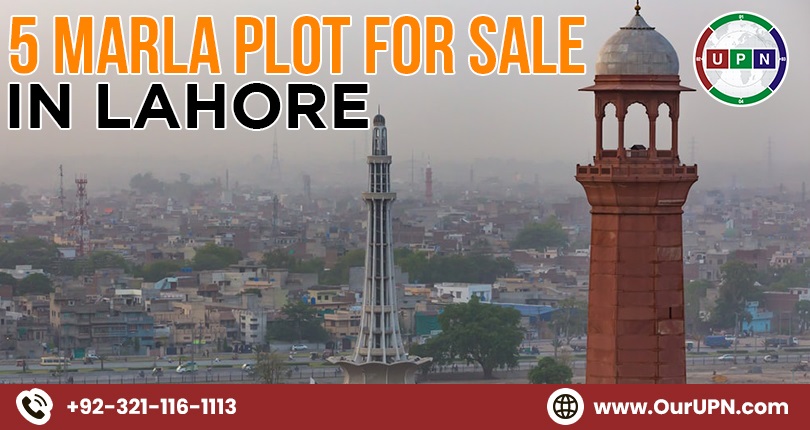 Are you looking to buy 5 Marla plots for sale in Lahore? Do you want to get the best location plot at reasonable rates? Also, do you wish to get the low-cost plot available with possession? Then, don't be curious, as UPN brings you the ideal plots where you will surely enjoy your investment.
Undoubtedly, the Lahore property sector is full of options in offering the best 5 Marla plots. But when it comes to low budget plots with possession, many of the investors hesitate to invest. They usually have concerns about the location, amenities, and surrounding development. If you are worried about the same, please stop thinking and start reading as you will find these options perfect in all the terms. Further details of these projects:
5 Marla Plots for Sale in Lahore
The best and low price possession plots are available on Main Sharaqpur Road. It is also known as the hub of societies as a large number of housing societies are developing there. Some of these societies where investment is secure and beneficial are:
Al-Raziq Garden
It is one of the beautiful housing projects in Lahore. Located ideally on Main Sharaqpur Road, this society is 5 minutes away from Lahore-Islamabad Motorway, Faizpur Interchange, and Lahore- Karachi Motorway. Covering a large area of land, Al-Raziq Garden features five blocks starting from A Block to E Block. The availability of properties is also in abundance as a wide range of residential and commercial options are part of it. Here buying a 5 Marla possession plot will cost you between 27 lacs to 35 lacs. All the modern-day living amenities, including electricity, gas, and water, are provided to its residents.
Shadman Enclave Lahore
It is another appealing option to buy 5 Marla plots for sale in Lahore. Shadman Enclave is perfectly designed over a large area. It is a project by Shadman Developers located ideally near Faizpur Interchange. The entire area of this society is divided into eight blocks named alphabetically. Moreover, Shadman Enclave experience speedy development as most of the land is on-ground, and plots are available with possession. Here buying a 5 Marla plot will cost you 26 lacs to 35 lacs. Some of the other best residential plots in Shadman Enclave come with flexible payment plans.
Al-Jalil Garden Lahore
Presented by Al-Jalil Developers, this housing society holds importance for several reasons. Features state of the art infrastructure and modern developments, it's a beautiful place to live in Lahore. Also, Al-Jalil Garden Lahore features a wide range of blocks as it spans over a thousand Kanal of land. Completely approved by LDA, Al-Jalil Garden's location is outstanding and easily accessible. This society is close to Al-Raziq Garden and Shadman Enclave.
Moreover, some of the best plots for sale in Al-Jalil Garden are available on installments. Here buying a 5 Marla plot will cost you 35 lacs to 55 lacs. Prices of plots are different as per location and development.
Al-Rehman Garden
Al-Rehman Garden is one of the most popular housing societies on Main Sharaqpur Roads. LDA completely approves it. This society has Seven Phases, and all are divided into several blocks. The properties for sale in these phases are both residential and commercials. It's a project by Rehman Developers, the pioneer of modern housing societies in that location. Al-Rehman Garden offers a range of options on easy installments. However, if you want to buy 5 Marla plots with possession, you can get them in 33 lacs to 40 lacs. All the living amenities are available in Al-Rehman Garden Lahore phases.  
Al-Noor Orchard
It's an international standard housing project located ideally at the prime location of Sharaqpur Road. Al-Noor Orchard is a state-of-the-art development by the well-known Al-Jalil Developers. This society holds importance for significant reasons, among which speedy development is prominent. Moreover, the heart-winning West Marina Block and Marina Sports City are located in Al-Noor Orchard Lahore. It is one of the safest and most profitable real estate investment options. Also, this society offers plots on installments even you can buy apartments and villas with flexible payment plans.
However, if you desire to buy 5 Marla plots for sale in Lahore with possession, you will need to pay 32 lacs to 38 lacs. These plots are available in Block A, Block B, and Block C. All the modern lifestyle amenities are available in these blocks.
Conclusion
All the above-discussed housing societies are approved by the authorities. These housing projects have prime locations and good development status. From developers to the amenities, all are impressive. Moreover, buying in these projects' 5 Marla possession plots is beneficial for residential and construction purposes. The plots prices are also reasonable as the amenities provided are equivalent to Lahore's top housing societies.
So, please don't wait and invest in one of the suitable housing societies on Sharaqpur Road Lahore by contacting us.
Please contact Universal Property Network For More Information click here or visit our youtube channel further assistance