Al- Rehman Garden Phase 2 – All You Need to Know
by UPN
March 23, 2020
0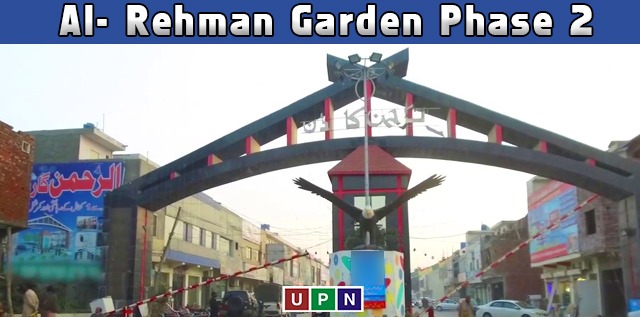 After getting huge success in Al-Rehman Garden Lahore Phase 1, the society has recently announced its another phase. Yes, Al-Rehman Developers are now presenting Al-Rehman Garden Phase 2 where you will find the number of attractive properties at the best prices. This phase is brilliantly planned with the on-ground residential plots of different sizes. Even the possession of most plots is also available. Just like its phase 1, this Phase is featuring state of the art infrastructure and appealing modern developments.
Plots for Sale in Al-Rehman Garden Phase 2
This new yet the well-developed phase of Al-Rehman Garden is offering residential plots of three different sizes. The available residential plot sizes are 3 Marla, 4 Marla, 5 Marla, 7 Marla and 10 Marla.
However, you can also buy the best developed commercial plots of 2 Marla.
Project Overview – Al-Rehman Garden Phase 2
This is an impressively planned residential venture that will comprise a total 5 Phases. But currently, only 2 phases of society are presented and developed. It is the largest housing society that is spanning over a land of 900 acres. The area is further divided into 17 blocks. The oldest block of Phase 2 is its Block A. It is the most developed and very well-populated block. However, other blocks such as A, B, C, and D are also offering possession plots for sale. Around 6000 families are living in this society.  In addition, some of these plots are still available on flexible payment plans.
Best Location of the Society
Phase 2 of Al-Rehman Garden is ideally located at the best location in the city. Al-Rehman Garden Phase 2 is located on Sharaqpur Road, near to Faizpur Interchange.
Prices of Property in Al-Rehman Garden Lahore
This appealing housing project is featuring the best plots for sale. These prices of the plots in Al-Rehman Garden are quite reasonable in comparison to the housing ventures located close to it. The average price of 5 Marla plot in this society is 26 lacs. Similarly, a plot of 7 Marla will cost you around 39 lacs. In addition, a residential plot of 10 Marla is available at an affordable price of 65 lacs.
Why Should You Invest in Al-Rehman Garden Lahore?
Al-Rehman Garden Phase 2 is considered the best housing society to buy affordable residential plots. First of all, it is located at the ideal location. Second, it is offering plots at the best prices. In addition, the state of the art town planning and modern-day facilities further increases the value of this project.
So, investing money in Al-Rehman Garden Phase 2 is highly recommended to earn the best returns in a short span of time.
For more details, contact Universal Property Network!
Check out our site for more detail. Latest News