Al-Rehman Garden Phase 7 or Al-Noor Orchard Lahore
by UPN
March 13, 2021
0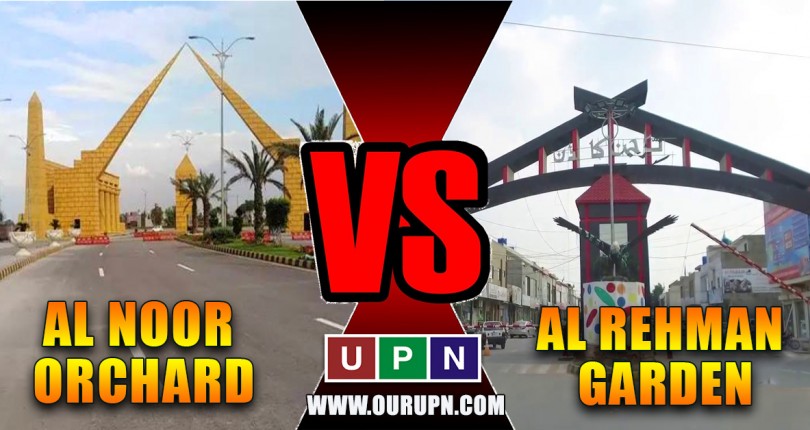 Al- Rehman Garden Phase 7 and Al-Noor Orchard Lahore both are the top-rated housing societies in Lahore. Al-Rehman Garden Phase 7 is launched a few months ago, while Al-Noor Orchard is an on-going project. The location of both these projects is different but ideal. Easily accessible and have a beneficial surrounding. The one most common and significant feature between the both is the approval from the authorities. Yes, Al-Rehman Garden Phase 7 and Al-Noor Orchard Lahore are completely approved by LDA.
You must be wondering which one of these societies is best that you can choose for investment?
But before comparing the location, facilities, prices and attractions, we would like to mention here that: the only reason to write this blog is to share and compare details. This comparison does not mean that anyone in this project is not good or more dominant. Let's check out the details together!
Developers
Al-Rehman Garden Phase 7 Lahore is a project by Al-Rehman Developers. These developers have already delivered several successful projects. Even Al-Rehman Garden is the most successful society on Sharaqpur Road Lahore.
Al-Noor Orchard Lahore is brought to you by Al-Jalil Developers. These are the same developers who had delivered Al-Jalil Garden in Lahore. The first project comes while moving from the motorway to Faizpur Interchange, where all the modern-day living facilities are available in Al-Jalil Garden Lahore.
Master Plan
The master plan of Al-Rehman Garden Phase 7 shows the development of 150 ft main boulevard. On the other hand, the main boulevard in Al-Noor Orchard is 210 ft wide.
The map of Al-Noor Orchard also clears that there is no commercial property is planned on the entrance. The entrance of this society is quite big, beautiful and well-planned. The entrance of Al-Rehman Garden Phase 7 is designed with commercial shops, shopping mall and plots.
Plots Sizes
Al-Rehman Garden Phase 7 offers a wide range of residential plots. There are almost 13 categories of plots available such as 3 Marla, 4 Marla, 5 Marla, 6 Marla, 7 Marla, etc.
The plots for sale in Al-Noor Orchard Lahore are available in the size of 5 Marla, 10 Marla, 1 Kanal, 2 Kanal and Lake Facing Plots.
Delivery and Possession
Al-Noor Orchard Lahore has already announced the possession of properties in its first three blocks. Even the construction of houses can be seen in A Block and B Block. Moreover, the commercials are also under-construction.
The payment plan for the plots in West Marina spans over 5 years. The possession will be handover in the next 2.5 years, hopefully.
On the other hand, Al-Rehman Garden Phase 7 is a new and under-development project. The payment plan of plots in this society spans 2.5 years, but the possession will be available in the next 6 months.
Amenities and Attractions
Al-Rehman Garden Phase 7 and Al-Noor Orchard both are among the best societies in Lahore. These projects offer all the latest facilities starting from parks, playgrounds, educational, and health facilities to CCTV cameras and necessities.
While concluding all these details, we can say that both these societies are good and profitable to choose. But choosing one between these societies completely depends on your preference and needs!
So, Contact Universal Property Network  And For More Information click here or visit our youtube channel