Al-Rehmat Housing Scheme Lahore by Bahria Town
by UPN
February 24, 2022
0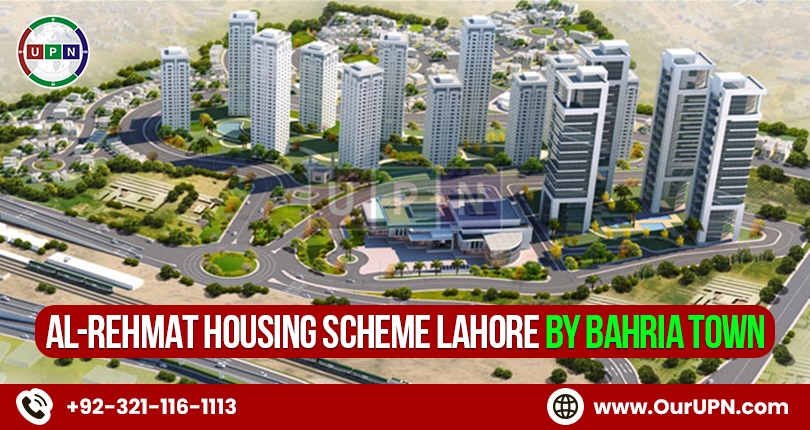 Al-Rehmat Housing Scheme Lahore is a top-class and elevated project in Lahore with a lot of golden opportunities. Beautifully developed on high standards and maintaining quality, it's an LDA approved project by Bahria Town Pvt. Ltd. Planned to provide everyone with a very suitable residential, investment and business environment, this society is ideal in all the terms. It offers a range of options in commercial and residential categories available at the prime location of Lahore. Moreover, it's a secure community where buying property is nothing less than a blessing.
Previously known as Old Ittefaq Foundry, Al-Rehmat Housing Scheme Lahore is a modern place to live a fully-facilitated lifestyle. It's a top-notch development where all your living and investment dreams will shape into reality. Moreover, this society also offers a new deal of residential plots available on easy installment. So, you will surely find this project excellent for both investment and residential purposes. Further details are:
Al-Rehmat Housing Scheme Location
This appealing and excellently planned housing project enjoys a prime location at the old Ittefaq Foundry site, near Quaid-e-Azam Industrial Estate. The actual location of Al-Rehmat Housing Scheme Lahore is Peco Road Lahore. This place is close to Packages Mall and near Model Town Link Road. In other words, this beautiful project enjoys a prime location in the mid of Lahore with having extremely beneficial surroundings.
Undoubtedly, this society has a location that is heart-winning to live or invest in Lahore. This place can be found in one of the well-developed areas of Lahore where all the commercial facilities are already available. Al-Rehmat Housing Scheme location is outstanding in all ways, as it is well-connected and easily accessible.
Master Plan
Al-Rehmat Housing Scheme gives everyone a chance to be a property owner by investing in their desired property.  It's a place where you can make your future bright with the right property investment. Spreading over a large area, it's a beautiful housing venture with several blocks. Currently, you will find Block A, Block B, Block C, and Block D.  Its development is made as per the high standards of Bahria Town Pvt. Ltd. It features all the trademark facilities and attractions of Bahria Town which always catches the attention and investment of everyone. Al-Rehmat Scheme is appealing and an ideal choice from all the aspects to live, invest or set up a new business.
Plots for Sale in Al-Rehmat Housing Scheme Lahore
This society offers the best residential and commercial plots in the following sizes:
4 Marla Residential Plots
4 Marla Commercial Plots
5 Marla Commercial Plots
The construction on commercial plots is allowed as ground plus 4 floors or 72 feet tall, while residential plots are ground plus 2 floors or 38 feet.
Also, a new deal of 4 Marla residential plots is launched in this beautiful society providing everyone with an opportunity to buy plots on installments.
Plots Prices in Al-Rehmat Housing Scheme Lahore
Let's find the best return for your money by investing in one of the best housing projects by Bahria Town. This society is smartly planned to provide everyone with a chance of property investment within his budget. Therefore, the prices of plots in this appealing project are reasonable. Moreover, the new deal of plots is available with a 1-year flexible payment plan. Following are the complete details:
The launching price of 4 Marla residential plots is 90 lacs. Booking starts from 15 lacs. The next 15 lacs will be payable in April 2022; similarly, 15 lacs will be payable in May 2022. After that, there are 4 quarterly installments of 11.25 lacs. Bahria Town allows the construction of ground + 2 floors on these plots.
4 Marla Residential Plots
Category
Size
Total Price
Down Payment
4 Quarterly Installments
Residential
4 Marla
9,000,000
1,500,000
11,25,000
Note: Category Charges are Paid. No Transfer Fee or Any Extra Charges as these are Open Form Plots.
Overseas Pakistanis can also book their plots by contacting us directly!
About Developers
It's a society by Bahria Town Pvt. Ltd. This firm needs no introduction as they are already popular as Asia's top developers. Moreover, Bahria Town Lahore, Bahria Town Karachi and Bahria Town Islamabad are the perfect descriptions of their excellent work.
LDA Approval?
Al-Rehmat Housing Scheme is 100% approved by the authorities. Furtherore, you can easily check its valid NOC on LDA official site.
Amenities in Al-Rehmat Housing Scheme
It's time to enter a beautiful place where you will love to say what a facilitated and fantastic place in Lahore. This prestigious project is full of facilities. It offers all the basic to top-class amenities essential to living a comfortable and modern lifestyle. This society is suitable for both residential and commercial investment. Undoubtedly, it is a golden living or investment place in the mid of Lahore with a lot of beneficial properties available here. Some of the best facilities in this society are:
Wide Carpeted Roads
Secure Gated Community
Boundary Walls
Alert Security Management and CCTV Cameras Monitoring
Green Belts
Immediate Possession
Nearby Educational and Health Facilities
Parks and Landscapes
Underground Connections of Electricity, Gas, and Water
Modern, State of the Art Infrastructure
Play Areas for Kids as well as Play Grounds 
Nearby Commercial Areas and Markets
Easily Accessible Location and Beneficial Surroundings
Clean Water Supply
Proper Sewerage System
Spacious Car Parking
Reasons to Invest?
Al-Rehmat Housing Scheme provides you with a chance of golden investment in one of the best properties in Lahore. It's a project by the well-known Bahria Town which needs no introduction. This society offers the ideal residential plots of 4 Marla, perfect for residence and investment growth. Moreover, the availability on installments fulfils the needs of modern investors looking for easy payment plans. This place is 100% suitable for residence and investment purposes. Its master plan, development and beneficial locations make it prominent among all. In other words, this place is something you will never leave.
So, don't waste your time in thinking about this or that, and confidently invest in Al-Rehmat Housing Scheme, a perfect option to buy affordable plots in Lahore.
Please contact Universal Property Network  For More Information click here or visit our youtube channel further assistance