Awais Qarni Block Sector B, Bahria Town Lahore – A Complete Guideline
by UPN
December 3, 2018
0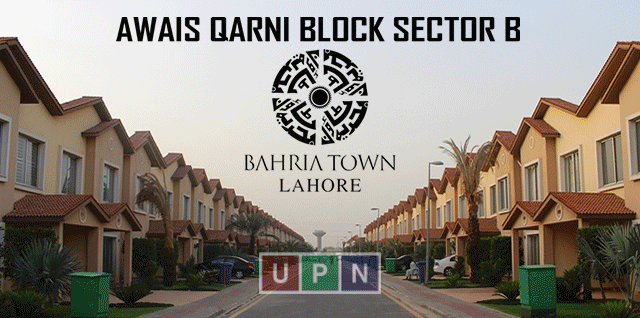 Awais Qarni Block Bahria Town is one of the best blocks of Bahria Town Lahore that is located in the Sector-B. It is among the blocks that are positioned near the main entrance of this amazing housing project. Awais Qarni Block is completely developed and families are enjoying peaceful and luxurious facilities in it. The plot cuttings of 10 Marla are available in Awais Qarni Block. The number of plots that are available is limited. There are many attractions that make this block best among the many other residential blocks of Bahria Town Lahore. Awais Qarni Block is highly-recommended to end-users.
Detailed Location Overview
Awais Qarni Block is located at the outstanding location that makes it the hot-favorite one for luxurious residence. This block is basically located at the difference of some kilometers from the Main Entrance of Bahria Town on the Canal Road Lahore. After the entrance, and moving forward on the 150 ft. Main Boulevard this block is located at the right side.
Development Status
This block is completely developed and already populated. About 70 % to 80% area of this block is populated and the available plots are limited in numbers. The work of electrification, road infrastructure, gas, and water is completed so far. All the plots are on-ground. So it is a great opportunity to book your plot at the already populated area where you can enjoy the peaceful atmosphere of Bahria Town Lahore.
Limited Numbers of Plots and Updated Prices
Awais Qarni Block is all designed with the 10 Marla residential plot cuttings in it. The prices of the plots are little high as the potential is already gained and this block is only recommended to the end-users. The starting price of the 10 Marla residential plots in Awais Qarni Block is 85 lac to 1.15 crores. The prices of the plots vary as per as location. Buying a 10 Marla residential plot in Awais Qarni Block is very beneficial for building your dream residence at outclass and the peaceful location of Lahore.
Attractions
Awais Qarni Block is an amazing one for residency as this is surrounded by different mind-blowing attractions. The main attraction of this block is that AlFalah building Lahore in which the complaint office and the old head office of Bahria Town are located in it. There are about two big commercial markets one at the back and the second close to the AlFalah building is located near to it. A Grand Mosque named Alfalah Mosque is located at the walking distance.
Buying a residential plot of 10 Marla at the most beautiful location and so many attractions of the Awais Qarni Block will definitely be a good decision. So, avail the opportunity and get your plot as soon as possible.
Stay in touch with Universal Property Network