Bahria Canal Heights – Commercial Properties on Main Boulevard of Bahria Town Lahore
by UPN
September 6, 2020
0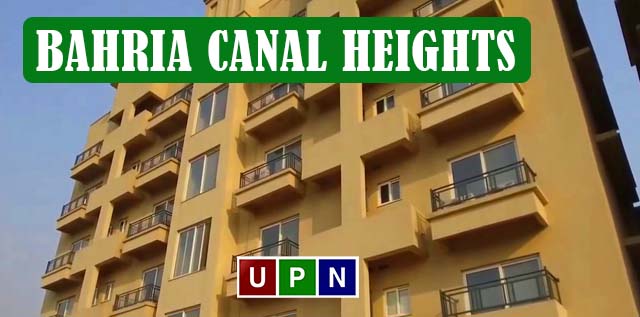 Bahria Town Lahore is an ultimate and preferred housing society where you can buy numerous commercial properties to earn the highest investment returns. Commercial properties are available at several locations of the society; however, Bahria Canal Heights is an excellent choice to gain immense benefits. It is clear here that a commercial located on the main boulevard of Bahria Town Lahore on Canal Road is known as Bahria Canal Heights. Let's explore the details of the best commercials for sale in Bahria Town Lahore!
Commercial Properties for Sale in Sector D
Different sizes and categories of commercials are available for sale in Sector D Bahria Town Lahore. Most of them are located ideally on Main Canal Road so, the demand and value of that properties are very high.
Some of the best 8 Marla commercials are available in the proximity of Bahria Heights Lahore. These commercials are fully-developed and available with possession. Most of the plazas are constructed while other is developing. The starting price of these commercials is 4 crores to 4.30 crores depending on location. Also, limited numbers of shops are available on the ground floor of Bahria Heights, which are too good to earn around 50,000/- rent per month.
Commercials located on BB Block Sector D's main boulevard are among the hot-favorite and most-demanded properties of Bahria Town Lahore. These are also 8 Marla commercial where an average plot will cost you 4 crores. Most of the shops are operational, while many plazas are ready and will be operational soon.
Why Bahria Canal Heights for Investment?
Bahria Canal Heights is the most attractive commercial of Bahria Town Lahore. The ideal location and the easy access from multiple routes make these commercials stand prominent, among others. Despite so many attractions, these 8 Marla commercials are still available at the best prices. An 8 Marla commercial's average price on Main Canal Road Sector D is 4 crores to 5 crores. However, the same size plot in Sector B or Sector C will cost you more than 8 crores.
Not only plots but different plazas developed and developing there are also offering the best shops for sale. Also, these shops can be bought in rent. So, if you are looking to run a successful business in Bahria Town Lahore, Bahria Canal Heights could be your preferred choice. Moreover, different sizes of apartments are also available both on full cash payment and rent.
So, don't wait and invest in the best-selling and profitable commercials of Sector D Bahria Town Lahore and contact Universal Property Networkfor further details!
Check out our site for more detail. Latest News