Bahria Orchard Lahore – Why You Should Buy A Plot Here? – Location, Map, Plots Prices and Development
by UPN
July 23, 2018
0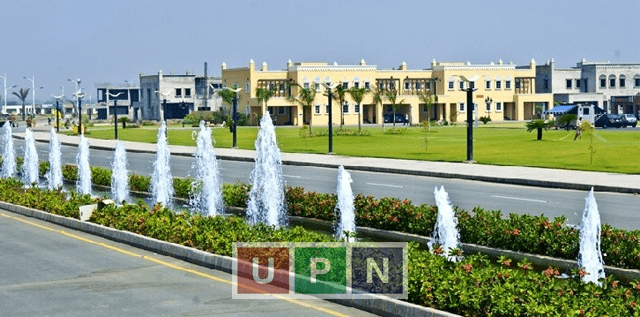 Lahore property is considered the best in the country to invest if you seek high ROI. Investors from all over the world are known to have shown interest in the property of Lahore as it has a very high demand. Being the business hub of Punjab, Lahore is ever growing and demand for a new plot never ends here. There a still millions of buyers all over the city looking to either buy a home or a plot to settle down in, or they are looking for investment opportunities. It is worth mentioning here that the best societies considered to invest in are the LDA approved ones.
Being near to the Lahore Ring Road, the gated society has very easy access to the rest of the city. Driving on the ring road not only makes it a shortcut to reach important destinations in Lahore, it also saves from the hassle of getting stuck in the traffic jams. The latest of Bahria Orchard is Phase 4 which having 6 blocks in total of 10 Marla & 1 Kanal plots making it the residential option for the elites of Lahore who seek an outstanding living experience which cannot be obtained in the noisy hustle and bustle of the outrageously over crowded city.
Bahria Orchard Lahore for Investment
For investors of Lahore seeking high-value profits on their investment in a short time, the consideration of Bahria Orchard Lahore Phase 4 is not out of the picture yet. There are still plots available at cheap prices as development is still underway. It is believed that unless a project reaches maximum development where it can be marked complete; there is still room for investment. While the scheme still has a lot to develop yet, investors can gain good profits for the money they put in today. By the end of the year, the rates would have risen a lot to where they stand today.
Bahria Orchard Lahore Living Opportunities
For customers who are looking to buy a house to live, the options are endless here. You can buy a fully furnished house at reasonable prices or if you wish to design your own house, you can purchase a plot according to your needs. The construction process is underway at a good speed so you can expect to get a NOC right away as you clear the payments. Living here empowers you with the following facilities:
1- Prime Location – Easy Approach
2- Near to Park & Zoo
3- Fully Developed
4- Ready for Possession
5- It's a buying market which means prices are the all-time low
6- Ideal for both residential and investment point
7- Secure Area
Services Offered by UPN
Universal Property Network has successfully managed to assist in the sale and purchase of many plots in Bahria Orchard Lahore to its buyers and investors. We understand that buying property is not easy especially for the first timers that is why buying with UPN is the best choice to get a fair deal. As development continues here, prices are rising so our advice is, if you are looking to invest or seek a new plot for your dream home, do not hesitate to contact us and we will get you the best deal in town.