Bahria Paradise Possession Villas – Latest Prices and Details
by UPN
August 10, 2021
0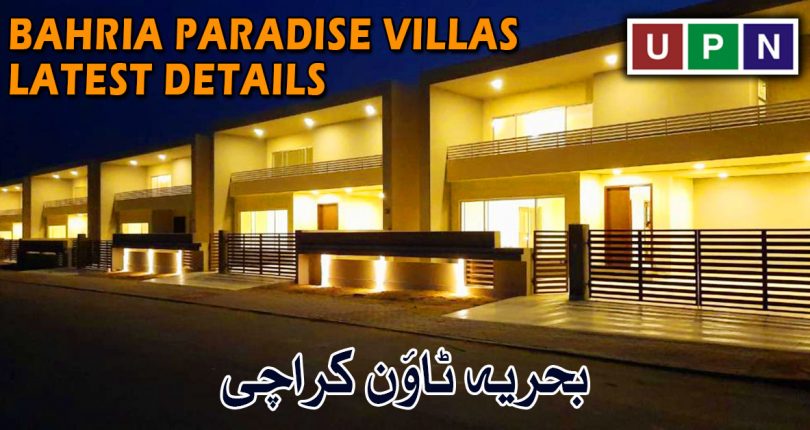 Bahria Town Pvt. Ltd. has recently announced the possession of Bahria Paradise first fifty villas of 500 sq yards. These Bahria Paradise Possession Villas have become the centre of attention and attraction for people dreaming of living in Bahria Town Karachi. Possession of these villas is announced while the owners of these ready properties have applied for it—usually, possession application processes within 40 days of its submission date.
Undoubtedly, the demands of Bahria Paradise Villas were increased after Bahria Town has announced the possession date. Only 6 – 8 months ago, these Precinct 51 villas were available in the price ranges of 2.50 crores to 3 crores. However, the latest prices of villas are much more different than the previous prices. Let us find out the latest prices of Bahria Paradise possession villas and further details in the blog below:
Bahria Paradise Possession Villas – Prices and Demands
After waiting so long, the owners of Bahria Paradise first fifty villas have been provided with the possession of their ready properties. Almost all of these owners have submitted their possession applications in Bahria Head Office Karachi. This announcement of the possession has also affected the prices.
The latest prices of Bahria Paradise possession villas are around 5 crores. On the other hand, the prices of the villas awaiting possession are available from 4.50 crores to 5 crores. One thing important to add here is that the 500 sq yards villas with ongoing finishing work will cost you around 4.50 crores. Otherwise, the prices of the remaining villas are above than it.
Bahria Paradise Precinct 51 Plots – Latest Prices
Precinct 51 also have some 500 sq yards residential plots for sale. These plots are lying adjacent to Bahria Paradise luxury villas. All these plots are on-ground. Only a few months ago, these plots were available in the price range of 80 lacs. But the current prices are starting from 1 crore and goes high up to 1.25 crores depends on location.
Bahria Paradise Possession Villas and Other Precincts
The announcement of possession in these luxury villas of 500 sq yards is undoubted, a positive step taken by the administration of Bahria Town. This possession will increase the worth of 500 sq yards villas and plots. Also, the prices of properties in the nearby precincts will improve. Bahria Town Karachi precincts that are lying in the surroundings of Precinct 51 and will get more benefits are:
Precinct 50, Precinct 47, and Precinct 48
Once the families move to their beautiful 500 sq yards of Precinct 51, the prices will increase further. Having inhabitation in any area makes attract more buyers and investors to the properties available for sale.
So, what are you waiting for? If you are looking to invest in Bahria Town possession villas or any other available options, contact us to make a successful property deal!
Contact us for further assistance.
Please contact Universal Property Network  For More Information click here or visit our youtube channel further assistance