Jinnah Block Bahria Town Lahore Possession Announced
by UPN
April 17, 2017
0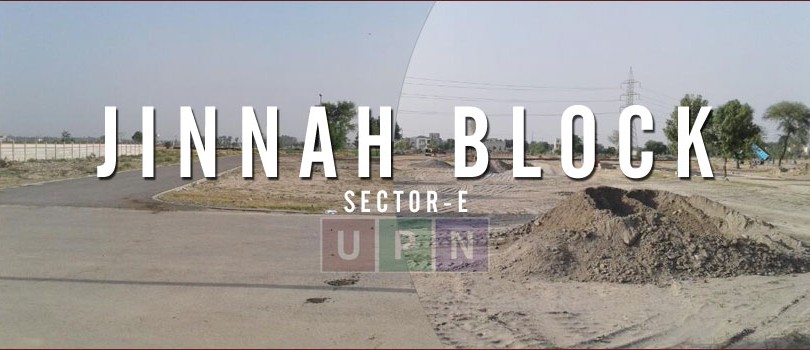 Bahria Town Lahore has recently announced Jinnah Block possession. Jinnah Block, Sector E is another block after two blocks in Sector D (Block AA, BB) that has 5-Marla plot offers only. As per latest news and updates, Jinnah Block is ready for possession due to recent developments by Bahria Town. The block surrounds by developed and populated blocks of Bahria Town, whereas investment perspectives are also attractive.
Jinnah Block Location
The location of Jinnah Block Lahore is attractive due to its proximity to Jamia Mosque Bahria Town Lahore. The mosque is the third largest in Pakistan and seventh largest in the world. In addition to good approach or nearby place attractions, Jinnah Block- Sector E is highly admirable place for living due to adjacent attractions that include:
•   Tulip Extension- developed and populated
•   Mini-Golf Course
•   Bahria Town Theme Park and Eiffel Tower
•   Rafi block- developed and populated
Its Time to Invest in Jinnah Block
The latest news of possession in Jinnah Block, Bahria Town, Lahore, evokes the interests of low budget investors. The prices of plots for 5-Marla in Jinnah Block are highly affordable. Furthermore, if we analyze the nearby sector prices for on-ground and off-ground 5-Marla plots, Jinnah Block plots becomes more feasible investment. For example, Rafi Block, adjacent to Jinnah Block, have following prices:
•   5-Marla developed plot for 50-55 lakhs
•   10-Marla developed plot for 75-90 lakhs
In sector D (Block AA and BB), Bahria Town Lahore, on ground plots rates for 5-Marla plots are starting from 55 Lakhs to 65 Lakhs. While in Jinnah Block, plots are ready for possession at lowest rates as 45-55 Lakhs for 5-Marla on-ground plot and 32- 45 Lakhs for off-ground plots.
Previously, there were high concerns of Ring Road crossing and no development in Jinnah Block. The latest news of Jinnah Block is a relief for investors. Due to intensifying pressure, Bahria Town machinery development of plots according to the map planning and 90% of block is already developed.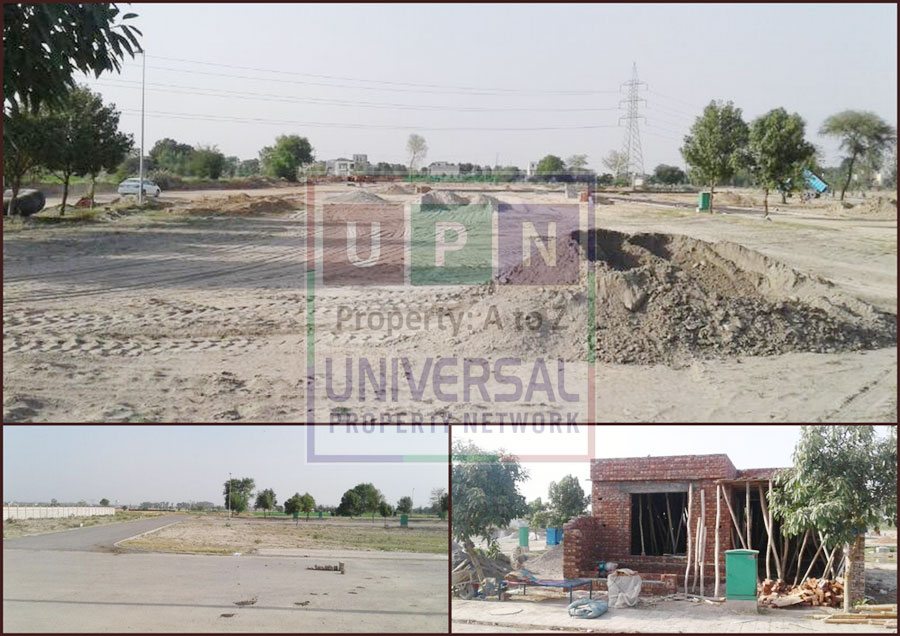 Bahria Town has stopped transferring the plots/files coming under the route of Ring Road to avoid inconvenience and shifted these files/ plots to other unaffected areas. It is a right time to invest in 5-Marla plot (off-ground) in Jinnah Block from investment point of view, as there is potential gain of 10-15 Lakhs if only the plots are developed. For residential point of view, on-ground plots of Jinnah Block are ideal as prices are comparatively low which is why builders are focusing on this block for house construction as per image below:
Facilities
Jinnah Block, Bahria Town offers following residential facilities:
•   Electricity (underground), Gas and Water
•   Healthcare Facilities, Sports, and other fitness facilities
•   Nearby Education Facilities
Jinnah Block Bahria Town Map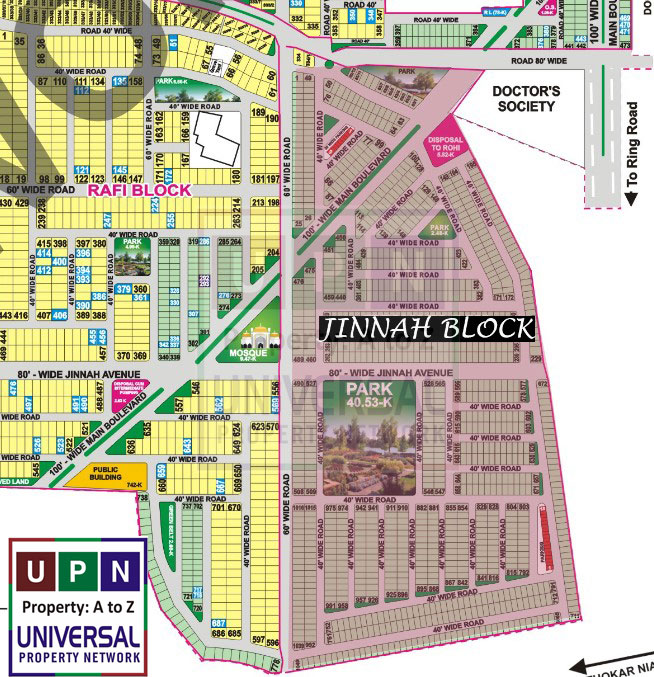 For Best Investment Options Please Always Contact: Universal Property Network (UPN)