Bahria Town Lahore Best Blocks to Invest
by UPN
July 20, 2022
0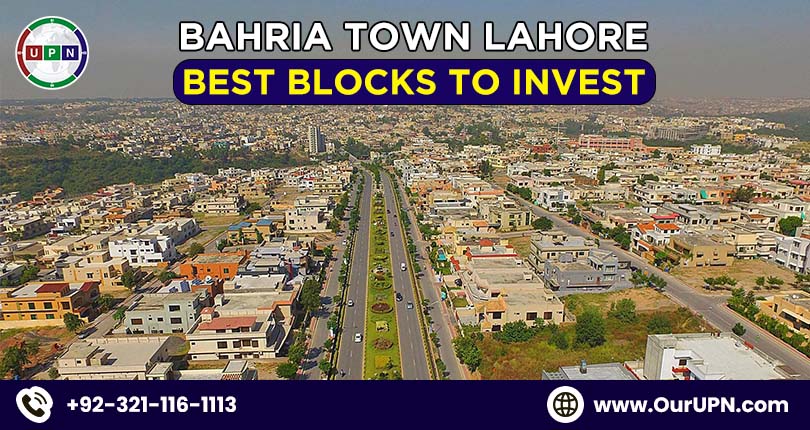 Investment in Bahria Town Lahore best blocks is the biggest desire of today's investors. Undoubtedly, this society holds significant importance in the heart of Lahore. Offering people peaceful living places along with profitable investment chances, this project is ideal in all terms. Bahria Town Lahore is a beautiful development with state-of-the-art features and facilities. It's a mega venture where you will find numerous properties for sale. However, getting the best property at reasonable rates is the wish of every buyer. If you are also looking for the same, here we have some of the top options for you.
Bahria Town Lahore Best Block
All the blocks of this luxurious project are thoughtfully planned that no place remains in the dark. But Bahria Town Lahore best blocks to invest in these days are:
Iqbal Block
It is one of the beautifully developed blocks of Bahria Town. Located in Sector E, this block features 100% development and a good ratio of inhabitation. Almost 80% of the total area of this block has houses and villas. Also, all the living amenities are available, so residents enjoy their high-standard lifestyle there. However, due to the high demands for property in Sector E and investors' desires to buy good plots at reasonable rates, Bahria Town has launched a new deal.
It's a new deal of 10 Marla residential plots. These are open-form plots launched at affordable rates of 1.55 crores. It means you will get the best deal without paying any extra or hidden charges. Most importantly, you can buy these plots with a flexible payment plan of 6 months. Yes, this is true!
It is happening after a long time in Bahria Town that the society is offering new deal plots with 6 months installments plan. Usually, the management offers plots with 4 weeks of paid time. So, these new deal plots are simply the best.
Booking of the plots starts from a 30% down payment. The remaining 30% will be payable after 3 months and the 40% after 6 months of bookings. So, the payment plan spans over six months, giving investors a good chance to invest in Bahria Town Lahore best blocks.
The location of Iqbal Block in Sector E is actually located next to Grand Jamia Mosque on the main boulevard of this society.
The prices for the other developed plots of 10 Marla in Iqbal Block are around 1.80 crores to 1.85 crores. These new deal plots are not only low in price but also ideal as offered on easy installments.
Ghazi Block
We have also another option in Bahria Town Lahore best blocks. It is Ghazi Block. Located ideally in Sector F close to Alamgir Block and Sikandar Block. Features good development and all the top-class living amenities; this block offers budget-friendly plots of 10 Marla. Most importantly, buying in this block is also reasonable as LDA does not yet approve it. So, you will be free of paying transfer fees and other government taxes.
The starting price of 10 Marla plots in Ghazi Block is 90 lacs. However, the good location plots will cost you around 1.15 cores to 1.20 crores. All these are on-ground and possession plots where buying is 100% beneficial for construction and investment gains.
Tipu Block
People searching for some good options in plots can also choose Tipu Block. It's a well-developed block with 10 Marla and 1 Kanal residential plot. This block offers plots with possession at affordable rates. Most importantly, this block has maximum construction. Even you can get ready houses for sale. The plots of 1 Kanal are available from 2.30 crores to 2.50 crores. The prices of the plots near the park are high. However, you can also get a reasonable option for 2.10 crores. Some of the highly attractive plots are available for 2.85 crores. The asking price of ready houses is between 4.50 crores to 5 crores. Bahria Town educational, cinema, healthcare, and shopping facilities are available nearby.
Tipu Block also offers you good price plots of 10 Marla. These plots are available at the starting price of 1.10 crores. However, impressive location plots will cost you around 1.25 crores to 1.30 crores. All these plots are on-ground. Most importantly, these plot sizes are around 10.88 Marla, making them ideal for construction.
So, that's all about the Bahria Town Lahore best blocks to buy 10 Marla plots at surprisingly affordable rates. Missing out on the chance of investment at this stage will surely make you feel bad in the coming months. Invest in your desired block by contacting our experts at UPN, and you will get the best deal at the best price.
Frequently Asked Questions
Which Are Bahria Town Best Blocks to Invest?
All the blocks in this society are good to choose. However, Tipu Block, Ghazi Block and Iqbal Block plots are reasonable.
Is Bahria Town Lahore Offers Plots on Installments?
Yes, a new deal of plots is launched in this block. Offering you 10 Marla plots with six months installments plan.
Buying in Bahria Town Lahore is Profitable?
Investment in the plots of Bahria Town Lahore whether for residence or investment, both is beneficial.
Please contact Universal Property Network For More Information click here or visit our Youtube channel for further assistance.