Bahria Town Lahore – Latest Developments Update 2020
by UPN
April 30, 2020
0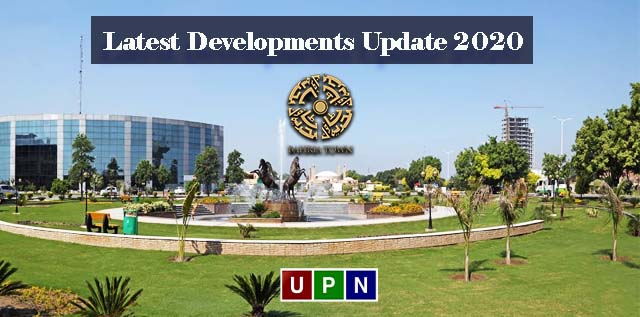 Bahria Town is the biggest chain of housing societies designed and developed by Asia's top developers Bahria Town Private Limited. Brilliantly planned and well-populated housing projects of Bahria Town are located in Lahore, Rawalpindi, Islamabad, and Karachi.
All of these Bahria Town projects are developed as per international standards of development. But Bahria Town Lahore holds significant importance among all. First of all, it is ideally located, the most-attractive and well-developed housing venture. Moreover, it is so fabulously designed to offer all the comforts and luxuries at your doorsteps. The development work of Bahria Town Lahore is completed so far.
Today, in this latest blog, we will share all the details of previous as well as the latest developments in Bahria Town Lahore. We hope, this write-up will help you to find your desired place easily without asking anyone else.
Popular Sectors and Properties in Bahria Town Lahore
Bahria Town Lahore comprises Six Sectors that are further featuring many blocks. These well-developed sectors are offering 5 Marla, 10 Marla, and 1 Kanal residential plots. Also, the society is offering 6 Marla Homes in it. In addition to this, Safari Villas is another top-consider option whenever it comes to buy ready to move properties.
Residential plots that are located close to Grand Jamiah Mosque, Bahria Country Club, Eiffel Tower, Talwaar Chowk, and other attractions are mostly-liked by end-users. Furthermore,  Sector B, C, D, and Sector E are also famous to get rental properties.
Top Malls in Bahria Town Lahore
This fabulous housing society is featuring so many state of the art malls and shopping centers in it. These malls are mostly located in Bahria Town Sector B, C, and also in Sector E. Some of the best shopping malls in Bahria Town Lahore are
Jasmine Mall
Safari Mall
Salam Square
Scribble
Irum Collections
Children Store Called Kids Camp
Best Salons at Bahria Town Lahore
Bahria Town Lahore will furnish you with an entire host of salons to look over. Yes, society is full of well-reputed salons where you will get the services of master beauticians, manicurists, masseuses, and pedicurists. Some of the top salons at Bahria Town Lahore are
Depilex Beauty Clinic
Safari Salon Close to Safari Villas
Iram Beauty Salon
Entertainment Facilities at Bahria Town Lahore
Bahria Town Lahore is a first-class modern housing society but also filled up with a flood of natural beauty. This society is offering different entertainment and recreation facilities in it. Some of the best entertainment and recreation places at Bahria Town Lahore are the well-known Safari Zoo. It is featuring a recreation center, mini-golf course, food outlets, and cinemas.  Additionally, the Eiffel Tower replica is also one of the best entertainment places in Bahria Town Lahore.
Best Eateries at Bahria Town Lahore
Bahria Town is full of well-known restaurants and international food chains. But a greater part of eateries are located in Sector C, For Example:
Ajmeer Restaurant
Aa Murgh Chanay
Biryani Master
Burger 18
Cafe N2
Also, Cock N Bull
Doner Guru as well as Hob-House Of Burgers
 Sector B famous restaurants are:
Adil Bar B.Q and Sajji,
Burger Fix
Bhatti Grill
Baboo's Tandoor and also Chickuzin
Moreover, few renowned worldwide food chains Like KFC, Subway, Pizza Hut, McDonald's is also located in Bahria Town Lahore.
Educational Facilities at Bahria Town Lahore
The most prominent feature which attracts buyers to buy property in Bahria Town Lahore is the availability of standard educational facilities. Yes, Bahria Town Lahore is offering all the best educational facilities as the society has its own school and college. Moreover, the well-known Beacon House School System is also opened in it. So, all these educational facilities further boost the value of this appealing housing venture.
For more details contact Universal Property Network!
Check out our site for more detail. Latest News