Bahria Town New Year Celebrations and Family Festival
by UPN
December 25, 2017
0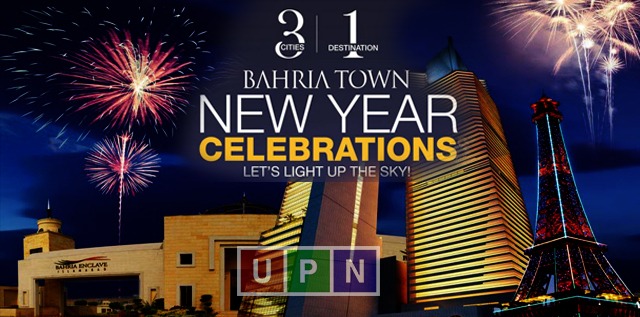 Get ready for amazing celebrations of New Year 2018 at Bahria. Keeping its tradition, Bahria Town management is providing a chance to celebrate New Year 2018 eve in style. It will be a fun filled night with lots of activities to welcome the upcoming year.
Bahria Town New Year Fireworks
Bahria Town New Year fireworks have always mesmerized those who witnessed it in the past. Now this epic show is all set to fascinate us all once again in three cities of Pakistan simultaneously. The attendees will welcome 2018 by lighting up the sky and it would be truly amazing celebrations to remember.
Bahria Town New Year Celebrations in 3 Cities at Once
The fireworks will start as clock takes us to the year 2018 and will continue for a while in the following respective venues. The other programs on schedule are also arranged at the same place.
Bahria Town Lahore (Eiffel Tower)
Bahria Enclave Islamabad (Trafalgar Square)
Bahria Town Karachi (Inside BTK premises, exact venue still to be announced officially)
Bahria Town Family Festival at New Year Eve
If you are planning to have a perfect hangout with your family to celebrate New Year, Bahria Town should be your choice. This evening isn't all about fireworks and there is a lot more to enjoy for a memorable experience. The Family Festival will be organized which will attract huge number of audience. It will include a musical concert, food, gaming fun and etc. to cater different age groups.
Not Limited to Bahria Residents Only
In all three cities, this event is open for general public and not limited to Bahria Town residents. To avoid traffic rush and road blocks, people are advised to come early as a huge footfall is expected.
Families Only New Year Celebrations
This event is for families only and entry has been kept free for maximum participation. Brace yourself for the biggest New Year Fireworks and celebrations in Bahria Town Lahore, Bahria Town Karachi and Bahria Enclave Islamabad.
For more updates about latest developments of real estate sector, please keep visiting Universal Property Network (UPN).