Best 5 Marla House Design Ideas in 2023
by UPN
January 19, 2023
0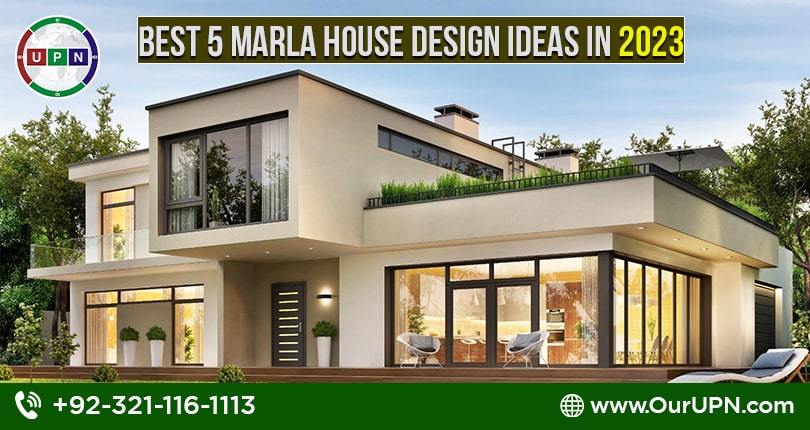 The 5 Marla house design is very popular in Pakistan because it is convenient and affordable for small families of 4 to 5 people. Everyone wishes to live in a home that was created with a lavish design and the finest materials available. Not everyone can afford an architect or designer to design a floor plan. Hiring an expensive architect can sometimes be difficult.
If you are about to build a 5-Marla house, this article is for you. It will provide you with valuable information about the 5 Marla house design and make suggestions about how to construct your house.
Considerations before Designing Your 5 Marla House
Some important factors must be understood before beginning with house designs and floor plans.
Lifestyle
Location
Finances
Exterior design
Lifestyle – 5 Marla house design
Lifestyle is the most important factor in the 5 Marla house. Before the 5 Marla design process begins, make sure you consider your lifestyle modern according to international standards. Your floor plan would be outstanding for a small family. All facilities should be included in a better lifestyle. The readymade houses contain all the basic features that have a better effect on lifestyle.
Location – 5 Marla house design
Location is also a very important part while you are designing a house. Every feature and amenity will revolve around it. Floor plans will depend on the location of your plot, whether it is in a society or a normal economic area. The location must be beneficial for the 5 Marla house design. The value of a location should increase over time. If you sell your house, you will get a higher return because of the location value.
Finances
You should estimate your costs before investing in the 5 Marla house design. The design should be more beautiful at a lower cost. Create a budget before beginning construction on your home. Investing in luxurious facilities is the best option while constructing the house. Everything should be designed according to your budget. Nowadays, these 5 Marla houses are constructed according to the client's requirements.
Exterior and interior design
The exterior and interior are equivalent to one another. The exterior must be designed in such a way that it looks perfect with the interior and decor of the house, such as the colour scheme, wall design, furnishings, and much more. If you have pets, you need a small lawn or terrace in your exterior designs to provide an open area for them. To accommodate the lawn, you will need to modify the rooms, lounge, car porch area, and many other things.
Design for 5 Marla House
If you are building a two-story house in a modern style, you must have a good design for the ground and first floors. The design for the 5 Marla house should include:
Two bedrooms
1 drawing room
1 storage room
1 TV lounge
One stylish kitchen
One-car porch area
Terrace
Balcony
Separate area for laundry
The car porch leads to the drawing room and the TV lounge. The drawing room is also accessible from the street. A kitchen is located next to the TV lounge. After passing through the TV lounge, there are two bedrooms side by side with attached bathrooms. There is also a separate balcony and laundry area.
5 Marla House Map
The 5 Marla house map contains a lot of things. They smoothly designed every feature, such as entrances, door sizes, room sizes, windows, balconies, a laundry area, a storage area, and a car porch area. The 5 Marla house design has a beautiful map according to modern style.
The sizes contained in the 5 Marla House map are:
The house contains a main door the size of 4 ft.
The sizes of the windows are 3 x 4.
The size of the two bedrooms is 14 x 16. In these rooms, wardrobes are also included.
The size of the open kitchen is 6 x 8.
The size of the bathroom is 6 x4.
The size of the car porch is 8 x 10 where you can easily park one car.
The 5 Marla house map is beautifully designed with every convenience in mind. These measures are possible to change before construction begins, depending on your needs. You can design your home yourself or take suggestions from architects and designers. Everything will be designed according to your budget and life requirements.
Please contact us through WhatsApp, Contact Us form, or visit our UPN Youtube Channel for further assistance.