Best Affordable Plots in Bahria Town – Latest 2022
by UPN
March 21, 2022
0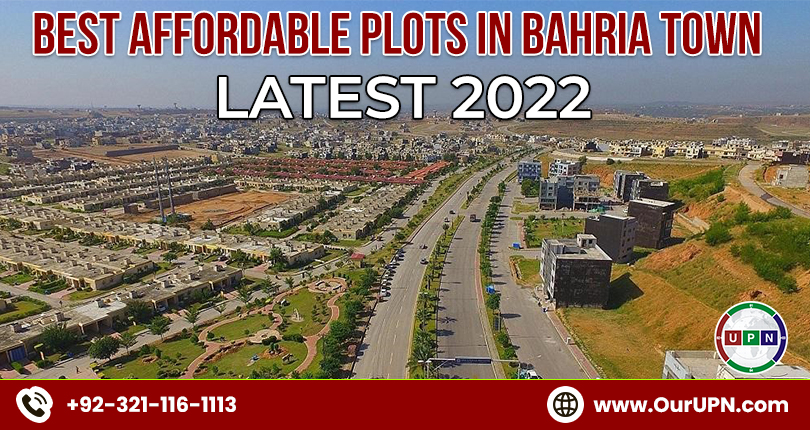 Bahria Town is an exclusively luxurious housing society where everyone desires to live. It's a fully-facilitated project where living comes with lots of facilities hard to find anywhere else. At the same time, investors earn huge profits by investing in the properties for sale. Buying property in this appealing venture is the heartiest wish of buyers and investors. This society is full of options and opportunities. However, people demand affordable plots in Bahria Town. These reasonable prices plots are available in the two best-developed sectors, i.e., Sector E and Sector F.
If you are also looking to invest your capital in the affordable plots of Bahria Town Lahore, please keep on reading below:
Affordable Plots in Bahria Town
Starting the discussion from the very first blocks of Sector E:
Jinnah Block                  
It is one of the beautifully developed blocks of Bahria Town Lahore. Located ideally after the Sector E entrance, this block holds importance for offering the best residential plots. Here buying a plot is very much profitable, especially for the people looking for incredible living opportunities. Jinnah Block has 60% development as builders are speedily developing houses. Plots in Jinnah Block will cost you 90 lacs even some of the plots are available in 1 crore. Moreover, the cost of houses in Jinnah Block is 1.75 crores to 1.80 crores.
This block is suitable for residence and construction purposes. On the other hand, if your purpose of buying is investment or construction after 2 – 3 years, we suggest your investment in Jinnah Block Extension. This block offers the lowest-priced plots in the range of 70 lacs to 85 lacs.
Rafi Block
This block is also one of the top options to get 5 Marla residential plots. It offers a range of plots and houses for sale. The prices of plots and houses in Rafi Block are almost the same as the options available in Jinnah Block. These affordable plots in Bahria Town are suitable to build your dream residence. At the same time, you can buy them to construct and sell a beautifully constructed house as per the latest trends.
Next, we have the plots of Sector F that are available at the cheapest prices.
Tauheed Block
This block is ideally located in proximity to the iconic Eiffel Tower. Featuring 100% development, Tauheed Block offers the best 5 Marla plots for sale. Here buying a plot will cost you 80 lacs to 85 lacs. The prices of the plots are reasonable where you can confidently do construction. Moreover, these plots are superb to make investment for the next 2 – 3 years.
Furthermore, if you search for another affordable option, you can invest in Tauheed Extension. These plots are also on-ground and available with possession. The plots in Tauheed Block Extension will cost you 70 lacs to 75 lacs. These are ideal plots for investment growth.
Shershah Extension
This extension holds significant importance in the plots market of Bahria Town. This extension was launched a couple of years ago. However, it has gained immense response and growth. The latest prices of 5 Marla plots in Shershah Extension are starting from 67 lacs to 80 lacs. A general category, good location plot will cost you 75 lacs. The launching price of the plots was 45 lacs.
Ghaznavi Extension
Sector F is currently the last sector of Bahria Town Lahore. But soon, the launch of Sector G Is expected. Now we have another good block for residence and investment. It is Ghaznavi Extension Block. It offers 5 Marla residential plots at the price of 68 lacs.
Tipu Extension
This block brings a chance of golden investment in the affordable plots in Bahria Town. These plots are 100% on-ground and plots available with possession. The starting prices of plots in Tipu Block Extension are 58 lacs to 68 lacs. These are suitable plots for both residence and investment gains in Bahria Town Lahore.
Alamgir Extension
If you are still looking for something affordable and the best in terms of location and facilities, we suggest you buy in Alamgir Extension. This extension was launched a couple of months ago. Now it is developing at a good pace. The plots for sale in Alamgir Extension are 5 Marla in size. These plots will soon have possession, so the prices will also increase. The price range of plots in Alamgir Extension is also 60 lacs.
Conclusion
While summing up all the details of the best blocks of Bahria Town, we conclude that both Sector E and Sector F have some suitable plots options. Buying in them completely depends on buyers' requirements and choices. However, one thing we assure is the affordability and safety of the investment.
Please Contact Universal Property Network  For More Information click here or visit our youtube channel further assistance