Best Housing Society Near Kala Shah Kaku Lahore
by UPN
February 14, 2023
0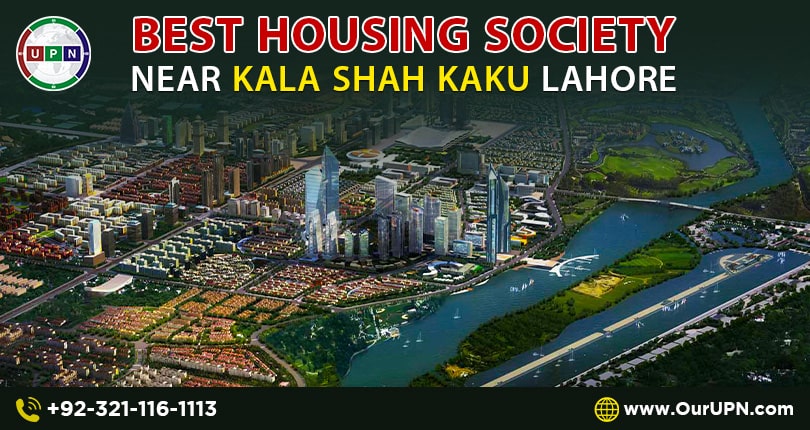 Want to know about the best housing society near Kala Shah Kaku in Lahore? There are many housing societies near Kala Shah Kaku. These are the best places to live and invest. The residence will provide you with world-class amenities and beneficial surroundings. The investment will generate a huge return in the future. The following are the top five housing societies:
Lahore Smart City
Iqbal Garden Lahore
SA Garden Lahore
Al Kabir Orchard
Green Valley Lahore
Lahore Smart City – Housing Society Near Kala Shah Kaku
Lahore Smart City is a high-end housing society near Kala Shah Kaku. This housing society has an international level of development. This society is built to provide its residents with a modern and peaceful lifestyle. Lahore Smart City has many properties for sale. Many families have started to build their own homes in this society. Two grand mosques are also available, each with a capacity of 12,000+ people. Lahore Smart City has various options for investment and residents. This society offers plots on Own and the Own is according to the market rate.
Available Properties in Lahore Smart City
Like everything else in Lahore Smart City, the available plots are heartwarming. There are several types of residential and business properties available. The following plot sizes are:
These are the residential plots:
5 Marla
7 Marla
10 Marla
12 Marla
1 Kanal
These are the commercial plots:
2.66 Marla
4 Marla
8 Marla
Reasons to Invest in Lahore Smart City
Lahore Smart City is the best housing society near Kala Shah Kaku, which contains high-level amenities and features. Some reasons are best for investment in Lahore Smart City, are:
Gated community
CCTV cameras, & security guards
wide carpeted main boulevard
Developed roads, streets, lanes & walk-ways for pedestrians, and street lights
Easy access to the main locations & other developed societies
Schools, colleges, and universities
Hospitals and daycare centers
Planned theme parks and recreational areas
commercial markets, grocery stores, marts, and shopping malls
Peaceful, healthy, and secure environment
Police Station to keep the law & order
24/7 Water (Water Treatment Plant)
24/7 Electricity (Grid Station & Solar Farm)
24/7 Sui Gas
Sewerage treatment plant
Well-planned drainage & waste disposal systems
Irrigation system
Fire extinguishing system
Civil defense systems
Solid waste disposal mechanism
Free Wi-Fi zones
Load-shedding-free zone
Automated utility supply
Automated & central traffic control system
This housing society will provide you with the best return in the future. Lahore Smart City is becoming more valuable every day due to several amenities and investment opportunities. Living in this housing society would give you access to a luxurious lifestyle in Lahore.
Iqbal Garden – Housing Society Near Kala Shah Kaku
Iqbal Garden is the best housing society near the Kala Shah Kaku M-2 motorway interchange in Lahore. The Eastern bypass also has easy access from Iqbal Garden. Both residential and business opportunities are available in this project. This housing development is close to educational institutions such as:
UET Campus
College University
Iqbal Garden Lahore is located just 20 minutes from Allama Iqbal International Airport.
Investment options
A variety of investment options are available in Iqbal Garden Lahore. There are both residential and commercial properties available for sale. Iqbal Garden consists of five blocks, the names of these blocks are:
Block A
Block B
Block C
Block D
Overseas block
The options available for investment are limited. Block A to C has possession of the residence. The block D possession will be announced soon. The overseas block is new and there are many options available. The residential plots size of:
The commercial plots are:
The prices of residential properties start from 20 lacs and go up to 70 lacs.
The commercial plot's prices start from 95 lacs and go up to 110 lacs.
Development
Iqbal Garden will be developed soon. The road is constructed, and street lights are also installed. The housing society provides a wide range of excellent amenities, including parks, playgrounds, mosques, and many more. There are numerous medical institutions around Iqbal Garden Lahore, including
Rafique Hospital on the main GT Road
Fatima Memorial Hospital land
Anmol hospital
So, this is the best housing society near Kala Shah Kaku. You can invest in this housing society for your best future.
SA Garden – Housing Society Near Kala Shah Kaku
SA Garden is a premium housing society near Kala Shah Kaku in Lahore. This housing society is divided into two phases. Phase 1 of SA Garden is fully developed, and it is smaller than phase 2. This phase is close to phase 1. The SA Garden is also near the Rice Research Institute and a short drive from the Total Parco Petrol Pump. Phase 2 has many investment and residence options. This project is approved by TMA.
Blocks in SA Garden phase 2
SA Garden is divided into many blocks, which are
Kamran block
Arslan block
Shoaib block
Faisal block
Tahir block
Badar block
Sher Afghan block
These blocks contain different sizes of plots. The sixes of these plots are:
5 Marla
7 Marla
8 Marla
10 Marla
Kamran block, Arsalan block, and Shoaib block are fully developed, and some files are available for resale. The Faisal block and Tahir block contain many investment options. Badar Block is the biggest block in SA Garden. This block contains 60% of the total housing society's area.
Features in SA Garden
Gated community
24-hour security
Basic facilities are available such as Sui Gas, electricity, and water.
Sports facilities such as a cricket field and a playground
Lush green parks
Water filter plan
Health and educational facilities
Peaceful environment
Investment Benefits in the SA Garden
SA Garden is an advanced housing society in Lahore. The management of this society is also excellent in their work. Everything is beautifully designed, including the plotting and house designs. People are living a healthy and modern lifestyle in this society. This project is well-known for its sports complexes. There are numerous sports activities available, including cricket, football, playgrounds, and a variety of indoor games. The following are some reasons to invest in SA Garden:
Ideally located on kala Shah Kaku
It is a well-maintained housing society.
Clean environment
Different sports facilities are available.
Indoor games are available.
TMA-approved society
Affordable prices
SA is a developed housing society near Kala Shah Kaku and is best for investment and resident purposes.
Al Kabir Orchard – Housing Society Near Kala Shah Kaku
Al-Kabir Orchard is the best housing society near Kala Shah Kaku and was developed by Al-Kabir developers. Al Kabir Orchard is Phase 5 of Al Kabir Town, which was launched in 2022. The developers of Al-Kabir Orchard have a strong reputation in the market for real estate. This modern housing society has every amenity and convenience. This project is located near Lahore Smart City, which enhances the demand of this society. It is located 1 kilometer from the main GT Road Lahore. It is just 5 minutes from the Lahore-Islamabad motorway.
Plots in Al Kabir Orchard
Al Kabir Orchard contains different properties, which are best for residents and investment purposes. The available properties in this housing society are:
These plots are available on three-year installment plans. You will have to pay a down payment for the booking. The remaining amount will be payable on installments and a small amount at the time of possession. The prices of these plots are given below:
3 Marla plots
Total price: 1,050,000/-
Down payment: 2,00,000/-
Monthly installment: 85,000/-
5 Marla plots
Total price: 1,750,000/-
Down payment: 3,00,000/-
Monthly installment: 15,000/-
Amenities in Al Kabir Orchard:
The developers of Al Kabir Orchard have planned to provide world-class amenities, which are:
24-hour security
Wide carpeted roads
Gated communities and boundary walls
Food courts and restaurants
Commercial shops and grocery stores
Educational institutes
Health facilities
Sewerage system
Water filtration plant
Parks and playgrounds
Gym and sports complex
Graveyard
Investment in Al Kabir Orchard
Investment in this project will be your best decision, as it is the best housing society near Kala Shah Kaku. This project contains affordable prices for plots. This project will greatly help investors get high returns on their investments. The value of this project is only due to its developer, location, and reasonable prices.
Green Valley Housing Society
Green Valley is a developed housing near Kala Shah Kaku in Lahore. It is also near to Road Lahore. Green Valley housing society was beautifully designed by a team of experts, including architects and civil engineers. It has the best Infrastructure development. The developers have reserved a large area for green spaces such as parks and playgrounds. Green Valley housing society is full of all modern luxuries and amenities. This society is approved by LDA.
Properties in Green Valley
Green Valley housing society provides the following residential and commercial plots:
3 Marla residential
5 Marla residential
5 Marla commercial
Features and Amenities
This housing society offers all modern amenities and facilities at affordable prices. These amenities are:
Gated community and boundary walls
24/7 security
Grand Mosque
Educational facilities
Hospitals and clinics
Water, Gas, Electricity
Sports complex with indoor and outdoor facilities
World-class infrastructure development
Investment in Green Valley
The owner's goal is to provide its residents with a healthy and luxurious lifestyle environment. There is a huge central theme park, where children can enjoy themselves and families can relax. Your investment will provide the greatest return in the coming days. The location of this housing society near Kala Shah Kaku is most beautiful and demanded by clients.
You should invest in these beautiful housing societies because they are the best from both a residential and commercial standpoint, and they are conveniently located in the heart of Lahore. Every society has its own value, its own features and amenities, its own prices based on location, and its own property value.
Please contact us through WhatsApp, Contact Us form, or visit our UPN Youtube Channel for further assistance.