Best Investment for Rental Gains In Lahore
by UPN
August 5, 2021
0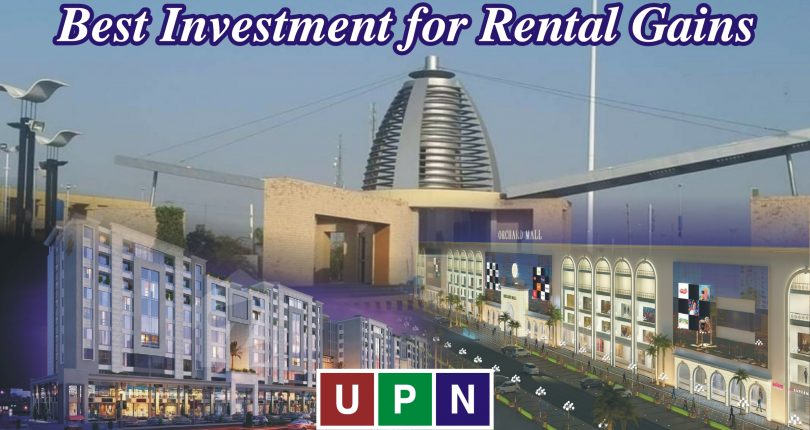 Are you looking for rental gains in Lahore through property investment? Do you desire to invest in highly beneficial properties that offer high investment potential? At the same time, are you searching for some reasonable price options at the prime location of Lahore? Then be happy as you are landed on the right page. We have a hand full of the best investment and properties options in Lahore. These properties are ideal for rental gains in Lahore as well as their prices are affordable. Further details are:
Top Rental Gains in Lahore
Lahore is home to opportunities, especially its real estate sector is full of options. These properties for sale are perfect for generating rental gains. But, before choosing any project, it's essential to check the authenticity of the developers, its NOC status, and location. So, in this latest write-up, we only share the details of projects where buying property is 100% safe, secure, and profitable.
5 Marla Houses for Sale in Bahria Orchard Lahore
If your purpose of investment is to earn good rents, then buying in 5 Marla double-storey houses is a suggested. A large number of 5 Marla double-storey houses are available for sale in Lahore. However, the best price, ideal location houses are only available in Bahria Orchard Lahore. Not only are these affordable houses, but they also come with flexible payment plans. Here you can choose Eastern Villas, Eastern Executive Villas, Safari Homes, Jasmine Villas, and Overseas Villas. All these are residential projects by Q-Links Developers. Located in the different phases of Bahria Orchard Lahore, these houses are perfect for rental gains in Lahore.
By investing in these houses, you can easily earn 40,000 – 50,000 per month.
Times Square Mall and Residencia
It's another most-prefer and attractive investment option in Lahore. Times Square Mall and Residencia have become the center of attention for investors since its launch. This project is offering shops, offices, and apartments in several sizes. The prices of these properties are reasonable. Most importantly, all these options are available with the easy installments plan of 4 years.
The location of this project is ideal in Bahria Orchard Phase 4 and has direct access from Raiwind Road Lahore. Moreover, it's a project by Sheranwala Group, which has already delivered several successful projects. All the properties for sale in Times Square Mall come with the golden opportunity of 6% guaranteed rental income. Anyone can easily enjoy a handsome amount of rental income by paying the lump sum amount of his property.
Orchard Mall
This high-rise development has gained so much popularity in the last 6 – 10 months. More and more investors are investing their capital in Orchard Mall Lahore. Reason? Its speedy development and the launch of several attractive projects such as Kidz Arena, IT Market, and Hotel Apartments. All of its properties are available with flexible payment plans.
Orchard Mall enjoys a prime location in Bahria Orchard Phase 4, developing under the supervision of Q – Links Developers. Orchard Mall properties for sale comes with the benefit of 6 – 8% guaranteed rental income. Buying in this project comes with bundles of benefits like capital growth, lots of business opportunities and is ideal for rental gains in Lahore.
So, that's all are the details of the latest and the best options for property investments in Lahore. All these properties are perfect for investment and rental gains.