Best Societies in Lahore Defence Road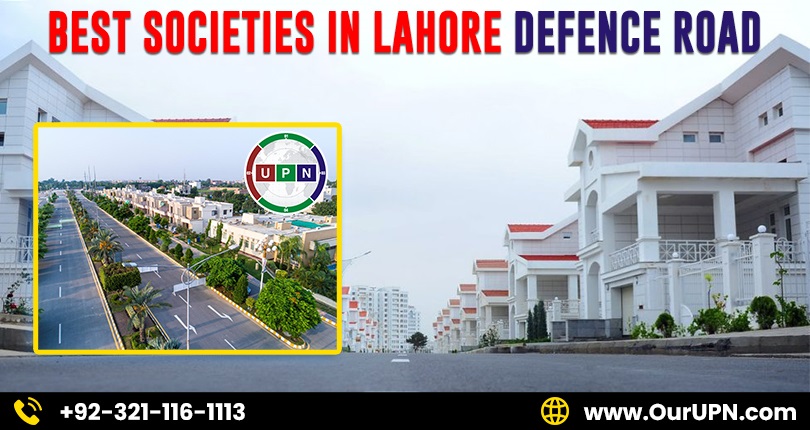 Are you in search of your dream property in Lahore? Want to buy a house or planning to invest in a plot where you can do construction confidently? But also have a desire to get it in the best societies in Lahore, especially on Defence Road? Then, be ready to invest in the best project located ideally, have beneficial surroundings, all the living amenities, and reasonable prices.
Before moving to the details of projects, let's have an overview of Defence Road Lahore.
About Defence Road Lahore
Defence Road Lahore holds significant importance as it's a gateway to DHA Lahore, Cantt Lahore, Allama Iqbal International Airport and Canal Bank. Moreover, this road boasts prestigious neighbours: Airport Road and Ring Road Lahore. Also, it's home to modern housing societies offering the best living spaces and investment chances. This society covers an area of almost 8 KM, the distance from Mall and Wall Road connecting to Ferozpur Road Lahore.
Moreover, the entire area of Defence Road Lahore have good developmet. It has top-notch educational institutes such as Superior University, University of Lahore, and Comsat University. The schools in the proximity are Beacon House School, City School and several good schools.
Furthermore, the hospitals nearby are Bahria Town Hospital, Shareef Medical Complex, and Farooq Hospital. Several other clinics and pharmacies are operational on Defence Road Lahore. The areas in the surroundings have impressive inhabitation. You can easily approach this road from Shaukat Khanam Hospital on 15 Minute Drive and a few kilometres from Thokar Niaz Baig.
Residence and Investment in Defence Road Lahore
We UPN has made a list of the best societies in Lahore growing in the surroundings of Defence Road and offering incredible living and investment opportunities.
Top 5 Best Societies in Lahore
Here we update you with the latest details of housing projects located on Defence Road Lahore. So, let's begin the discussion with the top 5th housing project to no 1 society.
Punjab Corporative Housing Society and Dawood Residency Lahore
Covering an area of 200 acres, Punjab Corporative Housing Society comprises several phases. The blocks in this society start from Block A to Block F, while Block F has some extension blocks. It's LDA approve housing society close to Lahore Cantt. This society has maximum construction, that's why many houses are available for sale and rent. Here a 5 Marla house will cost you between 80 lacs to 1.20 crores.
Moreover, all the top-class living facilities provide the desired environment to their residents. Therefore, people can easily find several plots, houses and apartments for sale in Punjab Corporative Housing Society.
Dawood Residency Lahore is a project by Pak Asia. It's a modern housing society with many residential and commercial spaces. Located ideally on Defence Road Lahore, its distance from Shahkam Chowk is 1 KM. This society is almost 70% develop and offers reasonable in price plots and houses for sale. One of its most attractive features is approval by LDA.
Zaamin City Lahore and Royal Residencia Lahore
We have these two societies on number 4. Zaamin City Lahore is launched 2 years ago and developing at a fast pace. The properties for sale in Zaamin City are low cost and available on easy installments. On the other hand, Royal Residencia is a well-developed society where the demand for properties is high. Developing ideally on Defence Road, these societies are equally suitable for residence and investment purposes.
LDA Avenue 1 – Best Societies in Lahore
This society is on number 3 and hold importance for its prime location and development under Lahore Development Authority. Easily accessible from Raiwind Road as well, LDA Avenue 1 is a beautifully developed society. It has many blocks where the best residential properties await you. Also, new deals have been launched recently, offering plots on installments. The plot sizes in LDA Avenue start from 3 Marla up to 1 Kanal. LDA Avenue 1 is also attractive for providing the approval of the 2nd floor of houses. For example, you can construct a basement + ground + 1st floor and 2nd floor here. Possession of plots is available.
These best societies in Lahore are undoubtedly providing people with life-changing investment opportunities.
Dream Gardens Lahore
We place this society on number 2, it's a modern housing society on Defence Road Lahore. It's a project by Izhar Manoo offering a wide range of residential and commercial properties. Spans over 400 acres of land, this society has two-phase which have complete approval from LDA. This society is growing on Defence Road but also accessible from Raiwind Road Lahore. The plots for sale in Dream Gardens are affordable and available in different sizes. Both the residential and commercial properties are attractive where buying is beneficial for so many reasons.
DHA Rahbar Phase 11
This society is on top of the list of best societies in Lahore. DHA Rahbar Phase 11 is also LDA approved project covering a large area of land and comprising four phases. This society is located on Defence Road but easily accessible from Lahore Ring Road, Raiwind Road Lahore and Ferozpur Road. The blocks in DHA Rahbar start from Block A to Block S. Moreover, the sizes of residential plots are 5 Marla, 10 Marla, 8 Marla, 1 Kanal and 2 Kanal. The commercial plot sizes are 4 Marla and 8 Marla. The reason for keeping this society on top of this list is its developers, planning, location, and availability of several property options.
Conclusion:
So, that's all are the details of the best societies in Lahore located in the proximity of Defence Road. All these projects have LDA approval and feature modern facilities; some have payment plan options, while others offer affordable properties on full cash. Additionally, all the living amenities from education to healthcare and leisure are available in the proximity. Therefore, investment in these societies mentioned above is good for residence and investment growth.
Contact Universal Property Network for further details of these projects providing you life-changing investment opportunities in the best properties in Lahore!
Please contact Universal Property Network For More Information click here or visit our youtube channel further assistance