Blue World City NOC Approved – Congratulations Everyone!
by UPN
December 14, 2021
0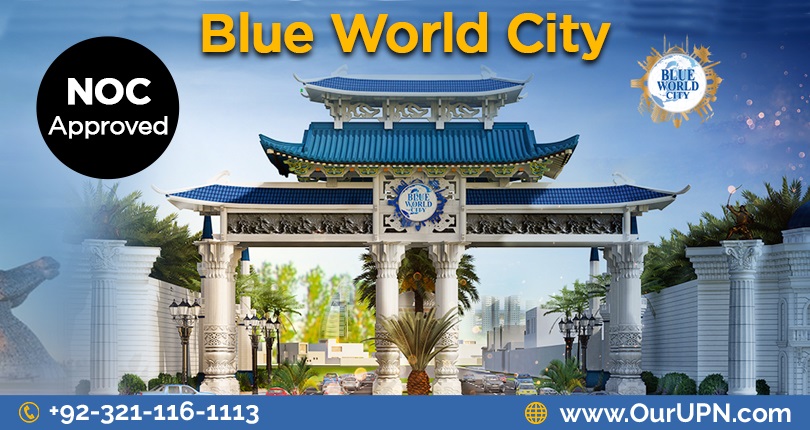 Blue World City NOC Approved; congratulations to everyone! It is undoubtedly, the most-awaited news even since the launch of this project. Blue World City is not just a housing society; it's a brand, a mega-development project in the heart of Islamabad. Covering a large land area, this society is excellent planned and developed by Blue Group pf Companies. This form is owned by Saad Nazir, Son of ex-Deputy Commissioner Lahore, Chaudhry Nazeer. Further details are:
Blue World City NOC Details
Bringing you're the excellent news that Blue World City NOC is completely approved. It's the most exciting and latest update about this beautifully planned, attractive housing venture. This NOC actually had approval in 2018. Sounds difficult? A couple of days ago, Punjab Governor Chaudhry Sarwar signed the Punjab Local Government Ordinance 2021, earlier approved by the Punjab cabinet.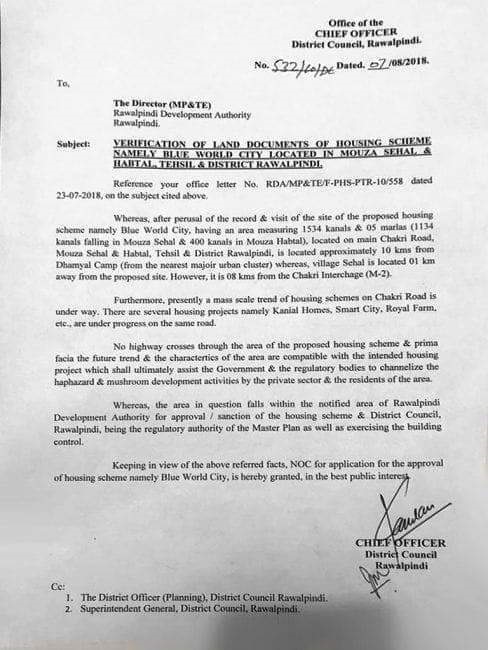 This new local government system is established as per the commitments of PM Imran Khan to devolve power to the lower level. After the approval of this local government ordinance, the authority to provide NOCs to the project is handed over to Tehsil Government. So, here is one thing essential to add: District Councils will award the No Objection Certificate to the projects with legal documents and clear land.
In this way, the District Council of Rawalpindi has awarded NOC to Blue World City on 07-08-2018. Previously, all the documents were approved by the DC but awaited approval from RDA. However, after this new LG Ordinance 2021, Blue World City no more needs any verification or approval from RDA.
Here we once again congratulate all the plot holders of BWC Islamabad who has been long waiting for the approval of NOC. It is undoubtedly, big news for every Blue World City investor as it brings the desired feel of satisfaction and confidence on investment.
About Blue World City Islamabad
Spreading over 5000 Kanal of land, this society's master plan features the latest and advanced standards. The entire land of this project is further comprising several blocks offering beneficial residential and commercial properties. BWC is located in Mouza Sehal and has proximity to Capital Smart City and University Town Islamabad. This project holds importance for its prime location, state of the art development, appealing amenities and speedy infrastructural work. Moreover, the availability of plots on installments is another primary reason to choose it.
Blocks in Blue World City
The land of this marvellous housing project features several blocks, which are an excellent description of thoughtful planning. So, the blocks in BWC Islamabad are:
General Block
Overseas Block
Executive Block
Blue Hills Farm Houses
Awami Villas
Orbital Apartments
Waterfront Block
Blue World City Economic Zone
Plots for Sale in Blue World City Islamabad
3.5 Marla Residential Plots
5 Marla Residential Plots
8 Marla Residential Plots
10 Marla Residential Plots
1 Kanal Residential Plots
4 Kanal Farmhouses Land
8 Kanal Farmhouses Land
5 Marla Commercial Plots
8 Marla Commercial Plots
Moreover, it has Overseas Block, which is completely reserve for Pakistanis Living Abroad. The plots for sale in that block are:
7 Marla Residential Plots
10 Marla Residential Plots
14 Marla Residential Plots
1 Kanal Residential Plots
2 Kanal Residential Plots
These plots are affordable. But after Blue World City NOC is clear, we expect an increase in the prices of the plots.
Blue World City Location Details
Blue World City is located on Main Chakri Road and has easy access from Chakri Interchange on M2 Lahore-Islamabad Motorway. BWC Islamabad location is outstanding as one can easily approach it from multiple routes. Moreover, it has beneficial surroundings. Additionally, this society is very close to New Islamabad International Airport, Capital Smart City, Khanial Homes, and more.
Blue World City NOC is a major development, big news for the people who had already invested or planning to invest in it. A range of options is available in BWC. Additionally, these plots come with 3 – 5 years flexible payment plans. Booking of plots starts with a few percentages, while the remaining is monthly or quarterly installments. The amenities available are heart-winning, making it a complete lifestyle package for people who want to live their dream in Islamabad.
Contact UPN for further details of properties in BWC Islamabad, booking, and development updates.
Please contact Universal Property Network For More Information click here or visit our youtube channel further assistance