Broadway Heights Bahria Orchard – Booking Details
by UPN
December 2, 2017
2 Comments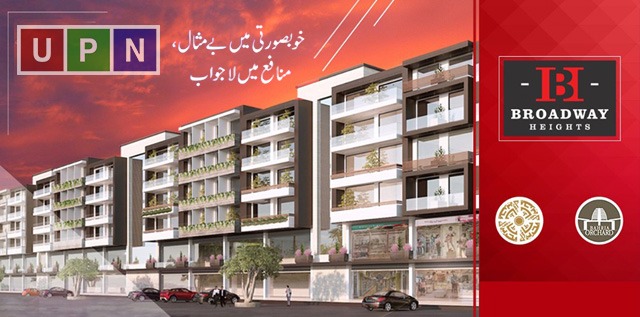 After huge success of Broadway Heights 2 in initial phase, now Broadway Heights Bahria Orchard 1 and 3 are also receiving great response in the booking process. The prime commercial project offering shops, offices and apartments is an excellent investment option which is highly affordable as well. Currently in development stage, this commercial centre is destined to be a recreational and shopping heaven for people living in the surrounding areas by complying their needs.
Broadway Heights Bahria Orchard Location
Located inside one of Lahore's top housing society Bahria Orchard, one can conveniently access the whole city via Lahore Ring Road. In the context of a number of housing societies and university campuses in the area, Broadway Heights is ideally positioned to have a high footfall.
Broadway Heights Features
Like any other high-standard commercial market, Broadway Heights is well equipped with modern day facilities. It will have wide parking space, 24/7 security and uninterrupted power supply and air conditioned lobbies and much more other for visitors and residents.
Broadway Heights Development and Expected ROI
Since the site of Broadway Heights is in already developed part of Bahria Orchard, it will be big on elegance and bigger on profits. The project is under construction and development activities are underway at rapid speed. As per estimations, investment profit here will jump on to 50% to 60% in the next three years. Already prices have been inched up in Broadway 1 and 3 as apartments in Broadway Heights 2 have already been sold out.
Broadway Heights Payment Plan
Bookings are open for limited opportunities available at monthly installment plan of 2 years or 18 months (Broadway Heights 2 Shops). 30% of the total amount will be paid in account of down payment at booking time and 20% on possession at the end. The rest of the amount will be paid in installments.
Broadway Heights 1
This block only has shops (Basement to First Floor) and offices (2nd to 5th Floor) of different sizes available at 2 years monthly installment plan.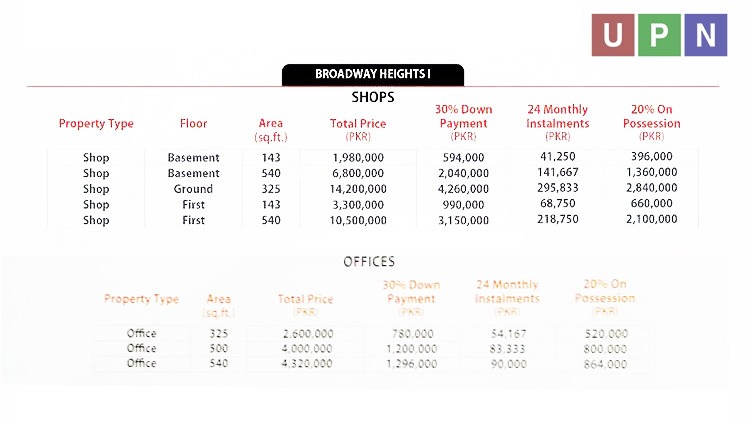 Broadway Heights 2
As mentioned above its apartments and studios have been sold out and now only few shops available at 18 months installment plan.

Broadway Heights 3
It has shops (Basement to First Floor) of different sizes and 1-Bed, 2-Bed apartments (2nd to 5th Floor) at 24 monthly installments.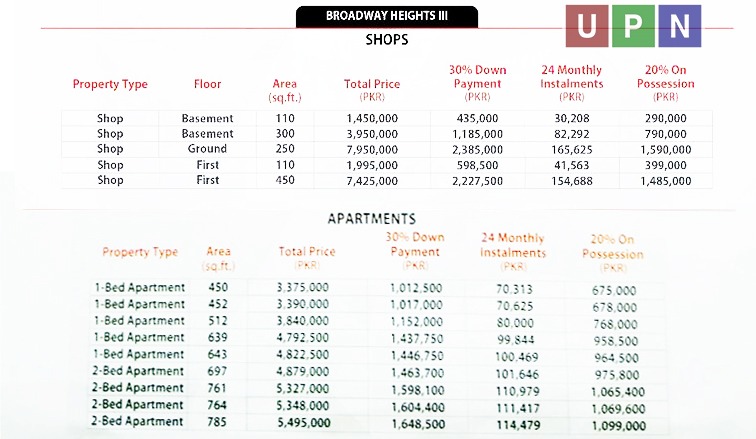 For further details on Broadway Heights Bahria Orchard or any other project, please contact Universal Property Network.