Canal Greens Lahore – Location Map, Payment Plan and Booking Details
by UPN
February 8, 2022
0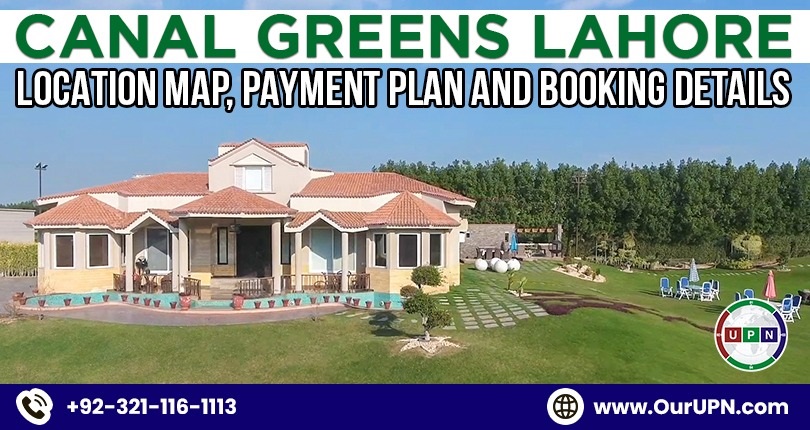 Canal Greens Lahore is an exotic housing venture, a glimpse of heaven on the earth. It's a pure farmhouses community designed thoughtfully with all the attractions and amenities of modern projects. It's a high-standard, fully-facilitated living place in Lahore that features a range of options for sale. Located ideally at the prime and the safest location of the city, this project is excellent for a comfortable and joyful lifestyle. It is one of its kind projects where all the luxuries and facilities are available one can dream of. Canal Greens features a lush green landscape providing its residents with a neat, clean and soothing environment.
Not only for residence, but this area is attractive to get high returns on investment by the next couple of years.
Canal Greens Lahore Location
The developers of this iconic project have chosen the best location for its development. It's a tremendous addition to the landscape of Lahore. Located in the heart of this city on Main Barki Road Lahore, Canal Greens have a prime location. The actual location of this project is next to BRB Canal on Main Barki Road Lahore. Moreover, this project is only 1 KM away from DHA Phase 7. At the same time, LSE and USA are in proximity. Also, the distance of this project from Paragon City and DHA Phase 8 Ivy Greens is short.
Designed perfectly, this project is located adjacent to all the important facilities making it the favourite destination to live a remarkable lifestyle. Canal Greens have excellent connectivity to the main road, many of the nearby commercial areas, and entertainment places. This best location of this project increases its worth and demands. All the living amenities like the latest education, health, and recreational are adding charm to it. Canal Greens is an ideal choice from every point of view.
Canal Greens Plots for Sale
This project is an excellent description of modern project planning. This unique and attractive project features a diverse range of plots designed to facilitate buyers perfectly. The plots for sale in Canal Greens Lahore are available in several sizes, providing ease of choice to everyone. Following are the further details:
2 Kanal
4 Kanal
6 Kanal
8 Kanal
Note: It's a complete farmhouses project where land is available for farmhouses development only.
Canal Greens Prices and Payment Plan
Canal Greens is an appealing choice to invest in. The prices are also kept reasonable. As per the latest details, the per Kanal rate of a farmhouse land is 95 lacs only. However, it varies from size to size. These luxury farmhouses are available with a flexible payment plan of 3 months. Booking of land starts from 50 lacs only. Moreover, possession will be handover on 50% payment.
The price for 2 Kanal Farmhouses in Canal Greens is:
Total Price: 22, 500,000
Booking Price: 5,000,000
The rest of the amount in 3 months easy installments.
Why Invest in Canal Greens Barki Road Lahore?
It's a new, graceful gated community in Lahore with a prime location, beneficial surroundings and easy access. The design of the lush green environment all is heart-winning. But some of the best reasons to invest in this project are:
Completely Approved by the Relevant Authorities Enough for Your Peace of Mind
Ideal Location on Barki Road, A Place Catching Everyone's Attention
Close Proximity to DHA Phase 7, Phase 6 and Phase 8
Impressive Residential Place with Luxury Farmhouses Land
Equipped with All the Modern-Living Facilities
About Developers
It's a project by Dream Homes
Facilities Await You
Canal Greens Lahore features all the top-class amenities and attractions essential to living your dream lifestyle. This project ensures maximum security and all the other important facilities such as:
Wide Carpeted Roads
Parks
Masjids
Living Inside a Nature
24/7 Security
Electricity, Water, as well as Gas Supply
Health Club and More.
So, what are you still thinking about? Canal Greens is an ideal residential community for residence and investment gains. Buying there is budget-friendly and affordable.  Moreover, the availability of all the comforts and luxuries of modern living gives a feel of perfection.
For further details and information on this latest development, please contact Universal Property Network.
Please contact Universal Property Network For More Information click here or visit our youtube channel further assistance