Citi Housing Jhelum – Location Map, Payment Plan and Booking Details
by UPN
July 16, 2022
0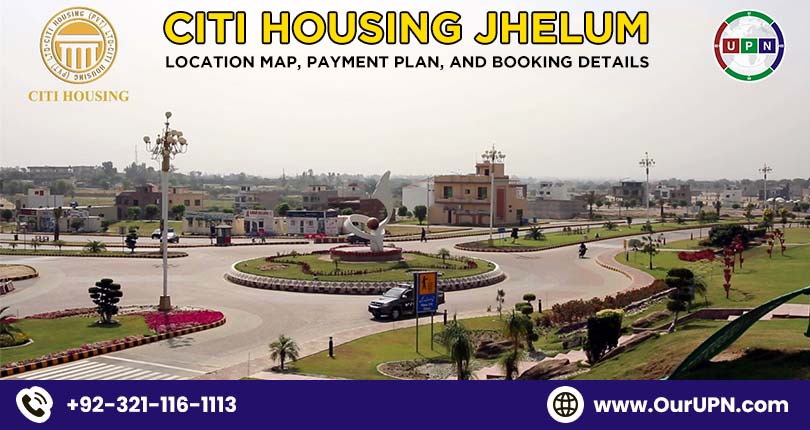 Citi Housing Jhelum is one of the latest and most advanced housing societies.   It is meticulously planned and designed on the latest terms and modes.   This gated community offers the best living and incredible investment opportunities with a beautiful setting and a completely safe lifestyle. The residential spaces in this project come with heart-winning commercial facilities essential to have a comfortable lifestyle.
It has top-notch medical facilities, schools of the highest international standards, mosques with central air conditioning, a great zoo, a luxurious gym and outstanding spa, an upscale movie theatre, and lovely parks. Undoubtedly, with all the desirable modern facilities, it provides outstanding living standards. Since its inception, this society has drawn the interest of investors by offering beneficial investment chances.
As a result, the developers are launching several new and exciting property deals.  This is another reason for the increasing demand for plots for sale in Citi Housing Jhelum. For the complete society details, please keep on reading!
Citi Housing Jhelum Location
This incredibly beautiful and smartly planned project is developing in the heart of Jhelum City. Citi Housing Jhelum location is prime as it is located on main GT Road. The location of this premium standard project is thoughtfully selected to make it easily accessible for everyone. As a result, its residents will have a quick approach to standard restaurants, entertainment places, and shopping malls.
Surely, this new society is an alluring and captivating option for a job and business person. The location of Citi Housing is advantageous for both residents and investors, and the surrounding areas are the best and most beneficial for many reasons.
Most importantly, the nearby lush green areas add charm to this project. Many of the top-notch educational institutes are located close, such as the University of Punjab and Roots Millennium School. Other popular developments close include Citi land Theme Park, Al Hassan Grand Marquis Jhelum, and Satellite Town Park.
Citi Housing Jhelum Masterplan
This project has made conscious efforts to provide highly luxurious facilities, infrastructure, and entertainment amenities, displaying a true sense of elegance. That's why the Citi Housing masterplan is outstanding in all ways.
Its residents feel happy to own the property because of the way it uses cutting-edge techniques. The standard level of maintenance, horticulture, town planning, development, and construction is making Jhelum's citizens experience the real class.
Citi Housing Jhelum is actively promoting healthy living among its residents. This society has beautiful plants along the streets, lovely flower beds, fixed bushes, streetlights, and ensigns, walkway configurations, and picturesque parks.
The master plan of this project shows that it spans a large area of land. Also, the entire society is divided into several blocks such as A, B, C, D, E, F, G, H, J, K, Overseas block, Eiffel Tower Block, DD block, Hydepark block, and more.
The plots for sale in all of these above-mentioned blocks are starting from 5 Marla up to 2 Kanal for residential. However, commercial plots are available in the sizes of 2 Marla up to 8 Marla. These properties come with all the basic amenities like natural gas, electricity, and water for top-class leisure.
Citi Housing has been created for those who are passionate about excellence, have an unshakable mentality, and pay close attention to detail. In the area, it is a revolutionary project. Similarly, it is accompanied by public amenities, residential communities, and business hubs.
Also, there are different commercial markets in this society. In addition, this place features the Jhelum Eye, the Eiffel Tower replica, a beautiful zoo, the cinema, several banks, the gym, and many other attractions.
Developers of the Citi Housing Scheme
It is a project by Citi Housing Developers. The public remained interested in the Developers' work because of the high-quality development in their initial projects.
The real estate experience of the developers is extensive. But now they are progressing in Citi Housing Jhelum with more advanced facilities.  In addition to a premium apartment complex in Lahore with the name Tower 21, they have successfully delivered Citi Housing Societies in Gujranwala, Sialkot, Faisalabad, Kharian, and Multan.
It is yet another premium real estate venture by Citi Developer in Jhelum, offering people high-standard living and profitable investment.
Citi Housing Jhelum Payment Plan 2022
This premium housing society has different size plots available for sale, such as 5 Marla, 10 Marla, 1 Kanal, and 2 Kanal. Although, the prices for the plots are already reasonable. But to make these plots ideal for buyers, Citi Developers are offering them flexible payment plans. The plot prices and payment plan duration vary from block to block. However, Citi Housing Jhelum payment plan 2022 is announced for a new block.
It is Hyde Park Block. Undoubtedly, one of the important and major blocks of this society offers the best residential plots. Anyone can book these plots with 2.5 years payment plan.
The starting prices of the plots are 24.75 lacs only. Moreover, booking starts from 4.75 lacs, and the remaining amount in 10 equal quarterly installments. Following are the detailed prices of plots:
5 Marla Plots for Sale in Citi Housing Jhelum
These plots are available at the launching price of 24.75 lacs. The booking of plots starts from 4.75 lacs. Moreover, the 10 quarterly installments of the plot are 2 lacs each.
10 Marla Plots for Sale in Citi Housing Jhelum
It's another important category of plots suitable for both end-users and investors. The launching price of 10 Marla plots is 44.50 lacs. Moreover, the down payment of the plots is 7.99 lacs. The quarterly installment of the plot is 365,100/- each (total of 10). The payment plan of the plot spans over 2.5 years.
1 Kanal Plots for Sale in Citi Housing Jhelum
These plots launching prices are 84.50 lacs. Booking starts from 999,999 only. Moreover, the quarterly installment of the plot is 745,000 each. There is a total of 10 quarterly installments in the payment plan.
2 Kanal Plots for Sale in Citi Housing Jhelum
The residential plots of 2 Kanal in this beautiful society are available for 1.45 crores only. The booking amount of the plots is 1,440,000 only. Moreover, the quarterly installments of the plots are 1,306,000/- There is a total of 10 quarterly installments for these plots, while the payment plan spans over 2.5 years.
Hyde Park Block Payment Plan 2022
| | | | | |
| --- | --- | --- | --- | --- |
| Plot Size | Dimensions | Total Price | Down Payment | 10 Quarterly Installments |
| 5 Marla | 25×45 | 2,475,000 | 475,000 | 200,000 |
| 10 Marla | 35×65 | 4,450,000 | 799,000 | 365,100 |
| 1 Kanal | 50×90 | 8,450,000 | 999,999 | 745,000 |
| 2 Kanal | 75×120 | 14,500,000 | 1,440,000 | 1,306,000 |
Facilities Available for You
Citi Housing offers the best living amenities in the town. Also, it's a fully-facilitated place where you will enjoy every walk of life. Living there would be nothing less. Have a great time. You and your loved ones will be indeed happy with your investment in this society. Some of the top-notch amenities of this place are:
Gated Community with Boundary Wall
24/7 Security Guards and CCTV Monitoring
Mosque in Every Block
Number of Parks in Every Block
Underground Electrification System and Availability of Gas
Mini Desert Inside the Society
Eiffel Tower Replica Increasing the Beauty of this Project
Theme Park to Facilitate People at Their Best
Dancing Fountain with Eye-Catching Development
Commercial Facilities of the Modern Age
Advance Infrastructure
Educational institutes as well as Healthcare Facilities of High Standards
Banks Branches and ATM Facilities
Shopping Complex and Other Commercial Markets
Spacious Car Parking
Fire Station
Opera Cinema
Sports Facilities
Zoo and Kids Play Area
Food Court with Different Popular Restaurants
While summing up all the details of this beautiful society, we conclude Citi Housing Jhelum is an attractive place for investment and residence.
Frequently Asked Questions
Here are the answers to some of the common questions about this project!
Is this project approved?
Yes, Citi Housing Jhelum is completely approved by the concerned authorities. It has a valid NOC.
Who are the developers of Citi Housing Societies?
These housing societies are owned by Citi Developers. The owner of this company is the Son in Law of Pakistan's property tycoon Malik Riaz.
Is Possession Available in Any Block?
Yes, Citi Housing Jhelum has possession of plots in all the blocks except the Eifel, DD, and Hyde Park block. Soon, these blocks will also have possession.
Is this Society Good for Investment?
Buying in Citi Housing Jhelum is equally good for residence and investment. Your money will be secure in it.
Please contact Universal Property Network For More Information click here or visit our Youtube channel for further assistance.