Coke Food And Music Festival is Back to Lahore to Feed Your Senses with Lots of Masti Maza & Fun!
by UPN
March 5, 2019
0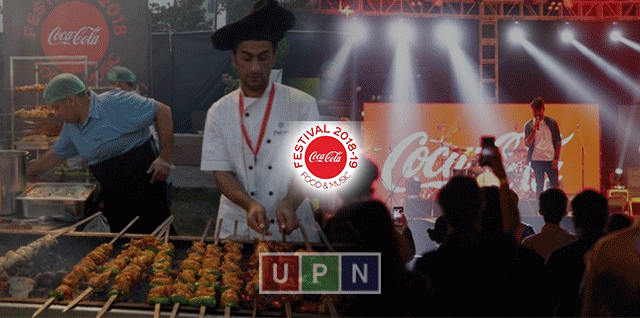 Calling all the foodies of Lahore!!! After the sensational success of last Coke Fest Lahore, it's back with a bang guys, being bigger than ever. So, Lahore, are you ready to Eat to the Beat? Are you ready to bedazzle again? So guys let's mark your calendars right now as Coca Cola is calling out all the Lahori foodies of on March 15th 16th & 17th at Lake City Golf & Country Club for the amazing Coke Festival Lahore 2019
This 3-days event will be an entertainment-packed weekend with a diversity of delicious food and music beats that will not make you able to stop moving. So get ready this weekend and put on your shoes, round up the family and explore over 80 leading and burgeoning traditional/contemporary restaurants and numbers of caterers, home chefs at the food stalls at this amazing 'Party in the Park'. Coke Fest Lahore is expected to attract a crowd of more than 60,000 food lovers.
Diversity of Freshest Flavors Food
Coke Fest Lahore promises to offer diversity of traditional Desi to Continental, Turkish/Lebanese, Asian, and Italian Cuisines. The selection of foods for Coke Food Fest will be made on the bases of the reviews and feedback from the popular food portal "Foodies 'R Us", and also on the opinions and popular choice of some of Pakistan's most passionate food lovers.
Eat To The Beat – With Lots of Music
Lahori Foodies will also witness chefs working their magic through cooking exhibition and enjoy a stellar line up of live music with other fun-filled activities. The attractive selection of musicians from Coke Studio includes megastars such as Strings, Ali Hamza, Ali Azmat, Ali Sethi ,Khumariyaan, Asim Azhar, Overload – Farhad Humayun, Aima Baig, Damia Farooq, Bilal Khan, Natasha Baig, Stereo Nation, Malaika Faisal, Waheed Khan, Sahara UK, Quadrum, Sound of Kolachi, Fuzon, and Rachel Viccaji .
Coke Food Fest Hosting & Organizing Partners
Coke Fest is hosted by Coca-Cola Pakistan and cosponsored by Mobilink Jazz & Kashmir cooking oil and Banaspati with Foodies 'R Us, and Activemedia, as the organizing partners. The festival's Transport Partner will be Uber, Kids zone partner: Candy land, Media Partners: Tv One & News One, Kinetic and Ticketing Partner: Easy tickets.
Coke Food Fest 2019 – Dates & Timings
15th March, 2019, Friday: From 03:00 PM to 11:00 PM
16th March, 2019, Saturday: From 01:00 PM to 11:00 PM
17th March, 2019, Sunday: From 01:00 PM to 11:00 PM
Ticket Price & Availability
The ticket price for each day is Rs. 540/- and it can be booked online via easy tickets now or on spot from the ticket counter. Entry tickets are free for the kids under age of 5. People are advised to book/get their tickets earlier to avoid any problems and come early as a huge crowd is expected.
So Lahoris! Get ready to welcome this spring season by celebrating it with delicious food and heart-touching music in Lake City Golf & Country Club.