Commercial Plots Available in Bahria Town Sector F Ghaznavi Block – Latest Updates for You
by UPN
January 18, 2019
0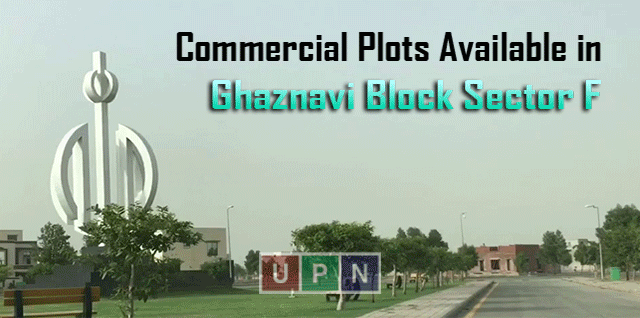 Ghaznavi Block Bahria Town Lahore is ideally located in Sector F that appears to be the most admirable option among buyers for residence and investment. The rates of property in this block are economical as compared to the plot prices of other blocks. And there is something really special that makes this block different from the others and that is the availability of commercial plots in it. Yes, the commercial plots of 5 Marla are beautifully designed close to Eiffel Tower. These plots are available in corner category and in the general category as well. So, let's have a look at the updated details given below.
Bahria Town Sector F Ghaznavi Block – Location Overview
These commercial plots of 5 Marla are available in Ghaznavi Block Bahria Town Lahore. There are two main approaches to Ghaznavi Block. The first approach is moving from Sector B to Sector E of Bahria Town. The second access to Sector F Ghaznavi Block is from Sector D to Overseas B Block crossing Talha Block. The easy access to these 5 Marla commercial plots of the Sector F is provided near the Eiffel Tower.
Latest Prices & the Comparison with Other Sectors – Ghaznavi Block Bahria
Just like the high demand for residential plots, the demand for commercial plots is simply more than it. The economical commercial plots of 5 Marla in Ghaznavi Block in Bahria are providing you with a great chance to earn maximum profit with an average investment.
The commercial plots of two categories are available in Ghaznavi Block Bahria Town. One is the corner category and second general category. Those who are looking to buy the corner plots of 5 Marla will definitely enjoy the availability of large space for parking. But there is a difference in the price of corner plots as compared to commercial plots of general category.
Why Invest in Ghaznavi Block? A Complete Answer
These commercial plots of 5 Marla are ideally located in the Sector F. This sector is beautifully surrounded by many attractions. The top of them is Eiffel Tower, Cinema and the Food Court. The grey structure of a food court is ready and it is expected that it will be operational within a year. However, Cinema is already opened and is a great source of entertainment for the residents of Bahria Town. The nearest attraction to these plots is Eiffel Tower that is a major landmark of Bahria Town and number of visitors visit it on a daily basis so the demand of these plots is also increased.
Making an investment in these commercial plots is an ideal opportunity to earn handsome rental amount every month. Ghaznavi Block Bahria Town Lahore is considered the top choice for the residence where many families are already living. So just contact Universal Property Network to buy your plots of 5 Marla commercial as soon as possible.