Commercial Plots for Sale in Bahria Town Lahore 2023
by UPN
May 17, 2023
0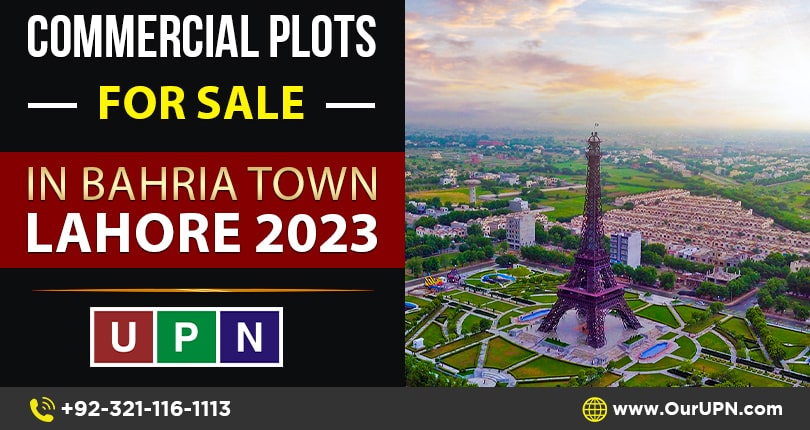 Introduction
The commercial plots for sale in Bahria Town Lahore are always high in demand. Its commercial properties appear to be the best choices for buyers, investors, and businesses. Keeping in view these demands and requirements of the people, Bahria Town has launched some new and exciting commercial plot deals. These are the new commercial plots of 5 Marla and 8 Marla in the heart of this premium society. It's a beneficial commercial opportunity like no other! Even, this is the most attractive commercial option launched in the past six months in Bahria Town Lahore. Experience the perfect blend of reasonable prices and convenient availability through easy installments. Don't miss out on securing your spot in this exceptional commercial venture that promises both growth and profitability. Act now and secure this golden opportunity for a prosperous future. Further details are provided below:
5 Marla Commercial Plots for Sale in Bahria Town Lahore
This time we bring you an exciting new opportunity at the prime location of GVR 2! Presenting 5 Marla commercial plots, marking the very first commercial deal in this esteemed society. This exclusive offering presents on-ground 5 Marla plots with no transfer fees. Yes, all these options are available on open forms. To make it even more enticing, booking starts at just 50%, with the remaining amount payable within 3 months. Secure your commercial plot today at a total price of 1.80 crores and embark on a lucrative investment journey in this thriving community. Not only this, but these are possession plots. So, you can confidently get quick possession of your commercial plot.
Above all, Bahria Town management allows the merging of plots till 15 – 20 Marla for the construction of big projects with many storeys. These plots are ideal to construct high-rise apartment buildings and commercial plazas.
Location of Golf View Residencia 2
GVR 2 is also a beautiful part of Bahria Town Lahore. It's another project of Bahria Town located on Raiwind Road Lahore. It comes when we drive towards Raiwind Road and the interchange of Ring Road comes. Golf View Residencia enjoys the proximity to Lake City Lahore, Lahore Villas, AWD Housing Society, and Bahria Orchard Lahore.
Other Properties in GVR 2
In addition to the captivating commercial opportunity, GVR 2 also presents residential plots of 10 Marla and 1 Kanal. These on-ground plots come with the added advantage of immediate possession, allowing you to begin building your dream home right away. Moreover, these plots are accompanied by a bundle of modern amenities, ensuring a comfortable and contemporary lifestyle for residents. From state-of-the-art infrastructure to recreational facilities and lush green spaces, GVR 2 offers a comprehensive package of amenities that cater to the needs and desires of discerning homeowners. Experience the perfect blend of convenience, luxury, and serenity in this esteemed community. These plots are available in the following price range:
10 Marla plots for sale in GV2 will cost you around 80 lacs to 1.10 crores.
1 Kanal residential plots in GV2 are available in the price bracket of 1.40 crores to 1.70 crores.
Reasons to Buy Commercial Plots for Sale in BTL
GVR 2 presents a unique opportunity to acquire commercial plots at affordable rates. For those who comprehend the value of commercial properties in esteemed areas like DHA, where prices range between 12 to 20 crores, and surrounding localities such as Lake City and Pine Avenue, where commercial plots are available at prices ranging from 5 to 15 crores, investing in GVR 2 commercial plots of 5 Marla is a wise decision. The reasonable prices offered for the commercial plots for sale in Bahria Town Lahore make it an enticing prospect for investors who recognize the potential for lucrative returns on their investment. Moreover, Bahria Town has a track record of maintaining high-value commercial properties, making it a sought-after destination for individuals looking to construct high-rise buildings and plazas.
When it comes to commercial plots, Bahria Town holds a strong reputation for ensuring a return on investment. The strategic location, coupled with the exceptional amenities and infrastructure offered by Bahria Town, contributes to the desirability of its commercial properties. Whether you are looking to establish your own business or invest in a property that appreciates over time, Bahria Town's commercial plots offer a reliable avenue for growth and prosperity. The opportunity to construct multi-story buildings and plazas further adds to the appeal, allowing investors to capitalize on the demand for commercial spaces in this thriving community.
Another plus point is that these commercials are currently available at the prices of residential plots. The availability of plots on open forms and no transfer fees further adds charm to it.
Surely, it's a time-taking investment but the prices for the plots or the constructed property will increase by 30 – 40% in the next 2 years.
8 Marla Commercial Plots for Sale in Bahria Town Lahore
Another exciting deal of commercial plots is launched in Main GVR 1. It's also a beautiful part of Bahria Town Lahore where you can confidently buy the commercial plots of 8 Marla. All these are on-ground commercial plots launched at the best price of 5.25 crores. The booking of the plots starts from a 50% down payment and the remaining 50% will be payable in 2 months. The availability of the plots on open forms means no transfer fee further adds charm to it. Check out the further location details and importance.
Location of Golf View Residencia and Its Importance
Golf View Residencia is beautifully located at a prime location. It is developed adjacent to the Hussain Block of Bahria Town Lahore. The location of GVR 8 Marla new deal commercials plot is prime as you will find them on the main boulevard.
Furthermore, the commercial plots in GVR 2 benefit from a prime location. These are situated along the route that residents take when traveling from Bahria Town towards Raiwind Road or Fazaia Interchange.. The high visibility and accessibility make them an ideal choice for businesses looking to capture the attention of passing traffic and potential customers. The proximity to major transportation routes ensures a steady flow of people, increasing the potential for business growth and success. Investing in GVR 2 commercial plots not only offers affordability but also positions businesses in a prime spot to capitalize on the continuous movement of individuals traveling to and from Bahria Town and its surrounding areas.
Investment in GVR 1 Commercial Plots
GVR 1 commercial plots offer a compelling investment opportunity in a thriving community. With a population already reaching 20-25% and the neighboring Hussain Block in Bahria Town Lahore boasting a 60% population, the area is witnessing significant growth and development. The presence of an established population base creates a strong consumer market, making it an ideal location for businesses to grow. Additionally, the economical prices of GVR 1 commercial plots make them an attractive choice for both business ventures and the construction of high-rise buildings.
Moreover, the prospects for growth in GVR 1 are further enhanced by the presence of ongoing high-rise projects. With two to three high-rise developments currently under construction, the area is ideal to experience further development and progress. Investing in commercial plots for sale in Bahria Town Lahore provides the opportunity to be part of this dynamic growth and capitalize on the increasing demand for commercial spaces. Whether you are looking to establish a business or venture into the real estate sector, GVR 1 offers a promising investment landscape with ample potential for long-term success.
Frequently Asked Questions
Following are the answers to the commonly asked questions:
What are GVR 1 and GVR 2?
Golf View Residencia 1 and Golf View Residencia 2 are esteemed residential and commercial projects located in Bahria Town Lahore. These societies offer a diverse range of properties.
What is the location advantage of GVR 1 and GVR 2 commercial plots?
Both GVR 1 and GVR 2 enjoy prime locations within and adjacent to Bahria Town Lahore, ensuring high visibility and easy accessibility. The societies have strategic positions along key routes, attracting a significant flow of traffic and potential customers.
What are the new deals for commercial plots in Golf View Residencia Lahore?
GVR 1 brings ideal investment opportunities in 8 Marla commercial plots. On the other hand, GVR 2 offers 5 Marla commercial plots at reasonable prices. Booking of plots starts from a 50% down payment and 50% within 2 – 3 months.
Are these plots suitable for high-rise buildings or plazas?
Yes, both GVR 1 and GVR 2 commercial plots are ideal for constructing high-rise buildings and plazas. The societies permit the construction of multi-story structures, allowing investors to maximize the potential of their commercial properties.
Are these commercial plots ready for possession?
Yes, both GVR 1 and GVR 2 commercial plots are ready for possession. This means that upon completion of the necessary formalities, investors can take immediate possession of their plots and begin their business activities without delay.
What amenities and facilities are available in Golf View Residencia?
Golf View Residencia offers a range of modern amenities and facilities to enhance the commercial experience. These include well-planned infrastructure, reliable utility connections, ample parking spaces, landscaped surroundings, and a conducive environment for business growth. In other words, it has all the trademark facilities of Bahria Town Lahore.
Are there any ongoing development projects in GVR 1 and GVR 2?
Yes, there are ongoing development projects in both GVR 1 and GVR 2, indicating continuous growth and progress in the societies. Both residential houses and commercial buildings are developing there.
Please contact Universal Property Network For More Information click here or visit our Youtube channel for further assistance.