Commercial Plots for Sale in Touheed Block Bahria Town Lahore
by UPN
July 12, 2020
0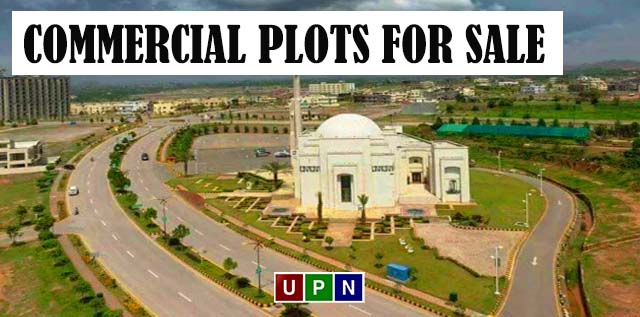 Bahria Town Lahore is featuring some of the best commercial properties where investors confidently invest. Investment in the commercial plots for sale in Bahria Town Lahore is always a profitable decision. Anyone can buy these commercials to run his own business; he can rent out the property or earn huge investment potential after selling it again. So, the demand for these commercial plots is very high. With the rising demands of commercial plots, the prices of commercials are also increasing. However, to meet these increasing demands of investors, Bahria Town Lahore has recently launched a new deal of commercials in Touheed Block.
New Deal of 5 Marla and 1 Kanal Commercial Plots in Bahria Town Lahore
The iconic real estate development, Bahria Town Lahore, is now offering the highly affordable commercial plots of 5 Marla and 1 Kanal. 5 Marla commercials are already available but at the highest prices. But it is happening for the first time, that Bahria Town has launched the commercial plots of 1 Kanal in it. These commercial plots are launched in Touheed Block. This block holds significant importance as it is facing the Eiffel Tower.
5 Marla commercial plots are available at the affordable price of 95 lacs to 1.25 crore. The prices of these 5 Marla commercials are different as per the location. However, 1 Kanal commercial plot will cost you around 3.50 crores. 1 Kanal commercial plot is limited in numbers. Only seven plots are available, which are located ideally on the Main Boulevard of Touheed Block.
Development Status
Touheed Block is a completely developed and ready to live area. It is featuring different sizes of residential plots that are available with possession. On the other hand, these newly-launched commercial plots are also developed, and possession is available.
The development work of this block is completed so far; even a few houses are under construction.
Investment in Commercials of Touheed Block
Touheed Block commercial plots for sale are ideal to invest. The prices of both the 5 Marla and 1 Kanal commercial plots are reasonable.
For example, a commercial plot of 5 Marla in Sector C of Bahria Town will cost you around 6.50 crores. The same size of commercial plots at the ideal location is available at much lower prices.
So, what are you waiting for? Be ready to make a profitable investment in Bahria Town Lahore by investing in these commercial plots available at the best prices!
For more details, contact  Universal Property Network!
Check out our site for more detail. Latest News