Commercial Plots Prices in Bahria Orchard Phase 4 (2021)
by UPN
August 11, 2021
0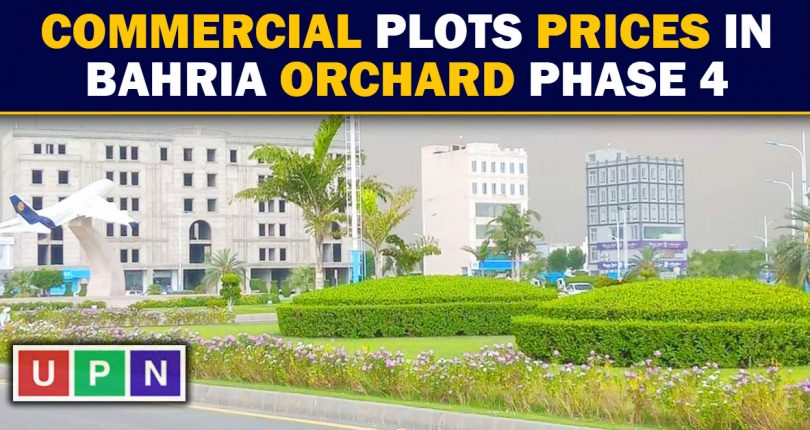 Bahria Orchard Phase 4 offers the best plots for sale in Lahore. This society is planned with numerous attractions; however, the reasonable plots prices in Bahria Orchard Phase 4 are major reasons to invest. Not only the residential but the demands for commercial plots are increasing day by day. People are showing their interest in commercial properties of Bahria Orchard Phase 4 as several mega commercial projects are already launched. To know the latest commercial plots prices and details, please keep on reading.

Commercial Plots in Bahria Orchard Phase 4
Mainly, there are two types of commercial plots in Bahria Orchard Phase 4, i.e., 8 Marla and 5 Marla. Also, there are limited numbers of big commercial plots of 32 Kanal in G1 Block while 2.5 Kanal commercials are located in G2 Block.  Many mega commercial projects are developing on these bigger sizes of commercial plots like Orchard Mall, Times Square Mall, and Tower 3. These projects are also offering the best commercial properties such as shops and offices of several sizes.
Commercial Plots Prices in Bahria Orchard Phase 4
Launched in 2017, the installments of commercials were completed in 2019. The launching prices of 5 Marla commercial plots were 1.5 crores, while 8 Marla plots were launched in 2.25 crores. The overall property market was down till 2019, so the prices were also low. Currently, the property prices are stable, and with the launch of Jasmine Villas (a project by Q-Links), the value of commercial plots is also increasing.
8 Marla Commercial Plots
The latest prices of 8 Marla commercials located on 160 ft wide main boulevard of G1 Block are 2.25 crores to 3 crores. The same size plots in G2 Block will cost you around 2.50 crores to 3.25 crores. However, 8 Marla plots prices are low in G3 and G4 Blocks. Here a plot of 8 Marla will cost you 2.15 crores to 2.25 crores.
5 Marla Commercial Plots
The 5 Marla commercial plots prices in Bahria Orchard Phase 4 are ranging between 1.70 crores to 1.80 crores in G1 Block. Also, the prices of plots are between 1.50 crores to 1.65 crores in G3 Block. However, prices are low in G5, and G6 Blocks will cost you negative 10 – 15 lacs.
Expected Increase in Plots Prices in Bahria Orchard Phase 4
Many of the mega-development projects such as Orchard Mall and Times Square Mall are under construction. Moreover, the development of Safari Homes and Jasmine Villas is under process. Orchard Homes is also developing at satisfactory. Once all these residential and commercial projects are complete, the demand for properties will increase. Also, more and more buyers will attract to Bahria Orchard Phase 4 properties.
Also, as the families will start residing in Orchard Homes and Safari Homes, the value of G5 and G6 commercial plots will increase.
So, this is the right time to make a beneficial investment in commercial plots. The latest plots prices in Bahria Orchard Phase 4, especially in G5 and G6 Blocks, are affordable. Buying in these plots can give you huge benefits if you are ready to invest for the next 3 – 4 years.
Contact us for further assistance.
Please contact Universal Property Network  For More Information click here or visit our youtube channel further assistance