Commercials for Sale in Bahria Orchard Phase 1 and Phase 2
by UPN
December 9, 2020
0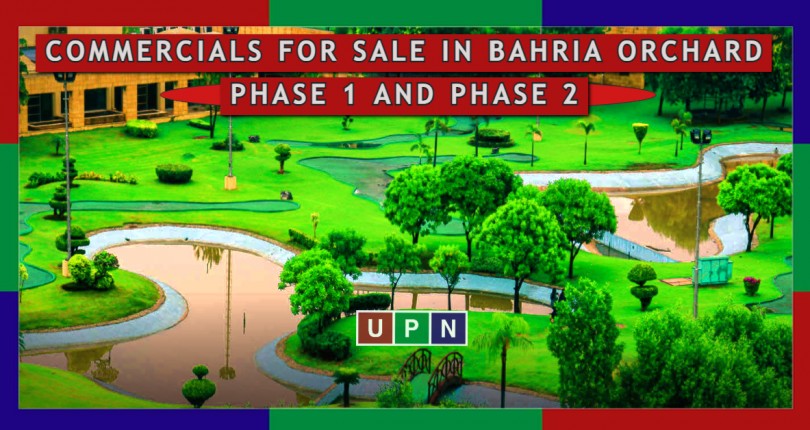 Bahria Orchard Lahore Phase 1 and Phase 2 are the comprehensive housing societies that offer ideally located Commercials for sale. Bahria Orchard is a budget-friendly, luxurious housing society developed in four phases. All these phases are right to choose the best properties for sale. However, Bahria Orchard Phase 1 and Phase 2 seems more attractive to buy commercial plots for sale. Both these phases are smartly planned to offer the best commercial plots in the town. Prices of commercial properties are reasonable as compared to many other housing societies located nearby.
Additionally, all these commercials are on-ground with possession. Let's explore the details of commercials in Phase 1 and Phase 2 to know more about location, sizes, and prices.
Commercials for Sale in Bahria Orchard Phase 1
It is the very first phase of Bahria Orchard Lahore with maximum construction and impressive inhabitation ratio. Bahria Orchard offers the commercial plots of 4 Marla and 5 Marla. Most of these commercials are located in Central Block, which is an ideal choice to invest in.
Here the starting price of a 5 Marla commercial plot is 170 crores to 2.30 crores. These are the best commercials for sale in Bahria Orchard Lahore.
Moreover, the sector shops of 1.33 Marla are also available for sale in Eastern Block Bahria Orchard Phase 1. These shops are available in the price range of 40 lacs to 50 lacs.
Also, you can invest in Eastern Bazaar, which is a commercial project by Q-Links Developers. Different shops are available on installments while the prices of shops range between 43 lacs to 89 lacs.
Commercials for Sale in Bahria Orchard Phase 2
Bahria Orchard Phase 2 is developed with several sizes of commercial plots. These commercial plots are almost available in every block of this society. The available sizes of commercials are 2 Marla, 2.5 Marla, and 4 Marla.
The average price of a 2 Marla commercial plot is 80 lacs. 2.5 Marla commercial plots are available at the starting price of 90 lacs to 1 crore. However, the 4 Marla commercials will cost you between 1.35 crores to 1.60 crores.
All these plots are on-ground and possession available.
Investment in Commercial Plots
The commercial plots of Phase 1 are located in already populated areas. The demand for these plots is high for developing commercial projects and earning handsome rental income. Moreover, the prices for the commercial plots of Phase 2 are less compared to Bahria Orchard Phase 1. So, by investing in the plots of Phase 2, you can gain huge profits.
For further investment analysis and assistance
So, Please contact Universal Property Network today!
For More Information click here or visit our youtube channel