Constructed Properties for Sale in Bahria Town Lahore – Details and Comparison
by UPN
August 7, 2020
0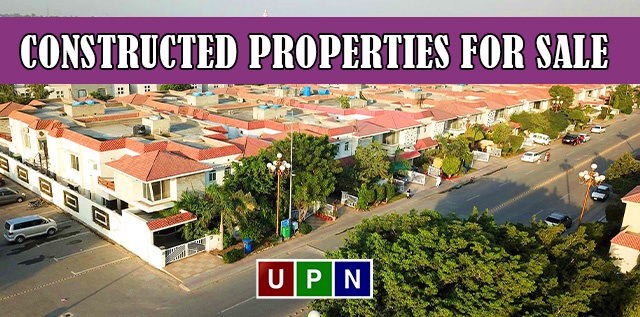 Bahria Town Lahore constructed properties for sale gives everyone a sought after opportunity to enjoy the unmatched luxury, comforts, exclusivity, and class all the time. Beautiful society's infrastructure, top-notch features and high security make it a perfect place to buy a property. Bahria Town Lahore offers several constructed properties that attract numbers of potential buyers and investors for so many reasons. These constructed properties are attractive for their ideal location, easy access, generous spaces, and remarkable facilities. Different sizes of villas, houses and apartments are available for sale in Bahria Town Lahore. However, the demand for apartments is very high because of easy availability, good rental returns and reasonable prices.
1 Bedroom Apartments for Sale in Bahria Town Lahore
These apartments for sale in Bahria Town Lahore are planned to offer great investment opportunities while increasing the demand and value of the property.
1 Bedroom apartments are available in various sizes and available in various high-rise buildings and semi-commercial projects. The starting prices of a brand new 1 bedroom apartment in Bahria Town Lahore are 40 lacs to 60 lacs. However, a used apartment of the same size, which is located ideally, will cost you around 32 lacs to 50 lacs.
This size of apartments is best for investment, especially for those desires to earn handsome rental income every month. The average rental income of 1 Bedroom apartments for sale in Bahria Town Lahore is 25 thousand to 40 thousand.
The rental income of the apartment depends on its condition, style, and location.
2 Bedroom Apartments for Sale in Bahria Town Lahore
Beautifully constructed residential apartments of 2 Bedrooms are also available in Bahria Town Lahore. However, the demand for 1 Bedroom apartment is high in comparison to 2 Bedroom apartments.
2 Bedroom apartments will cost you around 60 lacs to 90 lacs. However, the prices of these apartments also vary as per condition and location.
The rental income of 2 Bedroom apartments is between 40 thousand to 70 thousand.
Investment in Apartments of Bahria Town Lahore
Bahria Town Lahore apartments for sale offer you a golden investment opportunity to earn huge returns in the future. Buying these apartments is recommended as the demand for them is always high. These apartments have the potential to win the hearts of investors and best elevate your living style to some unique levels.
So, if you are looking to buy an apartment in Bahria Town Lahore or planning to construct your own, do consider Sector F. Yes, some highly attractive commercial plots facing Eiffel Tower are available. These plots are ideal for constructing your shops, plaza, and apartments on the upper floors.
For further details, contact Universal Property Network!
Check out our site for more detail. Latest News