Construction Update in Bahria Orchard Lahore Phase 4
by UPN
December 27, 2020
0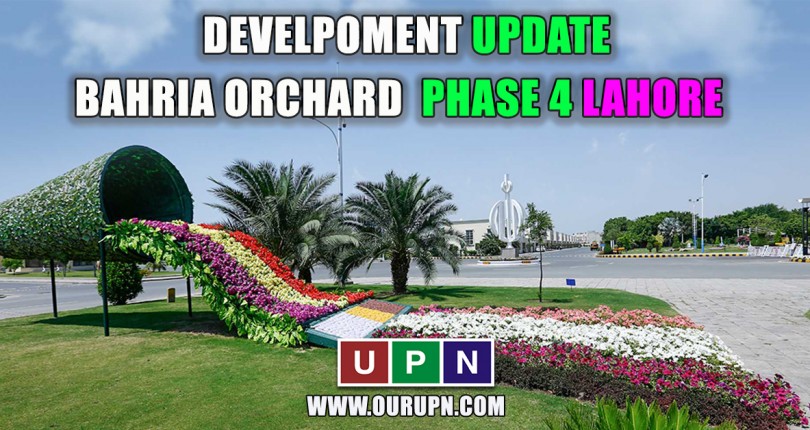 From the last few months, Bahria Orchard Phase 4 is catching everyone's attention by offering some best property deals. A large number of constructed properties on installments are now available in Bahria Orchard. These properties include double-storey houses, apartment homes and luxury villas. Moreover, it is a society with a reasonable 10 Marla and 1 Kanal residential plots. Comprises of six blocks, i.e., G1, G2, G3, G4, G5 and G6, are blocks offering plots with possession.
Buying property in Bahria Orchard Phase 4 is profitable. Still, before investment, it is important to know the construction status. So, let's find out the current construction update in all the blocks of Bahria Orchard Phase 4.
Current Construction Status in All the Blocks of Bahria Orchard Phase 4
The construction of houses in Bahria Orchard Phase 4 is starting. And whenever the construction of houses begins in any society, it means that people are ready and satisfied to live in it. This construction indicates that the facilities provided are enough to live in that place.
The development of houses in Bahria Orchard Phase 4 is at the initial stages. But the launch of different constructed property deals has a positive impact on the overall properties of Phase 4.
Construction in G1 Block
A couple of houses are developing in G1 Block of Bahria Orchard. This is the very first block after making an entrance in Phase 4. It is a completely developed block with easy access to all the world-class amenities.
Additionally, a mosque is also under construction in G1 Block. The development of these houses, mosque, and the nearby location of Cool Day Park is why the plot prices are increasing.
Construction in G3 Block
This is also a completely developed block where you can buy the best plots for sale. A house of 10 Marla is completed there. People are living in it, and that was the very first house completed in Bahria Orchard. Also, there is a school near completion.
Construction in G4 Block
The construction of houses is also started in G4 Block. One house is under-construction in it while many will be started soon. Jamia Masjid Riaz is near completion and will be operational soon.
Construction in G5 and G6 Blocks
These two are the most significant blocks of Bahria Orchard with the best villas, apartments and homes for sale. The development work on Jasmine Villas, Orchard Homes, and Safari Homes is started. All these three are the projects by Q-Links Developers. Possession of these properties is expected in the next two years. We hope these will be completed and deliver on time.
Other Major Developments in Bahria Orchard Phase 4
Some of the other major developments in Bahria Orchard Phase 4 are Orchard Mall, which will soon be operational. Once developed, Aslam Super Market and many other brands will become a part of it. Moreover, there is also a bakery operational in its proximity.
Commercial plots of two different sizes and shops in high-rise projects are also available for sale.
Overall, the construction status in Bahria Orchard Phase 4 is improving with the time. So, if you are looking for any budget-friendly property in Phase 4, do contact Universal Property Network  For More Information click here or visit our youtube channel further assistance