Current Development Status and Market Trends in Bahria Town Lahore and Bahria Orchard
by UPN
October 4, 2020
0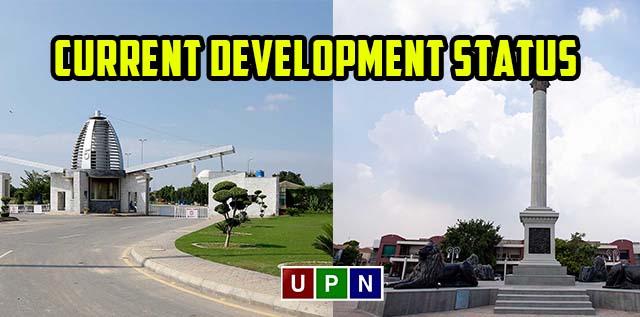 Bahria Town Private Limited has successfully delivered several appealing housing societies in Lahore among which Bahria Town Lahore and Bahria Orchard Lahore are on the top. Both of these societies are located ideally and known to be the perfect options for residential and commercial properties. Investors always remain in the search to buy the most profitable properties in both of these projects. However, choosing one between them is quite a difficult task. But at the same time, it is important to have the complete details of development, market trends, and potential before investing in them.
So, this latest blog is all about the current development status of Bahria Town Lahore and Bahria Orchard Lahore. Moreover, we will also guide you about the best blocks with the best properties. Additionally, you will even know about the potential in the plots for sale in Bahria Town Lahore and Bahria Orchard Lahore.
Current Development Status of Properties in Bahria Orchard Lahore
Bahria Orchard Lahore features a total of four phases. All these phases are properly developed, while the first two phases are attractively populated. The demand for residential properties is very high in Bahria Orchard Phase 1, Phase 2 and Phase 4. Phase 4 of Bahria Orchard Lahore has become the centre of attraction for investors after the launch of some exciting constructed property deals.
Phase 1 Bahria Orchard is the most populated, but still, the property demands in it are never-ending. Moreover, Phase 2 also offers the best 5 Marla and 8 Marla plots at the affordable rates. Possession of the plots is available, and all the living facilities are provided so far.
Current Development Status of Properties in Bahria Town Lahore
Bahria Town Lahore has impressively comprised a total of six sectors. All of these sectors are developed and features the heart-winning state of the art infrastructure. Bahria Town Lahore is home to all the best properties for sale. Here you will find numerous options to choose from. The prices of plots are this society is high in comparison to the properties of Bahria Orchard Lahore. But this thing does not impact because it has no comparison with any of the other projects.
Plots, houses, villas, apartments all are available with possession. Most importantly, Bahria Town Lahore is the only society where you can choose a plot within your budget. For example, a 5 Marla residential plot is available at the price range of 65 lacs and also the best plots are available at the total cost of 45 lacs. The choice is only yours.
Where to Invest in Bahria Orchard Lahore?
All the phases of Bahria Orchard Lahore feature various categories of properties for sale. Buying the different sizes of plots in them is profitable. However, these days, the latest market trends show that people are more investing in houses, apartments and villas. The main reason behind the demand of these constructed properties is the recent launch of numbers of attractive deals. On the other hand, those searching for plots to build their homes can choose between the different options available in Phase 1 and Phase 2.
Where to Invest in Bahria Town Lahore?
Bahria Town Lahore offers the best plots for sale in all of its sectors. But due to high demand the prices of properties in Sector A, B, C and D is high in comparison to Sector E and Sector F.  So, buying in the different blocks of Sector E and Sector F like Quaid Block, Talha Block, Touheed Block, Nishtar Block can be profitable for both residential and investment purposes.
If you have any queries, please contact Universal Property Network!
Check out our site for more detail. Latest News