DHA Bahawalpur – Surcharge Waive-Off Policy Reminder
by UPN
April 29, 2021
0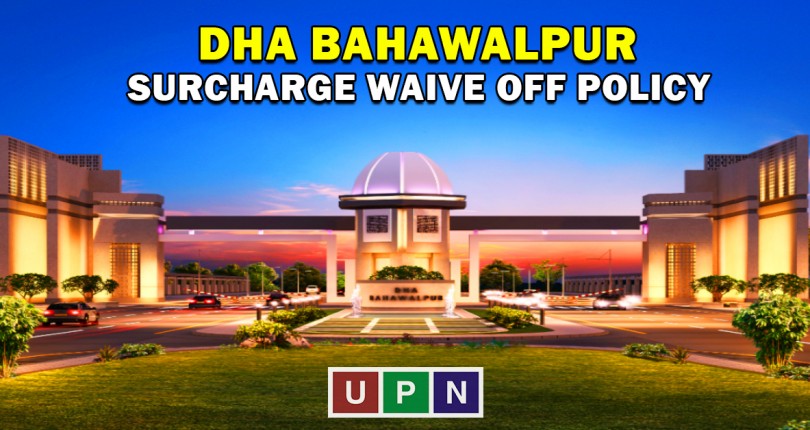 The management of DHA Bahawalpur has recently announced a surcharge waive-off policy for the development and land charges. It's one of the important but last opportunities that DHA Bahawalpur offers to its honourable members. We called it important because it's an easy way to get rid of heavy fines for late payments. Yes, it's true! Also, it is last, as this policy is only valid till 30th June 2021.
DHA Bahawalpur offers the 100% Surcharge Waive-Off package to all the members with outstanding land and development charges. They can easily avail of this offer by depositing their pending dues before the 30th June 2021.
DHA Bahawalpur – Surcharge Waiver 2021
DHA Bahawalpur Surcharge Waiver 2021 is a good opportunity for stalk holders. It is valid for the first four sectors, i.e., Sector-A, Sector B, Sector C, and Sector D. Almost nine installments of the development charges in these sectors are paid. By paying your outstanding payments within the given deadline, you can get rid of heavy fines.
This 100% Surcharge Waive-Off Package is valid for all sizes of residential plots, commercial plots, and villas.
Here we would like to add that it's an excellent opportunity for the DHA members never to be missed. Those searching for further details and assistance can contact us directly!
DHA Bahawalpur-A Mega Housing Society with Affordable Price Properties
This DHA in Bahawalpur is a mega housing society, a profitable real estate development in Southern Punjab. Like the other DHA societies, it is one of the largest housing projects with unmatched facilities and attractions. Located at the Southern Bypass, this society is easily accessible from Bahawalpur Airport.
It is offering a wide range of properties such as:
Residential Plots
5 Marla
8 Marla
10 Marla
1 Kanal
2 Kanal
Commercial Plots
4 Marla
8 Marla
Farmhouses Land
4 Kanal
8 Kanal
Villas
6 Marla
9 Marla
12 Marla
As per the society's notice, this Surcharge Waive-Off is valid for the above-mention properties. The last date to get benefit from this policy is 30th June 2021.
Contact us for further assistance.
Please contact Universal Property Network  For More Information click here or visit our youtube channel further assistance