DHA Lahore Family Fun Fair 2018 at The Defence Club
by UPN
March 17, 2018
0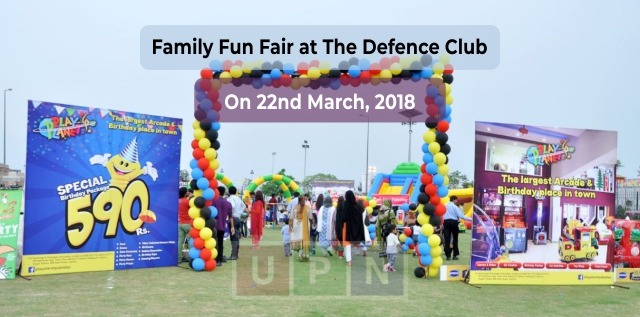 DHA Lahore is the top residential community of the city by all means and offers a number of entertainment opportunities to residents. As spring season is on full swing, the fun filled activities and festivity has started everywhere in the country. DHA Lahore has its own way for such celebration and does it in style with participation of whole community. This year it is organizing fun-filled event with lot of activities and entertainment in its club.  Get ready folks this event as it will going to an exciting day for your whole family.
Family Fun Fair at The Defence Club Lahore
With the association of DHA Lahore management, The Defence Club Lahore is organizing a Family Fun Fair for its residents on Thursday 22nd March, 2018. It will be a one-day event or rather you should say an evening to celebrate spring. For maximum participation of families with kids, evening timing has been selected for the event instead of full day.
Fun Fair Activities and Highlights
As this is a family fun fair, so it will cater every age group with something to cheer about. For kids, fun, games, magic show and a lot more activities will be organized by the management. A festival without food is something that is not possible now so a number of food stalls will be there to treat your hunger. Apart from food stalls, some miscellaneous stalls of different products will be there for shopaholics. Above all, the real entertaining factor is live singing performances by famous singers.
ALL DHA Residents are Invited
The event is not limited to club members only as all DHA residents are invited to attend it. All families living in DHA premises can visit it; neither any passes nor entry fee is required for entry.
Opportunities for Stall Booking
All members, residents and different companies can book their stall for this event. Registration is open on first come, first serve basis.
Don't miss this fun with your loved ones and enjoy the moments here with food, music and a lot more attractions.
For more updates and information, please keep visiting Universal Property Network (UPN).