DHA Multan New Bookings with 3 Years Easy Installments
by UPN
August 8, 2021
0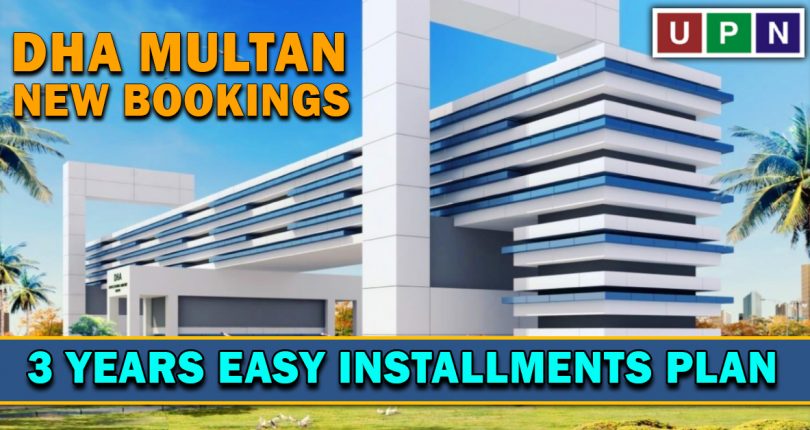 DHA Multan new bookings are announced recently. These are the new deals of residential and commercial properties, announce to facilitate the long-waiting customers of DHA. Offering all these options with 3 years of easy installments, bookings start with nominal down payments. DHA Multan new plots are located in already existing sectors where anyone can apply by applying the given deadline. However, the application fee is non-refundable. Both local and Overseas Pakistanis are eligible to apply for these new plots for sale in DHA Multan.
DHA Multan New Bookings – Plots on Installments
The new plots for sale on intsallments in DHA Multan are available in residential and commercial categories. The residential plot sizes are:
5 Marla
8 Marla
10 Marla
1 Kanal
DHA Multan new commercial plots are available in the sizes of:
4 Marla
All sector wise locations of these plots are:
1 Kanal
10 Marla
8 Marla
5 Marla
Sector A
Sector B1
Sector V
Sector T
Sector B2
Sector U
Sector D
Sector E
Sector F
Sector N
Sector O
Sector X
Sector Y
DHA Multan New Bookings – Prices and Payment Plan
DHA Multan new residential and commercial plots are affordable in prices. Following are the details of the complete price:
Plot Category
Processing Fee
Prices of Plots

(3 Years)

Down Payment Date 10 Sep 2021
12 x Equal Quarterly Installments
5 Marla
5,000
5,000,000
500,000
375,000
8 Marla
8,000
6,000,000
600,000
450,000
10 Marla
10,000
8,000,000
800,000
600,000
1 Kanal
20,000
12,000,000
1,200,000
900,000
4 Marla C
10,000
2,500,000
2,500,000
1,875,000
The payment plan for DHA Multan new bookings spans over 3 years. However, you can opt for 2 years, one year, or lump-sum payments to enjoy 5%, 10%, and 20% discounts.
Special Quota for Overseas Pakistanis
DHA Multan new plots for sale are also available for Overseas Pakistanis. These new bookings of residential and commercial plots have a special quota for Pakistanis living abroad. The percentage of this special quota is above 30%.
How One Can Get These Plots?
DHA Multan new plots can be booked by submitted applications with non-refundable fees. Once the submission of applications is closed, DHA will hold a ballot. DHA will announce the details of successful members after conducting a computerize balloting. Only valid applications will be a part of this ballot.
Last Date to Apply
Booking in DHA Multan new bookings starts on 16th July and the last day to submit your applications was 06 August 2021.
Hopefully, the computerized ballot of these new residential and commercial plots will be held soon. So, if you have submitted your application in DHA Multan new plots, please keep patient as we will surely share the ballot results with you.
Contact us for further assistance.
Please contact Universal Property Network  For More Information click here or visit our youtube channel further assistance