DHA Peshawar Balloting – Location, Map, Plot Prices and Latest Development Status – A Quick Roundup
by UPN
February 27, 2018
0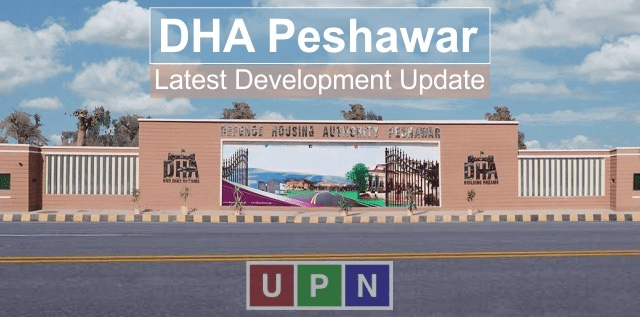 DHA Peshawar will be first-of-its-kind gated community in entire KPK with international standard facilities for a luxury living. The first chapter of DHA in this region will fill the void of a hi-tech residential scheme with 24/7 security which locals were missing badly. Finally, everything has come on track for this new housing society and development is picking up pace gradually. It will be a remarkable opportunity for people to live in this truly outclass project which provides all modern-day amenities. The proposed land has already been acquired and now work on site is in progress by the help of construction partners.
DHA Peshawar Development – Latest Update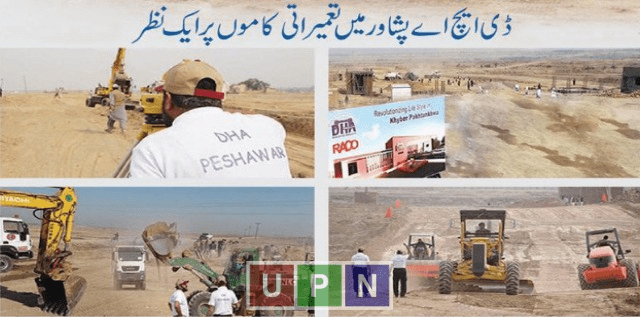 In collaboration with renowned construction companies Frontier Works Organization (FWO) and National Logistics Corporation (NLC), development work is continued on site. Currently ground leveling and development of main boulevards is on the top priority of developers which will be followed by sewerage, water lines and electrification works later on. Both companies are working simultaneously in sectors A, B and C.
DHA Peshawar Front Gate Elevation Started
The front gate model (design) which was approved in the last year is under construction on site. DHA Peshawar front gate elevation is in process and grey structure is almost near completion.
Factors Contributing for DHA Peshawar Success
As there was lack of a secured gate community in the city and region, DHA Peshawar is on verge to become a fully developed residential community. One of the basic factors which will come on to play is its amazing location which is strategically ideal in terms of future developments. Peshawar is bound to become CPEC's centric city for its other route and in such situation; it will have a huge appeal among people of local region.
The city of Peshawar doesn't have much room for expansion to accommodate such big societies. DHA is rightly located inside Peshawar and this will click in future as the city is becoming hub of major infrastructural developments for being metropolis and provincial capital.
Ideal for Residency and Investment
Still, the plots here are available at comparatively less prices, so in future a number of buyers will pull in by the passage of time and development progress. As compared to Askari 6 scheme located on the same Nasir Bagh Road, DHA Peshawar is quite economical option. For people of KPK in general and Peshwaris in particular, it is a well poised opportunity for residency and investment in the longer run.
For more updates and information, please keep visiting Universal Property Network (UPN).