Why DHA Phase VIII is Attractive for Investors? A Complete Guideline BY UPN
by UPN
March 28, 2019
0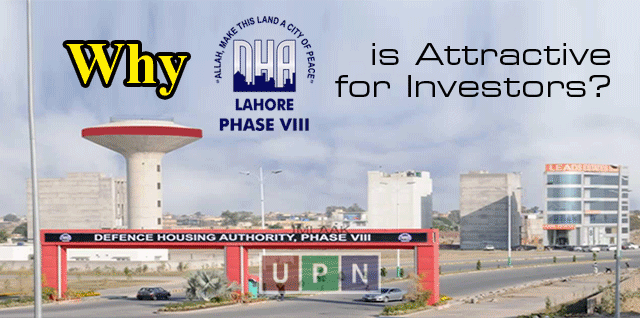 DHA Lahore a state of the art housing society and simply a dream destination that is always been among the modern developed and most loved residential societies of the country. DHA Lahore with the provision of top-class facilities and amenities, it will be right to call it the epitome of luxury living. The project has already crossed all the boundaries of success and has set the new goals. Defence Housing Authority keeps launching new phases from time to time just to cater to the growing needs of property buyers and investors all across the country.
A few years ago, DHA has announced Phase VIII that comprises three segments: Park View, Air Avenue, and DHA Phase VIII. And just after its launch, the project has got an overwhelming response from buyers and investors.  Let's discover a few points that make DHA Phase VIII an attractive choice for investors,
Location Details – A Value Adding Point for Investment
The project enjoys a remarkable place in the city as located at the ideal location of Lahore. DHA Phase VIII is located close to Allama Iqbal International Airport and adjacent to Lahore Ring Road with Barki Road on the other side. Adding more, the project connects Ghazi Road, which links Lahore Cantt and from the East, it connects phase VI.
DHA Phase VIII enjoys the location that can tempt any serious property buyer and pro-investor as it is centrally located and accessible to the majority of the commuters. This is the reason that the prices of property in this project are consistently rising as the demand increasing with time.
Attractive Facilities & Amenities
DHA Commercial Broadway Phase VIII is the smartest commercial project, which unlike all other commercial projects comprises of four sectors – named A, B, C and D. These sectors comprises of the commercial plots of 4 Marla and 8 Marla along with the bigger sizes of commercial plots booked for shopping malls.
Analyzing its commercial sectors B & C; it has larger parking areas as compared to the other two sectors, that is why it holds significant value. These brilliantly planned sectors are catching the attention of more and more buyers to the available commercial property.
Another major attraction of commercial Broadway phase VIII is that the authority has allowed construction up to 7 floors including basement. However, if we make a comparison with DHA, Y Block the construction of only 4 floors of commercial buildings are allowed to be constructed by the authorities.
By discussing and analyzing the extensive commercial development in phase VIII, we can confidently term it as one of the most viable investment options in Lahore. Just after the completion of this project, its residents will have easy access to wide range commercial attractions including local and international stores, multinational outlets, hotels, banks, and banquet halls. The project also acts as an entertainment hub for the residents. Besides the central commercial zone, every sector will have its own commercial area. Standard schools, Colleges, Mosques, Community Club, Sports Complex, cinema, and lush green parks will be other major attractions of this project.
For more details contact Universal Property Network.