Eden Value Homes Lahore – Location, Payment Plan and Complete Details
by UPN
July 10, 2022
0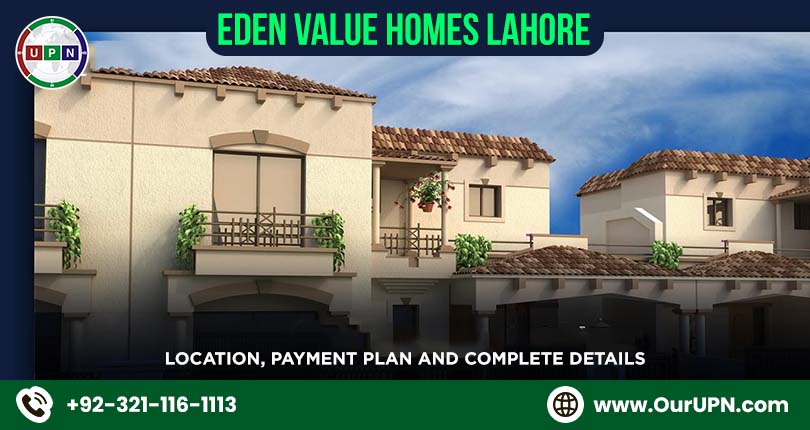 Eden Value Homes Lahore is a contemporary and luxurious houses project located ideally at Multan Road and N-5. This housing society's developers are the top ones recognized for their work in the real estate industry. Due to its desirable location and accessibility, this project holds significant value. Developed with a wide range of residential and commercial options, this place is perfect in all terms. This place is specially planned to offer ready houses on installments. Also, the provision of high-standard amenities has made this project an ideal choice for both modern buyers and investors. So, let's have an overview of the complete society's details:
About Developers
Eden Builders is the company that owns and developed this beautiful society.  The Eden Builders have over 30 years of experience and expertise in building housing societies, thanks to their desire to give Pakistanis an inexpensive and facilitated way of life. Additionally, these developers are involved in developing 3000 homes and 20 main real estate projects. There is a close relationship between the company and the investors.  They had maintained their commitment to honesty and transparency in their dealings with clients.
Eden Value Homes NOC
Soon, the relevant authorities will approve Eden Value Homes NOC. The developers submitted their applications for approvals a long time ago, and it is anticipated that the NOC and all other necessary papers will soon be approved as well. Once the society receives all NOCs and the necessary approvals, it is officially recognized as a legal housing society.
Eden Value Homes Lahore Location
The location of any project plays a vital role in its success. Eden Builders understands this fact very well. Eden Value Homes Lahore location is prime and easily accessible. They had launched their smartly planned project at the best location in this society. This project is growing ideally at Multan Road/N-5 Lahore. At the same time, accessibility to this place is possible from Westwood Colony and Emporium Mall within a 13 – 15 minutes drive. It is around 23 minutes away from New Cattle Market. Most importantly, Thokar Niaz Baig Interchange is at the drive of 10 minutes. Also, Punjab University New Campus and the University of Central Punjab are lying nearby.
Eden Value Homes Masterplan
This housing society's master plan depicts the state of the artwork and, undoubtedly, one of its distinctive features. Eden Value Homes Lahore masterplan is appealing as it is a result of the diligent work of qualified and experienced architects. This society is here to provide investors and potential residents with all amenities, from comfort to luxuries. To accommodate its residents and investors as per their requirements, this project offers houses of different sizes. All these options are available in the following blocks, i.e., A Block, B Block and C Block. Also, the categories and sizes of the houses in Eden Value Homes are:
2.5 Marla (2 Bedrooms)
2.8 Marla (3 Floor Duplex)
2.8 Marla (Duplex)
3.5 Marla (3 Bedroom)
3.5 Marla (2 Bedroom)
3.7 Marla (Duplex)
5 Marla (3 Bedroom), 5 Marla (2 Bedroom) as well as 5 Marla (Duplex)
7 Marla (3 Bedroom)
10 Marla (3 Bedroom)
12 Marla (3 Bedroom)
12.5 Marla (3 Bedroom)
Additionally, all of these houses have an exceptionally designed floorplan implying the best use of available plot area.
Eden Value Homes Lahore Payment Plan
The prices of any property are important to attract buyers and investors. As everyone desires to get budget-friendly property in Lahore, Eden Builders' planning of Eden Value Homes Lahore payment plan is outstanding. They are offering homes at the best affordable rates. This society has three blocks; however, you can get the houses on installments in Lahore in Block B and Block C. These houses are available in Duplex Category and Independent Category. Following are the complete payment plans of Eden Value Homes:
Documents Required to Book Your Desired Home
The booking process in Eden Homes is simple and easy. You will need the following documents to book your dream residence in Lahore:
Two passport-size photographs
2 copies of your National Identity Card
Two copies of the ID card of your next of Kin
NICOP for overseas clients
Moreover, the booking process in Eden Value Homes Lahore is convenient such as:
Fill out the booking application form carefully
Attach the CNIC copies
Pay Down Payment via Check or Pay order in favour of "Eden Value Homes."
Submit all the required documents, including the form and payment, and get the receipt.
For further assistance, you can take the help of our experts at UPN.
Attractive Features
This society offers affordable payment plans
Provision of all basic needs is 100% as well as uninterrupted.
Eco-friendly environment to live and enjoy a healthy lifestyle
To facilitate residents, Eden Value Homes Lahore have a proper commercial area as well as markets
High-quality infrastructure as per the latest standards
Secured community with boundary wall as well as CCTV monitoring
Entertainment facilities and leisure
Best educational facilities
Eden Value Homes Lahore is an attractive development where several sizes of houses are available for sale. You can confidently book any of these houses to meet your residential needs perfectly. Moreover, this society's location, development and world-class amenities are adding worth and making it a prominent option in Lahore's real estate.
Frequently Asked Questions
Here are the answers to some most frequently asked questions about Eden Homes Lahore:
What is Eden Value Homes, and how is it different from others?
It's a beautifully planned, modern venture. The entire project offers ready houses, not plots.
What is the NOC status of this project?
Eden Value Homes NOC will get approved soon. Moreover, all the documentation work has been completed so far.
Is it an affordable housing society?
Yes, it is an affordable project offering properties on easy installments.
Does this society also good for investment or residence only?
Buying in this state-of-the-art project is 100% beneficial for residence and investment purposes. So, investors can confidently generate handsome returns on their capital and rental yields.
Where Eden Value Homes is Located?
Eden Value Homes Lahore has impressively located on Multan Road/N-5 Lahore. The distance from Thokar Niaz Baig Interchange is also short.
So, what are you waiting for? Get your house of dreams at reasonable rates as well as with an easy payment plan by contacting us!
Please contact Universal Property Network For More Information click here or visit our Youtube channel for further assistance.