Facilities That Makes Bahria Town Islamabad Different From Others
by UPN
November 3, 2019
0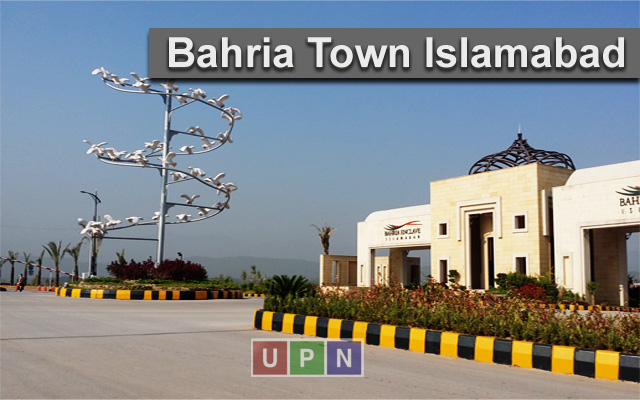 Bahria Town Islamabad is the world-class housing project by the biggest real estate developers in Pakistan. This flagship project of Mr. Malik Riaz is beautifully located in the heart of Rawalpindi District, near Grand Trunk Road
It was the very first planned gated community in our country offering world-class facilities in it. Initiated in the late 1990s, Bahria Town Islamabad has quickly become the favorite choice of investors and buyers in the real estate sector. 
Now comprising of 9 Phases, it is further surrounded by several housing projects such as DHA Phase 3, PWD Housing Society and more. 
Bahria Town Islamabad is the ideal choice for real estate investment in the capital City. The reason for the interest of people in it is the top-notch facilities and features. The state of the art facilities makes this project different from others are:
24/7 security system

Spacious car parking

Uninterrupted power supply

Fitness centers, shopping malls, and cinemas

Well-equipped hospitals

Offer safe investment options at a reasonable price

Parks and Zoos

Central mosque

Offer safe investment options at a reasonable price

Community centers
Bahria Town Transport Services
This modern housing society is designed with its own transport service called Bahria Town Transport Service.  This service provides quick and easy access to all the major areas of the community. In addition, its residents and commuters can also easily avail taxi and Careem services. 
Grocery Shops
Bahria Town Islamabad is featuring a number of grocery shops in it. Famous superstores like Punjab Cash and Carry, Taw-Seen Complex, Dana Pani General Store, Stop & Shop, and Al Jannat Cash and Carry provide residents all the grocery items they need. 
Moreover, a store called Marina Mart is also located in Phase 6 which is a 24/7 grocery shop offering all the necessary utilities.
Beautiful & Spacious Mosques 
There is a great facility of mosques in every phase of Bahria Town Islamabad.  In Phase 2, there is Masjid-e-Riffat in Phase 2, and Jamia Masjid Rashida in Phase 3, and Safari Villas Mosque in Safari Villas 3. 
Phase 5 is featuring a Mosque Khadijatul Kubra and Bahria Mosque in Civic Centre Bahria Town.
Standard Educational Institutes
Bahria Town Islamabad is beautifully featuring a wide array of educational institutes in it. Some of the best educational institutes in this mega community are:
ACE International Academy 
ACE International Junior Academy and Day Care Centre 
Roots Millennium School 
Bahria Town International Academy
Dr. Abdul Qadir Khan School and College 
To meet the needs of higher education of its residents, some best colleges and universities are also located in its surroundings such as:
Foundation University Medical College in DHA Phase 1
A.Q. Khan College of Science and Technology in Safari Villas
HOPE College of Science & Humanities in Model Town
Army Public College in DHA
Uninterrupted Supply of Electricity
The thing that makes Bahria Town Islamabad the most attractive option to live is the uninterrupted power supply. This society has its own 132 KV grid station in Phase 4 that ensures convenient living to its residents without getting worried about electricity problems. 
Hospitals in Bahria Town Islamabad 
Maryam Memorial Hospital (Phase 4)
Shaafi Internation Hospital (PWD Housing Society)
Mumtaz Medical Center (Phase 3)
D.Watson Chemist and Shaheen Chemist (Phase 6)
High Standard Security Measures 
Bahria Town Private Limited always takes the security of residents very seriously. And that's why there is an efficient security system installed in each entry and exit point of Bahria Town Islamabad.
Shopping Malls in Bahria Town Islamabad 
The Grande Civic Center
P & J Emporium Mall
Chinar Center
Mehfooz Center
Faran Plaza
Cafes, Food Chains, and Restaurants
Subway, KFC, & The Frying Pan
Cafe Ice Berg 
Chicago Grill Steak House
Shanghai Bistro
Payala Restaurant
Shazari Cuisine
Khiva Revolving Restaurant
Domino's Pizza & Pizza Originale
Safari Restaurant 
Nann Chaaye
The Tea Craft
Pappu Chai Wala & Chaaye Khana
Pepper Town Cafe
What's a Paratha
Floss Factory
Funky Bake
Ice Lane & Dry Fruits
Rahat Bakers
Sports and Fitness Centers 
Raja's Martial Arts & Fitness Gym
Safari Gym
Fitness Zone
Inferno Gym
Spartan Gym
Souvenir House of Fitness
AMFIT
Physio Life
Parks and Zoos in Bahria Town Islamabad
Bahria Family Park
Bahria Enclave Zoo
Dinosaur Park
Children Park
Safari Park
Saloons & Spas 
Hadiqa Kiyani Salon (Civic Center Block D)
The Spa (Phase 2 of Safari Villas 3)
Faiza's Salon
Jugnu Salon 
Depilex Beauty Clinic 
Cinemas in Bahria Town Islamabad
The Arena (Phase 4)
Cine Gold Plex (Near Phase 7)
In Conclusion: 
Bahria Town Islamabad is a well- organized state of the art housing project that offers all the basic and top-class facilities in it that every resident desire in his place. It is a clean, beautiful, and a convenient option to live your dream life. 
Check out our site for more detail. Latest News
For more interesting property updates and blogs, keep Visiting Universal Property Network