Faisal Hills Islamabad – Project Plan, Location Map and Payment Plan
by UPN
July 4, 2022
0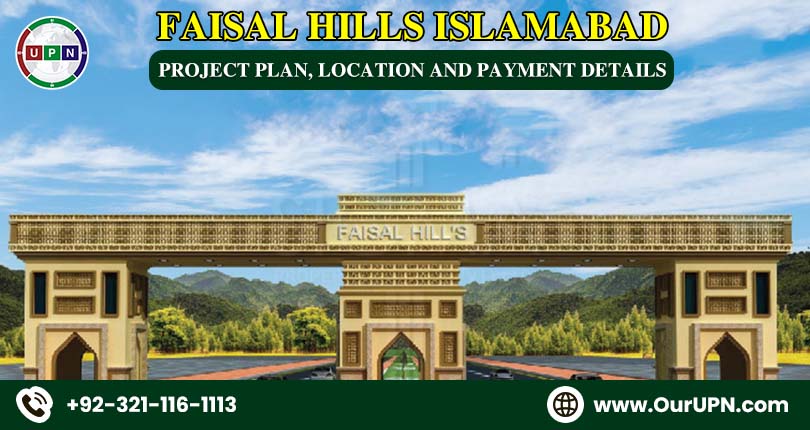 Faisal Hills Islamabad is one of the most reliable and popular housing projects with prime locations and easy access. It's a project by Zedem International, whose NOC is completely approved by RDA. This project is located on GT Road and can be approachable from Taxila, Islamabad, and Rawalpindi. Spreading over a large land area, this society is divided into various blocks. It offers different categories of residential and commercial plots at affordable rates. Featuring good development and state-of-the-art infrastructure, this society is fully-facilitated. This project is incredible as it offers high-standard living amenities and attractions. From its developers, location, and prices of properties, it is a masterpiece.
About Developers
The owners and developers of Faisal Hills Islamabad are Zedem International. They are already a well-known firm in the real estate sector and ranked among the developers in Pakistan. The CEO of this company is Mr. Abdul Majeed, while Zedem International has gained much appreciation for launching and delivering several high-standard projects. Some of the top projects by these developers are:
Faisal Town
Faisal Villas
SEA Square
Faisal Margalla City, Faisal Residencia, Faisal Towers
Faisal Hills NOC
Having a valid and approved NOC is very much important. That's why the relevant authorities duly approve Faisal Hills Islamabad NOC. This society has complete approval from RDA. Around 11823.5 Kanal of the land of this society has approval from authorities. This approval gives this beautiful project credibility and reliability. At the same time, it enhances the popularity and chances of success of Faisal Hills. Moreover, this society has complete permission for electricity, water, and gas supply.
Faisal Hills Islamabad Location
The location of this top-class society is ideal and easy to access. Faisal Hills Islamabad is located at the main Grand Trunk Road in the Taxila region of Rawalpindi. This society is located a little outside the Islamabad Capital Territory (ICT).  But still, this place is easy to approach from multiple cities such as Rawalpindi, Islamabad, and Taxila. Some of the nearby developments in this place are Multi Gardens B-17, Hill View Housing Scheme, Heavy Mechanical Complex (HMC), Fateh Jang Road, Tarnol, Wahdat Colony, CPEC Western Route, HITEC University Taxila, Comsats University Wahcantt Campus, National University of Science and Technology (NUST) and short distance Islamabad International Airport.
Faisal Hills Masterplan
Zedem International designs the master plan of this top-class venture. They have a team of experts, planners, developers, and architects. All these are working together to develop a masterpiece, simply heart-winning.  Covering a land of 11823.5 Kanal of land, this project is graceful for both residential and commercial purposes. However, other important developments like parks, gardens, schools, playgrounds, mosques, hospitals, community centres, etc. The main boulevard of Faisal Hills is 225 meters wide, whereas its other roads are more than 40 meters wide. The blocks of this society are:
A Block
B Block
C Block
D Block
Executive Block
Block A
It's the very first block of this society designed exceptionally. It features the most lavish and opulent facilities. A Block has outstanding development, several interesting features and countless attractions. It has the best residential and commercial properties for sale.
Block B
It is the second Block B of Faisal Hills Islamabad and offers a luxurious and comfortable lifestyle. This block offers a heart-warming view of Margala Hills. The particular block offers incredible residential and commercial plots for sale. It's a place where you can enjoy quality living standards. This B Block of Faisal Hills offers heart-winning parks, gathering spaces and many more other attractions.
Block C
It's another important block of Faisal Hills. It is designed exceptionally on the latest trends and modes. The location of this block is ideal and easily accessible through the M-1 access to the CPEC route.
Block D
Block D of Faisal Hills Islamabad is the most recent addition to its landscape. This block features graceful attractions and excellent infrastructure. Most of these block plots are still available on installments. You can confidently invest in residential and commercial options.
Executive Block
As the name describes, it is the most executive block of this society. It has a prime location in this project. The entire block is designed with beneficial residential and commercial options. This beautiful block gives a pleasant living as the whole place is fully-facilitated. Most importantly, it has properties at affordable rates.
Plots for Sale in Faisal Hills Islamabad
Faisal Hills is a premium standard housing project where you can get ideal properties for sale. Also, these options come at reasonable rates. Faisal Hills has the following options:
5 Marla Residential Plots
8 Marla Residential Plots
10 Marla Residential Plots
14 Marla Residential Plots
1 Kanal Residential Plots
2 Kanal Residential Plots
2 Marla Commercial Plots
4 Marla Commercial Plots
Faisal Hills Islamabad Payment Plan
Like all the other striking features, Faisal Hills Islamabad payment plan is planned exceptionally. The developers of this society have designed it wonderfully by considering the affordability factor. The property payment plan is ideal to consider for residence and investment. Booking of plots starts from a 10% down payment, and the remaining amount will be payable in 4 years. It contains 14 quarterly installments.
How to Book Plots in Faisal Hills?
The booking procedure of Faisal Hills Islamabad is easy. You will need the following documents to book your plots:
Two passport-size photographs
Two copies of your National Identity Card
NICOP for overseas clients
Two copies of the I.D. card of your next kin
Booking Procedure
You will need to fill the booking application form with full attention
Attach your CNIC copies
Pay the down payment as per the given details
Plots can also be booked with lump-sum payments to get handsome discounts.
Facilities Available for You
Beautiful Wide Entrance Gate
Impressive Main Boulevard and Wide Streets
Carpeted Roads and Green Belts
Affordability and Easy Payment Plan
Grand Mosque and Mosque in Every Block
Water Resources and Supply of Basic Facilities
Eco-Community and Healthy Environment
Education Complex and Healthcare Facilities
Quick Accessibility from Multiple Routes
Community Centers and Club House
Proper Commercial Area
Modern Spa and Gymnasium
24/7 Security and CCTV Camera Monitoring
Maintenance
State of the Art and Quality Development
Underground Electrification
Sewerage and Waste Disposal System
Sports Facilities
Faisal Hills Islamabad's location and planning are outstanding. This society is impressive in several terms. From NOC, payment plan, and prices, this society is graceful and attractive to consider. Buying in this project is 100% beneficial for residents of high quality and investment of profitable returns.
Reasons to Invest
You can choose this latest society for the following reasons:
Affordable plots prices
Easily accessible location
NOC-approved society with all legal documents
World-class amenities
Wide range of plots available in residential and commercial categories.
Frequently Asked Question
Is Faisal Hills a good project?
Yes, it's an exclusive quality project with high standard development.
Faisal Hills' location is ideal and easily accessible?
Yes, this society is developed on G.T. Road.
Is this approved by Authorities?
Faisal Hills Islamabad is NOC approved project. All of its documents are clear and legal.
Are all the latest facilities available?
The best facilities are provided to residents. Living there will be no less than living in a womb of amenities.
Please contact Universal Property Network For More Information click here or visit our Youtube channel for further assistance.