Faisal Town Phase 2 Launched – Location Map, Payment Plan and Booking
by UPN
October 15, 2022
0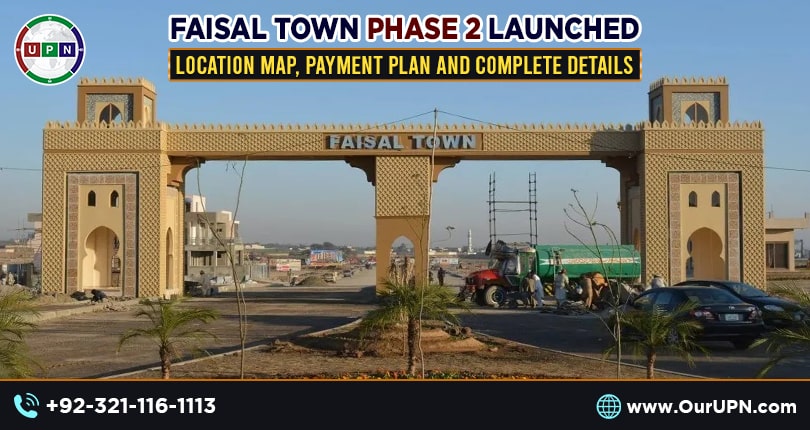 Faisal Town Phase 2 is a recently launched new housing venture by Zedem International. Faisal Town Islamabad is one of the popular housing societies in the Capital City. It holds significant value in the real estate sector of Islamabad because of its premium development, location, and affordability. The amenities provided in this venture are also outstanding, making it the right place to reside in.
Also, people find it a suitable option for investment growth. After collecting huge success in Faisal Hills Islamabad and Faisal Town Islamabad, its developers are now progressing ahead in Phase 2.
About Project
Faisal Town Phase 2 is a state-of-the-art, perfectly designed project. Located ideally at the prime location, this society will offer a variety of amenities essential to living a comfortable and peaceful lifestyle. It will feature advanced-level development, wide roads, main boulevards, and, most importantly, to date security system. Also, the properties planned are as per the desire and demands of modern investors.
Another attractive feature of this society is the availability of properties on easy installments. It provides everyone a chance to have his own property by paying easily.
Its developers have already purchased almost 30,000 Kanal – 35,000 Kanal land for the development of Phase 2. Soon the development work will start on the site. Moreover, 45% of the total area will comprise green areas. The entire land will be divided into several blocks, just like Phase 1 of Faisal Town Islamabad.
NOC Details
The issuance of a NOC from the concerned development authority is very much important for the success of a housing project. However, the NOC of Faisal Town Phase 2 is yet to be approved by RDA. But the good news is that you never need to doubt the legality of any venture associated with Zedem International. These developers have the credit to deliver what they had committed to.
About Developers
Faisal Town is a project by Zedem International. The company is top-rated among Pakistan's best real estate developers. This company is owned by Mr. Chaudhry Abdul Majeed, who strongly believes that the success of any project is only possible when it meets the clients' commitments. Like Phase 1, they will surely deliver the best in Faisal Town Phase 2. Some of the top projects by these developers are:
Faisal Town (FT)
SEA Square B-17
Faisal Hills, Faisal Villas, Faisal Margalla City (FMC). Faisal Residencia and Faisal Towers. These developers also owned a number of other popular projects in Pakistan.
Faisal Town Phase 2 Location
A prime location of any housing society plays a vital role in its success. That's why Zedem International has chosen the perfect location for the development of Faisal Town's upcoming phase. Faisal Town Phase 2 location is Lahore-Islamabad Motorway (M-2). The other entrance to the housing society is expected to be at the Main Chakri Road. This is undoubted the perfect location to call home.
It has many perks, especially since one can easily access it from multiple routes. A large number of popular developments are lying nearby. The housing societies in the proximity are Capital Smart City, Al-Haram Rawalpindi City, Top City-1, Mumtaz City, Qurtaba City, and Multi Gardens B-17.
Plots for Sale in Faisal Town Phase 2
This appealing society is winning hearts by offering the best plots for sale in Islamabad. All the plots are smartly designed as per the requirements of modern buyers. Here you will buy the following sizes of plots:
Residential Plots
5 Marla
8 Marla
10 Marla
12 Marla
1 Kanal
2 Kanal
Commercial Plots
The sizes of commercial plots will be disclosed soon.
Faisal Town Phase 2 Payment Plan
The plots for sale in Faisal Town Phase 2 are low cost and can be easily booked with a reasonable amount of down payment. The prices of plots are very affordable while the down payment is 20% only. The remaining amount will be payable in 18 installments.
5 Marla Plot Price
The total price of 5 Marla plots is PKR 27, 95,000 and the down payment is PKR 595,000. The quarterly installment of the plot is PKR 120,000.
8 Marla Plot Price
8 Marla plots are available for PKR 38, 25,000 and can be booked with a down payment of PKR 725,000. The quarterly installment of the plot is PKR 170,000.
10 Marla Plot Price
10 Marla plots for sale in Faisal Town Phase 2 can be booked by paying PKR 845, 0000 as a down payment, whereas the total price is PKR 49, 25,000. The quarterly installment of the plot is PKR 225,000.
14 Marla Plot Price
The total price of 12 Marla plots is PKR 60 95,000. However, the down payment is PKR 11,25,0000. The quarterly installment of the plot is PKR 275,000.
1 Kanal Plot Price
These plots are available for PKR 80, 55,000, and the down payment is PKR 12, 65,000. Moreover, the quarterly installment of the plot is PKR 375,000.
2 Kanal Plot Price
2 Kanal plots in Faisal Town will cost you PKR 1 50, 95,000 and a down payment is PKR 15, 55,000. On the other hand, the quarterly installment of the plot is 750,000.
Following is the complete payment plan for Faisal Town Phase 2 Islamabad: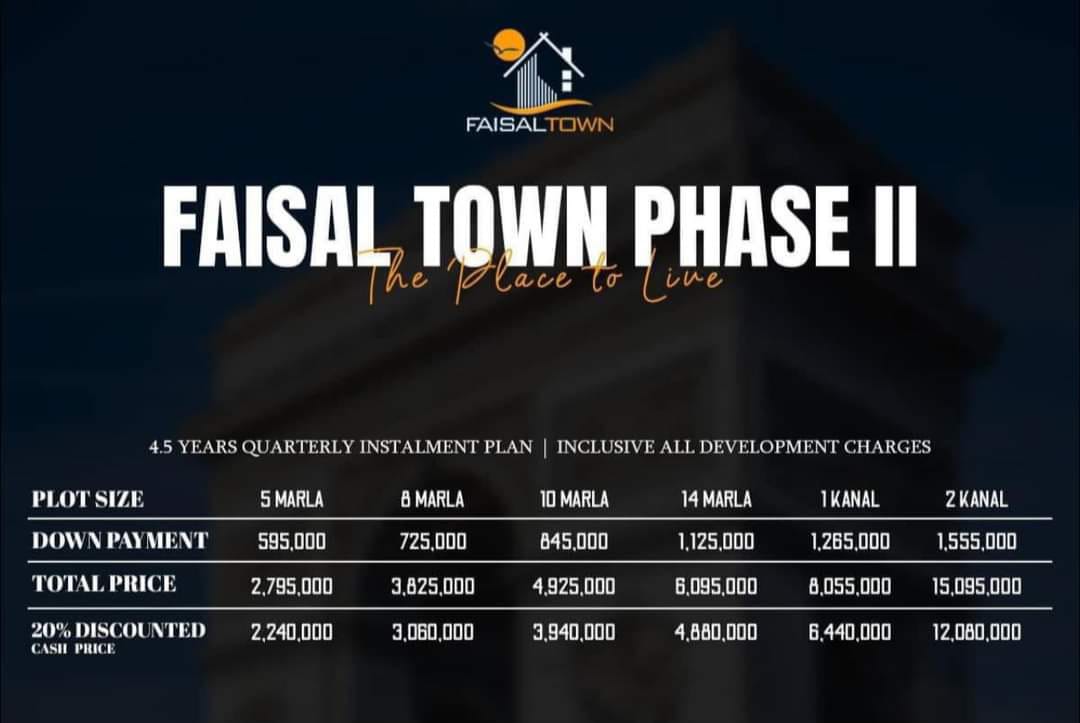 Facilities Available
The management of Faisal Town Islamabad Phase 2 developed this society with all the top-notch amenities and attractions. Yes, here you will be facilitated in every step of life. Some of the best facilities you will enjoy in this society are:
Secured Gated Community
Proper Supply of Water, Gas, Electricity
Commercial Centers
Proper Sewage and Waste Management
45% of the total land area will be dedicated to greenery and plantation
Educational Facilities, Healthcare and Medical Facilities
Play Areas and Parks
Wide Roads and Main Boulevards
High-End Sports Facilities
Modern and International Standard Infrastructure
Booking in Faisal Town Phase 2
The process of plots booking in this housing society Phase 2 is simple and efficient. Anyone can easily book his desired plot. Following documents are required for it:
Photographs of Passport Size
CNIC or Passport Photocopy
Copy of NICOP
Payment Receipt Photocopy
Online Payment Slip
Investment in society is a profitable option for both buyers and investors. It's a newly launched housing society with up-to-date amenities. Prices of the plots are low, while the investment potential is high.
Frequently Asked Questions
Here are the answers to commonly asked questions:
Is Faisal Town Islamabad Phase 2 NOC Approved?
NOC of this society will get approved soon. It's a new project, and the application for approval is already submitted to RDA.
Who are the developers of Faisal Town Phase 2?
This society is developing under the name of Zedem International.
What is the Launch Date of Faisal Town Islamabad Phase 2?
This project will be officially launched on Oct 12, 2022.
Is Investment Safe in Faisal Town?
Buying is 100% safe and beneficial.
Please contact Universal Property Network through WhatsApp, web form, or visit our Youtube channel for further assistance.