Guaranteed Rental Income Opportunities in Jasmine Grand Mall
by UPN
May 31, 2021
0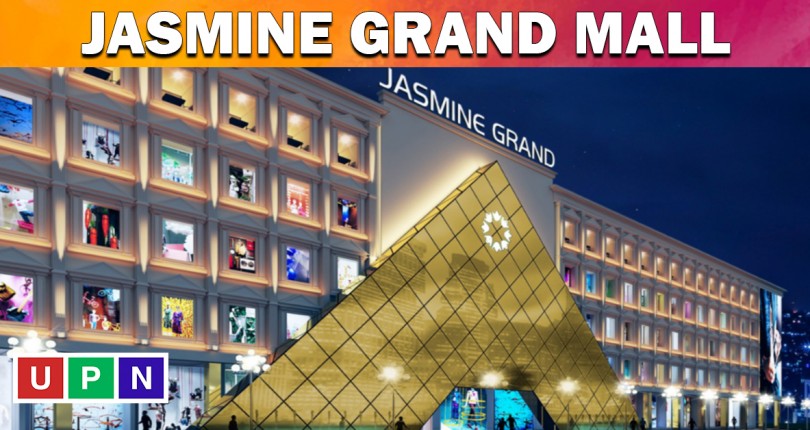 Jasmine Grand Mall is the biggest shopping mall in Bahria Town Lahore. Covering more than 20 Kanal of land, it is a grand project with grand opportunities. Properties for sale in Jasmine Grand Mall are attractive in terms of prices, installments availability, future price appreciation, and guaranteed rental income. Yes, all the commercial properties for sale in Jasmine Grand comes with the facility of guaranteed rental income.

It is a project by Q-Links Developer who had successfully presented Jasmine Mall in Sector C. Now they are presenting something big then it with equally beneficial opportunities for buyers and investors. Let's know more!
Floor Plan of Jasmine Grand Mall Bahria Town Lahore
Jasmine Grand Mall is a thoughtfully designed, mega commercial development in Lahore. It is spanning over 20 Kanal and featuring basement + ground + 6 floors. The entire project is planned as:
Basement = Aslam Super Market
Ground Floor = Brands Shops
First Floor = Brands Shops
Second Floor = Wedding Galleria
Third Floor = Brands Shops
Fourth Floor = IT Hub
Fifth Floor = IT Hub
Sixth Floor = Kids Play Area as well as Hotel and Restaurants
Floor Wise Investment Opportunities
Aslam Super Market is a project by Q-Links; the developers will run this project on their own. However, it is also offering some good opportunities for investors. Investment in Aslam Super Market shops starts from 41.50 lacs only. Moreover, if any buyer pays the lump sum amount at the time of booking, he will start earning guaranteed rental income from the next very first month.
Also, a limited number of shops are left on the ground and first floor where the prices range from 1 crore to 3 crores. However, you will find some attractive investment opportunities on the second floor in Wedding Galleria. It's a unique project with excellent options for end-users and investors.
Shops available in Wedding Galleria are available in 31 lacs, 40 lacs, 50 lacs, depending on the size. Similarly, you can buy shops on the third floor. However, the fourth floor is completely sold out, and IT hub shops are only available on the fifth floor. Here the prices start at 26 lacs, 30 lacs, and 35 lacs.
 Guaranteed Rental Income
All the properties for sale in Jasmine Grand Mall come with the excellent option of guaranteed rental income. First of all, all the shops are available with flexible payment plans. However, if anyone of you will pay the lump sum amount of your property on booking, he will get guaranteed rental income from the very first month of his payment. He will be able to enjoy this good amount of rent till the completion of the payment plan. The rental income value of the properties is ranging between 6% to 8% per annum.
Not only this, but this project will surely return you will good price appreciation. Investment in Jasmine Grand Mall is secure, the chances for the prices to increase are high, and its rental income opportunities are the best.
So, what are you waiting for? Do invest in Jasmine Grand Mall shops for sale, grow your capital and increase your income today!
Contact us for further assistance.
Please contact Universal Property Network  For More Information click here or visit our youtube channel further assistance