Guldasht Town Lahore – Location Map, Plots, and Prices
by UPN
March 1, 2023
0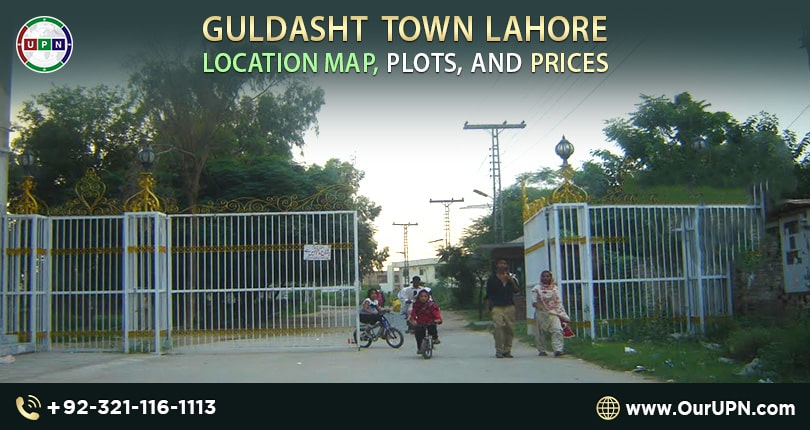 Guldasht Town Lahore is a completely developed, beautiful housing venture. It enjoys ideal location on Zarar Shaheed Road Lahore. Having approval from LDA, this society is among the first few completely developed societies in the area. Planned on the latest trends and advanced modes, it's an innovative style development. It's a fully inhabited venture with an impressive number of families living there. People who desire to buy a house in a fully occupied place in Lahore, and also where top-class living amenities are available should consider Guldasht Town.
Please note: the properties for sale in this society are mostly houses. It will be hard to find plots as the availability is limited. You can also get a house for rent. The surroundings of this project are also developed and beneficial. Let us discuss the complete details of this project below:
Guldasht Town Lahore Master Plan
Guldasht Town is a normal size but a master-planned housing society. It is spreading over a good area of land. The entire land is further comprising 3 blocks i.e.,
This society is growing with both residential and commercial plots. But currently, you will only find a large number of houses for sale. The plots sizes in Guldasht Town Lahore are:
The main roads of this society are carpeted while the internal streets are cemented. Also, this society is not different from the fully developed and occupied areas of Lahore with the maximum population.
Guldasht Town Lahore Location Map
Guldasht Town Lahore location is the most important thing. This society is strategically located on Zarar Shaheed Road Lahore a short distance from Ring Road Lahore.  The main entrance of the society is direct from Zarar Shaheed Road however, it is easily accessible from multiple routes. You can approach it from Harbanspura Road, Amjad Chauhdry Road, and Airport Road. Moreover, the developments nearby are Askari Housing, Faisal Town, Aziz Bhatti Town, Punjab Rangers Headquarters, Serina Hotel, and more.
Undoubtedly, Guldasht Town has an ideal location both for living and investment purposes. The entire society is developed and has all the commercial facilities while the nearby places are also important. All the best markets, schools, and commercials are located close. Furthermore, the environment is clean making it a perfect choice to be a resident of this society.
Guldasht Town Lahore Plots and Houses
This housing scheme features maximum construction that why you will find more houses for sale. Yes, there are fewer plots and more houses. The demand for houses in this society is good as well as these houses have good rental worth. The prices of the houses and the rent depending on the location and condition of the house. Moreover, the sizes of most houses in Guldasht Town are:
However, due to violation of LDA rules, the bigger sizes of the plots are further cut into smaller sizes and almost every size of the house is available there.
Latest Prices
The 5 Marla plots for sale in Guldasht Town will cost you around 70 – 80 lacs. However, the house of 5 Marla is available from 1.20 crore to 1.80 crores.
The 10 Marla plots for sale in Guldasht Town Lahore are available in the 1.85 crores price range. However, the price of the 10 Marla houses depends on their condition.
Facilities and Features
Guldasht Town Lahore is an impressive development with provisions for all the top-class living amenities. Also, here you will find:
Complete Security
It's a Well-develop Society
24/7 Electricity
Clean Water Supply
Parks and Nearby Entertainment Facilities
Healthcare Facilities
Medical Facilities
Grocery Setup and Shopping Facilities
Wide Roads
Street Lights
Frequently Asked Question
Here are the answers to the common questions:
What is the location of Guldasht Town Lahore?
The location of this society is Main Zrar Shaheed Road Lahore.
What about the approval of this society?
Yes, it is approved by LDA.
What about the facilities?
The amenities in this society are up to date.
Buying in Guldasht Town Lahore will be good for residence and rental gains. Due to the close location of educational institutes, health care, and public transportation, the demand for residential properties in this society is high. So, you should definitely consider it if looking for a property in one of the developed areas of Lahore.
Please contact us through WhatsApp, Contact Us form, or visit our UPN Youtube Channel for further assistance.