Gwadar Central Housing Scheme Route and Location
by UPN
April 15, 2017
0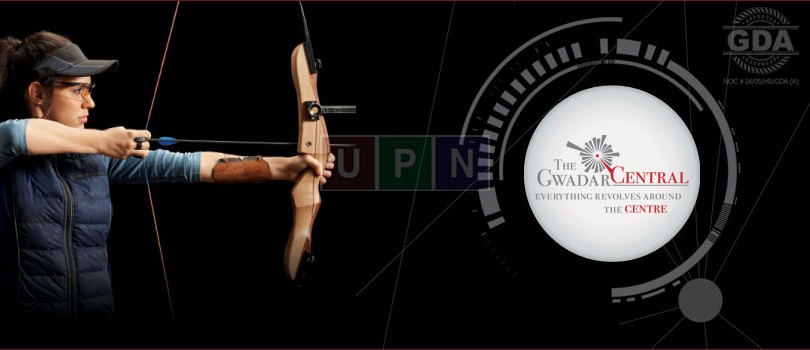 The Gwadar Central is a new housing scheme launched by New Life Developers in Gwadar. The Gwadar Central idea combines all meanings or aspects of life driving them towards a center. From several aspects of trade, business and residence, The Gwadar Central is a prime location that has several physical attractions.
The Gawadar Central Housing Scheme is a GDA approved (NOC#: 24/05/HS/GDA) project located at the center of Gawadar City. Investments today in Gwadar has promising future rewards. The Gwadar Central booking details and location map are now available. The main attraction of this investment is the insurance coverage for all allotted investors in association with EFU.
Gwadar Central Location Analysis
From the location perspective, The Gwadar Central Housing Scheme is an attractive investment opportunity. The housing scheme is at the center of Gwadar City attracting many future developments and opportunities.
Gwadar Central is located approximately 1 Km from the Jinnah Avenue, which is the main commercial Broadway, on three arteries:
•   Coastal Highway i.e. 280 ft. wide National Highway
•   Buleda Avenue i.e. 150 ft. Structure Road
•   Sarawan Avenue i.e. 150 ft. Structure Road
The Gawadar Central is approachable from Makran Coastal Highway via two routes as shown on the map: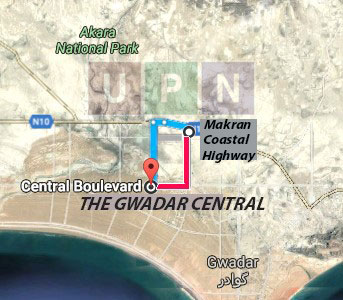 Another location attractiveness is the proximity of The Gawadar Central Housing to Gwadar International Airport at 9-KM distance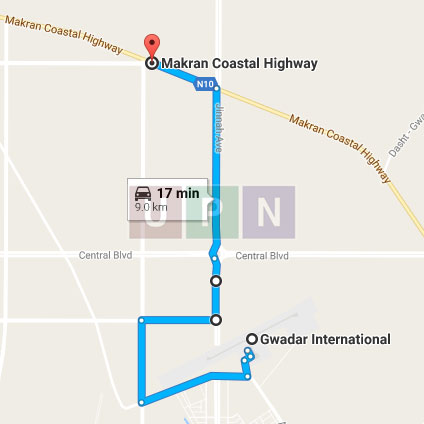 From seaport, the location is approachable as
•   Via Marin DR at estimated distance of 25.4 KM
•   Via Jinnah Ave at estimated distance of 24.2 KM
•   Via Port Road and Makran Coastal at estimated distance of 25.3KM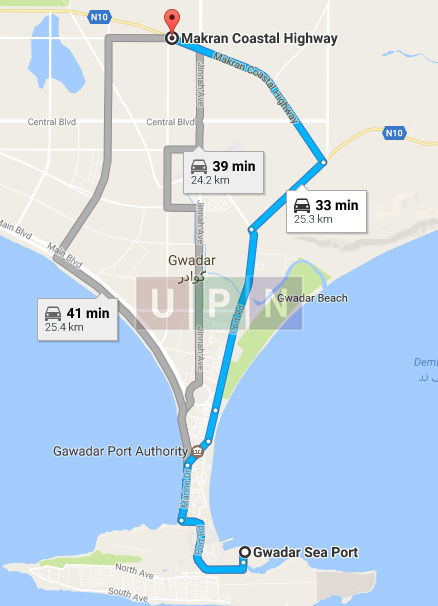 In addition, the project proximity to Centre point:
•   Via Jinnah Ave estimated at 17.8 Km
•   Via Makran Coastal Highway at 17.3 KM
•   Via Port Rd and Jinnah Ave at 17.7 KM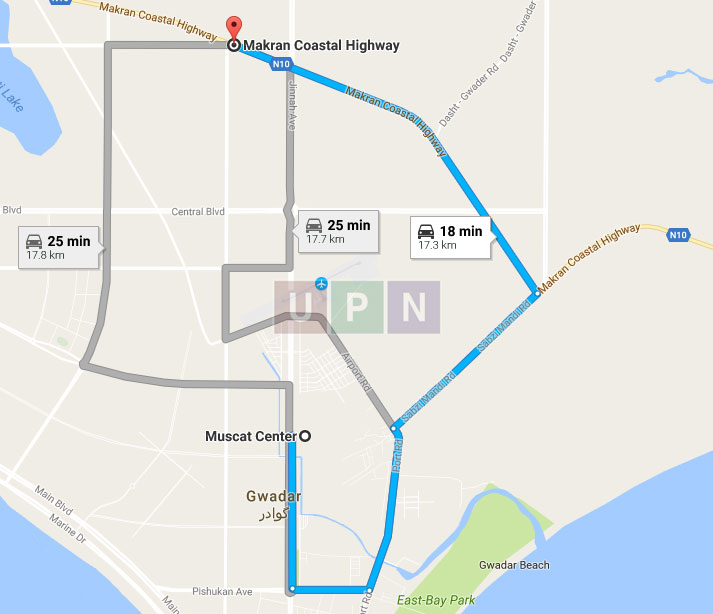 Gwadar Central Investment Analysis
Gawadar is a central business and trade hub capturing global focus mainly because of China Pak Economic Corridor (CPEC). CPEC is an aim of rebuilding the economic activity of country (Pakistan) that is ultimately beneficial for Pakistan and China. With the execution of "One Belt-One Road", CPEC aims to rebuild "The Silk Route". Gawadar meaning "Gateway of Winds" is opening doors for lucrative business opportunities linking 63 countries that exceptionally enhances the values of Gwadar. The project is driving approximately 45 Billion Dollar worth future business, the bulk of which is centering in Gwadar.With
With the due importance of unprecedented development opportunities in future, housing demands in the area will be high as the shift of trade to Gawadar will certainly drive people to move from other locations to here.
The salient features from investment perspective include
•   Low Risk as starting minimum from 1.8 Lakh down payment and high potential in future
•   Strategic simultaneous developments at the Gwadar City and Port enhancing future value of land/ property
•   Anticipated rapid developments due to CPEC, therefore plots available of sale today are strategic investments for future security
•   The nearest possible connection to port for all kind of trade and business activities
•   Exponential gains expected for long term investment
•   EFU Insurance
Features of Gwadar Central
The features of The Gawadar Central Housing are relatively unique such as
•   Safest Place: Installation of advanced security systems i.e. automatic number plate readers, laser cameras and RFID security equipment
•   Central Location
•   Envisioning Smart Port City Plan
•   Advanced Information and Communication (ICT) infrastructure
Gwadar Central Housing Scheme Booking Details
The Gwadar Central Housing Scheme is a mega project offering bookings for residential housing schemes as below:
COMMERCIAL
RESIDENTIAL
4 Marla (Commercial)
5 Marla
10 Marla
Plot Price
2,800,000
900,000
1,600,000
Down Payment (20%)
560,000
180,000
320,000
24 Monthly Installment
70,000
22,500
40,000
At Ballot (20%)
560,000
180,000
320,000
Additional Charges
•   10% extra charge for corner plots
•   10% extra charge for plots facing parks
•   10% extra charge for Boulevard
•   Extra charges in case of land covering additional area with plot/land
In addition, discounts offers are as follows
•   5% discount on 50% Payment
•   10% discount on 100% Payment
•   The Gwadar Central Housing has started bookings whereas the balloting date is August 14, 2017.
For Best Investment Options Please Always Contact:
Universal Property Network (UPN)